NBA
NBA Finals Game 3: What To Watch For
As the Spurs return to Miami, and that now infamous corner where Ray Allen mercilessly crushed their 2013 Finals dreams, they look to take back control of the series. Here's what to watch for:
The Numbers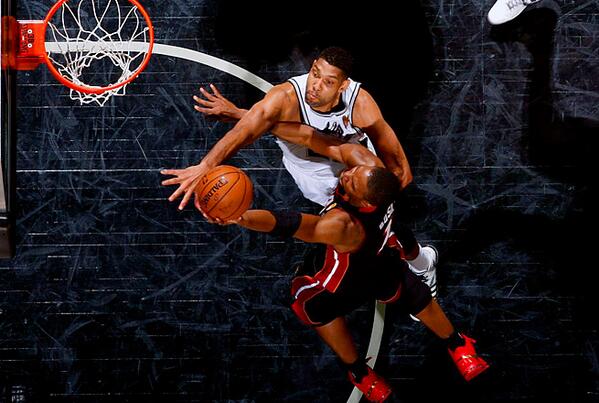 Game 3 is usually a pivotal one. It's especially crucial if the series is tied 1-1. In fact, when the NBA Finals has been tied at 1 game apiece, the winner of Game 3 has gone on to win the series 86-percent of the time. Whichever team comes out on top tonight should definitely feel good about their chances; but given the dramatic history between these two teams, they will probably be worried about that 14-percent and the following Game 4 more than anything.
Rebounding is one of those statistics that could potentially define a game and push a team over the top. In the first two games, the team that has won the rebounding battle has also ended up with the win at the end of the night. Usually the Spurs, with Duncan and Thiago Splitter down in the paint, easily win the rebounding edge. In Game 2 though, Miami combatted that by playing a smaller lineup to force San Antonio to play Boris Diaw instead of Splitter, resulting in Miami winning the rebounding battle and the game. In Game 3 tonight, it will be interesting to see how San Antonio responds, knowing very well that a rebounding edge could net them a pivotal win.
Foul Trouble
If the Spurs want any shot at containing LeBron James, they need Kawhi Leonard to stay out of foul trouble. Tonight's game result could be completely contingent on Leonard's ability to defend LeBron without picking up early fouls. If he has to be taken out, nobody can contend with James' explosiveness; and when he checks back in, Leonard will struggle trying to both stop LeBron and keep himself out of further foul trouble. This hurts the aggressive mindset that the Spurs want Kawhi to have when defending James, and if Game 2 showed us anything, it was that LeBron will certainly make whoever is defending him suffer.
Furthermore, Danny Green has been key in providing the Spurs with a steady supply of three-point production. But in Game 2, Green also fell into early foul trouble and that cost the Spurs substantially. That cannot happen in Game 3. The Spurs whole offense focuses on precise, selfless passing to create wide-open three-pointers that players have to make. But when those players solely designated to knock down those shots are on the bench, offensive problems ensue.
The Storyline
As basketball fans, we can only hope for another great game tonight, and given the stakes, it's bound to be. LeBron seems to be the only constant in this series, so another stellar performance is all but a certainty from him. But if Miami wants to take control of this series, Wade and Bosh must step up to the task and take after LeBron's production. Wade had 14 points in Game 2, but he never looked fully engaged. It was as if he and the rest of the team simply expected LeBron to carry them to a win. Luckily for them he actually did, but the Heat can't afford to place all their eggs in one basket. Not in the NBA Finals.
The Spurs, on the other hand, have the same goal that Miami did for the first two games. Coming off a loss, they know they must win one of these games in South Beach. The deep bench production they have (which the Heat lack) must be taken advantage of more. Duncan must be a consistent force, and the role players must do their part. On paper, they are the best team, but it all comes down to execution. Miami has shown they can win in San Antonio, and tonight the Spurs will look to show that they can win away from home as well.
Both teams should feel great about their chances going forward. Miami's thinking has to be that, had LeBron played at the end of the first game, they should be up 2-0. Meanwhile, the Spurs are looking at the box score and kicking themselves, realizing they also could have won both games at home, had it not been for foul trouble. That mindset from both squads will be brought into Game 3 tonight, and it will be interesting to see which overpowers the other and wills themselves to an important win.
You can reach Staff Writer Paolo Uggetti here, or follow him on Twitter here.