Los Angeles
Undocumented Students Face Uphill Battle For Education Equality
This story is part of Neon Tommy's series, Wage in L.A., which explores how Angelenos survive on the state's minimum wage of $8 an hour, and how they feel about their jobs.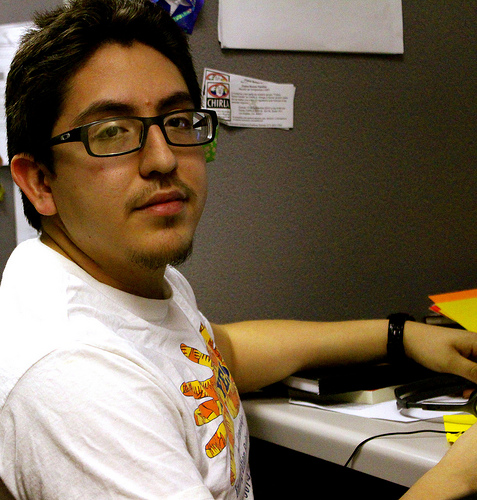 Twenty-year-old Kevin Valero paused, trying to find the best way to describe growing up as undocumented immigrant in Los Angeles County.
"Rollercoaster," is what he chose.
Valero was only 5 years old when he and his parents left Mexico. He counts some 20 different addresses in Los Angeles County that his family have called home.
Valero is one of 11.2 million undocumented immigrants living in the United States, and he has been trying to gain citizenship since his parents legally brought him to California. His parents' often had to fight for menial, low-wage jobs to pay for Valero's basic necessities and allow him to stay in school. Sometimes his mom would seek out food giveaways at local churches when funds were meager and rent money was a top priority.
After being accepted to one of the top universities in the country, Valero's undocumented status prevented him from accessing critical loans. His parents couldn't foot the bill for private tuition, about $45,000 a year, and he was forced to drop out. After that, his parents' marriage collapsed.
The family first lived with an elderly woman in San Gabriel Valley, Calif. His mother started working as a 24-hour caregiver, giving Valero a stable home for a few years until the woman died in 2003. His parents landed a slew of low-income jobs to make rent and grocery bills, despite their bachelor's and master's degrees from Mexican universities.
"My father has a master's in accounting but those degrees don't translate here," said Valero. "They could only get certain jobs because they never had the right paperwork."
Valero's parents would sometimes eke by on $10,000 a year. During these grim times, Valero's mother would find churches that handed out food gift cards or find holiday food drives.
But Valero said he was lucky.
"My mother did a great job at masking our economic disparity," he recalled. "She always made sure I ate at least three times a day, no matter how little we had."
Valero and his parents entered the country with Visas and began petitioning for green cards in 2001 through a family sponsorship clause. Known as section 245(i) of the immigration law, family members who are citizens or permanent residents can file petitions on behalf of their undocumented relatives who are living in the U.S.
The green cards never came through.
So like many Latino immigrants, Valero's mother rotated between babysitting, cleaning houses and full-time nanny jobs. His father picked up random accounting jobs and would do financial consulting and real estate advising for Latinos in the area.
When his dad "got lucky," the family would live comfortably for a few months—then the money would run out.
"Every six months to a year we had to change places to live," he said. "Always to a smaller place, or rent out a room or go to a relatives home."
The stress and financial burden also put a strain on his parents' marriage and his father's health. The family never could get health insurance. Without Social Security cards, they could only find low-paying, high-demanding jobs that were always temporary. In 2010, the average median income for undocumented immigrants was just under $30,000, according to the Federation for American Immigration Reform.
"Sometimes we would have Christmas presents, other years we wouldn't," said Valero.
His parents' financial fluctuations reached a climax when Valero was 14.
"We were suddenly evicted from our home, because unbeknownst to me we hadn't been paying our rent for a while," he said. "In less than 24 hours we had to check in to a motel with all our things because we had nowhere else to go."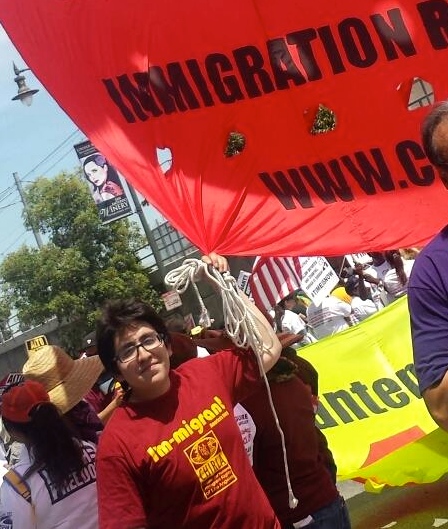 Losing his home was the most sobering, clarifying example of he and his parents' status in the United States. His parents would never get the jobs they needed to rise above lower-class living, no matter how hard they worked and "hustled." In 2011, 32 percent of undocumented adults and over 50 percent of undocumented children had
family incomes below the poverty line
. Income inequality in this country has never been higher, and
experts blame
the perpetual influx of undocumented immigrants.
"I realized at the drop of a hat my life could change because we were so financially unstable," he said. "In school my friends seldom visited my house because I was ashamed to show them the poor living conditions that I was living in."
Thanks to new legislation, Valero became a DREAMer, part of the Deferred Action for Childhood Arrivals act that shields undocumented youth from deportation. The DREAM act gives undocumented students a two-year reprieve from deportation if they have lived in the U.S. for over five years, graduated from high school and never got into serious legal trouble.
Like Valero, almost 70 percent of students eligible for the DREAM Act are Mexican and about 412,560 of them live in California.
Even with a miniscule amount of help from the government, Valero says he is determined to create a stable life for himself, something his parents strived for in America, but could not achieve.
A family priority
Education was the one thing that held constant throughout Valero's childhood. No matter where in Los Angeles County she found work, Valero's mother steadfastly refused to let Valero switch schools. He attended the Covina school district from Kindergarten-12, graduating from Charter Oak High School in 2011.
"She worked hard to keep me in that school because I was in an accelerated program for gifted students, and she knew how important that was for me to have a future," said Valero.
The diverse San Gabriel Valley, with some of the most densely populated Asian-immigrant communities in the country, attracted a large Hispanic immigrant population when Valero was going through elementary and high school. Close to 60 percent of the students are Hispanic, and like Valero, more than 30 percent of the 6,000 students get free or reduced lunch.
But Valero says he never felt ostracized for being undocumented or lower-income while in public school.
"I grew up in a town where most of my friends were first-generation Americans and most adults were immigrants," he said.
For a student like Valero to make it to college, let alone a top-tier university, sheer grit and brains often divide the handful of undocumented students from the thousands of others in the same position. Setting aside hundreds of dollars for SAT prep is unimaginable for many of these families—so the few thousand undocumented students who get accepted into four-year universities had to fight for it mostly on their own. Or with the help of some devoted teachers and counselors, like Valero's.
Valero was accepted into the University of Southern California's business school in Fall 2011. His citizenship was still on hold, meaning he was not eligible for any federal financial aid. Making it that far was a novelty in his community, and across the country. Of the 65,000 or so undocumented high schoolers taking diplomas from their principals' hands every year, just seven to 13,000 of them go onto college.
Valero said that a group of his father's co-workers promised to sponsor him through USC, but backed out when it was time to write the checks. After a year spent deferring tuition payments, Valero had to drop out.
"That's when I found out what it truly feels like to be undocumented," Valero said. "Pursuing a better education is virtually the only opportunity for prolonged and sustainable success, and then not having that option simply because of paperwork, and not because of anything I did morally wrong, was completely absurd in my mind."
At 18, Valero's life looked "incredibly bleak."
Fighting back

Kevin Valero was forced to indefinitely drop out of college. He couldn't work legally and was basically non-existent in American society without a social security number, driver's license and college education. Then his family fell apart.
"With all the years of stress piled up and then when I was unable to continue school my father was heartbroken because he felt that was his responsibility and he is an elderly man and developed aggressive prostate cancer," said Valero.
Without health care, treating cancer in America is an almost impossible feat for undocumented immigrants. His father was forced to return to Mexico for treatment, and Valero has not seen him in nearly two years.
"He can't come back here and I can't go there all because of paperwork," he said.
At 18, he became the main provider for his family. Soon his parent's marriage crumbled and his mother now lives with a new boyfriend in the Inland Empire. He keeps in touch with his dad through Facebook.
Now supporting himself logging about 60 hours a week working on a campaigning for the Coalition for Humane Immigrant Rights of Los Angeles, Valero stretches his $20,000-a-year salary and lives paycheck to paycheck while still helping pay his mom's grocery and cellphone bills. But it's just a part-time job.
College is also back on the table. He will be enrolling in Citrus College, a community college in Glendora, Calif., this fall. A new, $9.2 million California loan program promises to give money to undocumented college students. The state would be responsible for about seven million of that. The UC and CSU would pick up the rest. After that, loan repayments would sustain the program
While he hasn't fully let USC go, he bitterly accepts that the dream of graduating from one of the top universities in the country is contingent on finally becoming a citizen of this country.
With financial constraints, he can avoid car payments and rent He bounces back and forth between his old haunts at Theta Zi fraternity, his best friend's place in San Gabriel Valley, or staying with his mom. That's how he makes a college degree tangible.
"Not having my own home is a blessing because I am able to put money away for books and classes in case financial aid doesn't come through," he said.
Most days, he eats three meals.
"I eat OK. But being 20, sometimes I run out of money because I am still learning how to budget," he says, smiling sheepishly.
His stint working at CHIRLA ends in a few weeks, and he will be without a job by the end of the month. But he's unfazed.
"I'll pick up a few jobs close to my new school since I don't have a car. And luckily L.A. is a train ride away if I get work there," he says.
Like his parents, he's prepared "to hustle."
After running through his life story, Valero smiles broadly when talking about what he wants his life to be after graduating. He wants to work with people. Maybe an organizer for campaigns or non-profits. He wants to help immigrants with legal complexities.
"Public policy stuff," he explains. "But you need a master's for that. And citizenship, and right now I have to get that through marriage."
This story is part of Neon Tommy's series, Wage in L.A., which explores how Angelenos survive on the state's minimum wage of $8 an hour, and how they feel about their jobs.