Arts+Culture
Not Just A South L.A. Hospital: An Artful Representation Of The Power of Community
A man walks into a hospital waiting room and finds a photograph of himself as a child hung on the wall, displayed for thousands of patients and visitors to see as they come and go through the glass doors. A photograph from the bottom of a box finally resurfacing and becoming a part of history.
This scenario is exactly what assemblage artist Dominique Moody, 57, hopes will happen when the new Martin Luther King Jr. Community Hospital opens its doors. Her art installation piece on the wall of the outpatient lobby will be on display to the public for the first time, and the excitement of a new hospital era will greet the community after its long-awaited arrival.
Yards upon yards of intertwining aluminum beams, strategically placed panes of glass, and a nervous system-like wire set up beneath the walls make up the new hospital in South Los Angeles.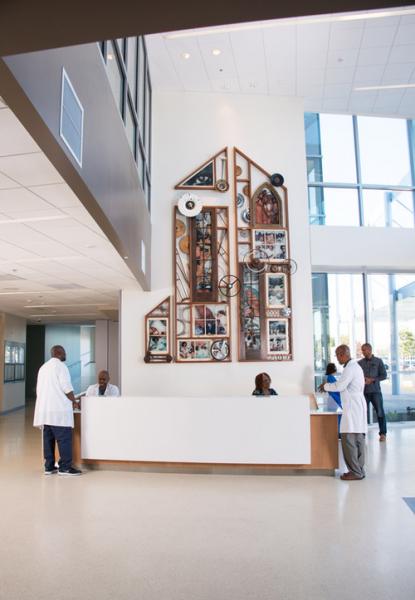 A shining metal island in a sea of rapidly churning water.
This state-of-the art structure is nestled in the heart of Watts-Willowbrook, a colorfully diverse neighborhood that has dealt with the absence of a nearby hospital for nearly seven years since the closure of the infamous King/Drew Medical Center, a mecca of malpractice and ethically questionable procedures.
SEE ALSO: Compton Medics Recall 'Killer King' With Fondness
Healing, warmth, and hope have been absent from this community and the last thing they need is a cold and distant hospital environment.
With the help of dedicated artists Dominique Moody and Lawrence Argent, Martin Luther King Jr. Community Hospital will not become the typical stressful, anxiety-driven white box. It will instead offer a place where patients and loved ones can retreat, meditate, and get lost in the art around them.
No matter if the news they await is happy or disappointing, they can forget about their surroundings for a mere moment and admire Moody's installation on the wall of the lobby entitled "A Healing Home," or take a walk around Argent's sculpture just outside the front doors entitled "Pieces Together."
"You can't compare what you would get from a gallery or studio to what you would get in a public setting," Moody said, "It's a stressful environment, but so powerful."
Moody's installation pulls together elements of assemblage, narrative, and collage to draw the viewer in while showcasing the history and stories that swirl around the old hospital that lived through so many milestones before it shut down.
SEE ALSO: Will A New South L.A. Hospital Mend Old Wounds?
It all started out with the photographs. Polaroids, negatives, black and white prints; there wasn't a type of photograph Moody hadn't seen.
"I ended up in a room with thousands of photos in boxes, unmarked and no particular way of being organized," Moody said. She poured over these images from the old King/Drew archive and managed to pull 125, all connected by a common thread.
Like needles in a haystack.
She didn't want static photos. She wanted actual active practices of the day. She wanted the community interaction. She wanted candid shots.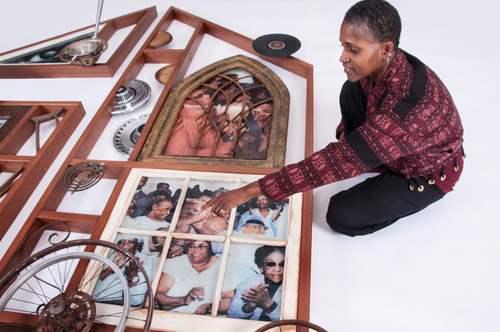 "It came down to an essential; health is this connection that human beings have between each other, and what most often is referred to as a form of medicine, is the ability to care for someone, to nurture someone," Moody said. She felt the hand would be a great metaphor of this idea because of how expressive they tend to be and how universal the gestures are.
She found photos of an African American couple cradling a newborn baby; a little boy riding a horse; the first set of triplets born in the hospital; Ray Charles, Rosa Parks, and even Martin Luther King Jr. himself.
The recognizable and the unrecognizable.
Moody then used the photos to create transparent collages on glass panes, which were framed by windows and doors, embellished with other found objects like wheels, hubcaps, bicycle pedals, and even an old pair of crutches. The objects add more texture and depth to the piece all while keeping with the warm, vintage feel and aesthetic.
"It allows people to feel comfortable because there is something very familiar there. They've seen it a hundred times before, they're engaged to it, old windows and doors," Moody said. "They know what those objects are, they trigger memories, and they pull the viewer in like an inviting house."
She has no doubt that people will view her piece and recognize Rosa Parks or Ray Charles, but what if that little boy on the horse comes into the hospital for medical care one day? He could be 50-years-old by now, but he would see his own photograph and recognize himself as a child. That powerful moment alone could reveal a thousand memories.
SEE ALSO: The Disparity Of Healthcare Services In L.A. County
Each of the nine glass panels housed within "A Healing Home" encompass a different collage of photos and is entitled something different. The panel with the African American baby is called "First Baby Born." The panel with the little boy riding a horse is called "Boy on Horseback." And the one at the very top may be a little smaller than the others, but possess a meaning no less inspiring.
"I was able to scan and capture Martin Luther King's eye. Just his eye. I named that top panel 'King's Vision,'" Moody said. "I wanted people to understand that he had this vision of communities being active in resolving the challenges they faced. That's what that hospital was about."
Lawrence Argent's sculpture "Pieces Together" also draws on the ideas of healing, connection, and community, much like Moody's piece. But instead of vintage photographs, he utilized the people currently living in the surrounding Watts-Willowbrook area that would immediately be affected by the new hospital's opening and of course, had plenty of stories to tell.
"A community is a group that collectively is formed by all that gives voice," Argent said. "Lips are a representation of where conversations come from, where dialog and having a voice espouse."
Similar to how Moody used hands from the photographs, Argent sat down and talked with 28 local residents about their lives and experiences and then, as a little twist, collected dimensional data of each person's lips. He then used these lips as puzzle pieces to form his granite sculpture symbolizing intertwining voices that together make up one big "community voice."
"Each and every member of the community is an essential part that makes the puzzle complete," Argent said. "I think it was their frankness and openness to my questioning that illuminated me. I was surprised that all were so trusting of me and of what I was going to do with the material."
The interviews with the community members Argent conducted were filmed and edited into videos that were put online for everyone to watch and experience. He hoped their stories would inspire and give others a sense that this hospital will not be as intimidating, but more humanizing for visitors. The power of a few single voices coming together can pave the way for change and hope.
SEE ALSO: Community Reacts To New South L.A. Hospital With No Trauma Center
"A Healing Home" and "Pieces Together" were the vision of Moody and Argent, but they insist their work would not have been possible without the others who helped every step of the way. The installers, construction workers, architects, and every single person pictured in the photos—from the nurse holding the first baby born, to Martin Luther King Jr. himself.
As Moody says, it mirrors Martin Luther King's vision. You cannot expect one person as an individual leader to make all the changes alone, but you can have a strong enough vision to inspire people to take action and help make it happen.
Reach Staff Reporter Casey Prottas

here.