Los Angeles
The Disparity Of Healthcare Services In L.A. County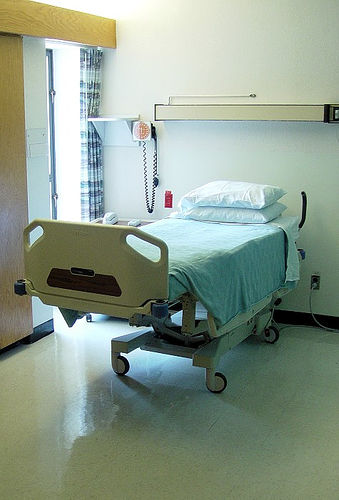 It's the second largest city in the country. It runs the gamut from rich to poor, PhD's to high school dropouts, black to white and everything in between. Yet, the biggest disparity you'll find in Los Angeles is that of the medical services available to Angelenos in different parts of the city.
Imagine you're standing in middle of South Los Angeles on the corner of 58th and Denver. The bus hasn't come yet (it was supposed to be here five minutes ago); an ambulance goes flying past, racing against the clock; there's a Latino woman standing next to you, bus fare clutched in her left hand.
She's 25 years old and there's a more than 25 percent chance she grew up in a single parent household. She's probably renting her home, a direct result of only making $31,000 a year. Most of her friends are earning less than that, as you're standing in one of the poorest neighborhoods in the country. She wants to have her own home, but there's less than a four percent chance she has a college degree—and finding well-paid employment is difficult.
SEE ALSO: Will A New South L.A. Hospital Mend Old Wounds?
You finally step off the bus in Beverly Hills; there's no one waiting to get on, worried about getting stuck if they drop even a quarter. A 41-year-old Caucasian man drives by in a Lexus. He's never worried about making payments on it; he makes nearly $100,000 a year. More than half of his friends have a college degree. Some of his friends rent their homes but nearly half are paying down their mortgage every month.
He has to pull to the side of the road. There's an ambulance going past.
The biggest difference between the woman waiting for the bus and the man in the Lexus isn't where they live, how they pay for their home or their ancestry. The biggest difference is that ambulance.
In South L.A., ambulance drivers have to race against a different clock. That's because there's not a single hospital bed in the neighborhood.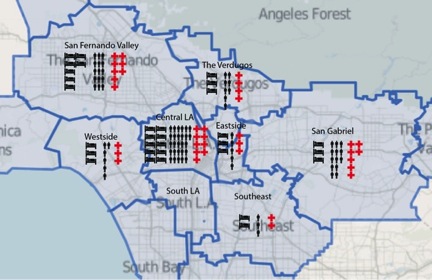 Each of the beds on this map represents 500 available hospital beds in each neighborhood. Each man represents 10,000 patients admitted to hospitals, and each red cross shows us 10,000 patients who entered the hospital through the emergency doors.
It turns out the ambulance you saw racing past while waiting for the bus might have met you in the Westside. Throughout L.A. County there are thousands of hospital beds and hundreds of thousands of Angelenos in need of medical care. Yet, none of them are in South L.A. Anyone in need of medical help in South L.A. has to put their hands together and pray their ambulance makes it to the Westside, Central L.A. or the Southeast before it's too late.
SEE ALSO: Non-Emergency Medical Service: What Happens When South L.A. Calls 911
L.A. County has one of the greatest disparities in available healthcare of any place in the country, says Tamu Jones, an administrator at the California Endowment. This is supported by the UMMA Group, a community clinic in South L.A. The clinic found that the neighborhood has the highest rate of children and adults without regular access to healthcare in the county as well as the highest rates of obesity and stroke. Ultimately, Jones says, no matter what indicator at which you look, L.A. County tops the list of health care disparity nationwide.
As a result of that disparity, there's a much higher number of free health clinics per capita than nearly anywhere else in the country. Lisa Hubbard, Director of Public Affairs for St. John's Well Child says the clinics are there both to provide care for those without a better option as well as to remedy the disparity across its different causes. At St. John's, those remedies address families' educational and socioeconomic needs as well as those caused by pressing health concerns.
For all the work clinics like UMMA, St. John's, Saban Community Clinic and the Community Clinic Association do, South L.A. still lacks the very infrastructure to care for its residents' medical needs. All other things equal (which we've established isn't remotely the case), residents of South L.A. are at greater risk of not surviving if something goes wrong medically. The rest of L.A. County's residents can count on getting to the hospital within a matter of minutes, but those standing at the bus stop on 58th and Denver don't share that reassurance.
The minutes seem to tick faster when something goes wrong in South L.A. Time seems to fly when you keep having to go farther and farther to find help. For all their differences, the man in his Lexus and the woman at the bus stop are subject to the laws of time. The second either one of them is in an accident, the clock starts ticking to save their life. It just happens the second hand seems to move a little faster when there's not a hospital bed in existence for miles around—when you live on the wrong side of a healthcare disparity.
The second hand seems to move a little faster when you live in South Los Angeles.
The Los Angeles County Department of Health Services could not be reached for comment on this story.
Contact Calum Hayes here.