Los Angeles and Region
New Westwood Parking Initiatives Shift Into Gear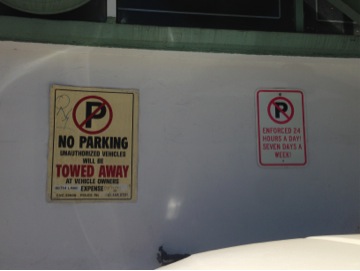 "When isn't there a time that I've had problems parking here?" asked Mark Walsh, wiping sweat from his forehead. "I've spun around the block 10 to 15 times looking for a spot in Westwood."
Walsh, a service technician for restaurant equipment who often drives into Westwood for work-related tasks, said he's never had a pleasant parking experience in the neighborhood.
"During the day, there's not a parking space to be had. People are literally fighting over spaces," said Walsh.
Walsh's sentiment prevails among many drivers who creep along the busy streets here hoping for a spot to open up. A survey by the Westwood Village Improvement Association found parking reform to be top priority for neighborhood businesses.
In response, the WVIA has launched several new projects aimed at decreasing traffic and increasing awareness of off-street parking options.
The first step was the creation of an online interactive map powered by real time information that allows visitors to view all parking garage and lot options in the neighborhood, as well as compare rates and even reserve spaces ahead of time.
The map is powered by the company ParkMe, which allows users to review, reserve and compare parking options through its website or mobile phone application. The company coordinates with parking lot owners about hours and pricing and projects options on the map.
The cost of parking options typically ranges from $1 to $9 per hour, but daily rates climb as high as $50. From their home computers or smartphones, viewers may also select approximate times of their visit and see which parking areas will be open during that time frame.
The website also includes valet spots, day or nighttime parking options and lots that cater to brief or lengthier visits.
For the WVIA, this map marks the first step in a long process toward decongesting the streets and encouraging people to find parking outside of the limited meter options that line the busiest streets, like Wilshire Boulevard and Broxton Avenue. Andrew Thomas, director of WVIA, said the problem for drivers isn't a lack of options; it's a lack of awareness.
"It's a real issue, people come here and they get frustrated," said Thomas, "There's plenty of parking, but people don't know about it. It's important to combat the negative perceptions that there's no parking in Westwood."
In 2013, the WVIA surveyed property and business owners in Westwood about the characteristics of the neighborhood and priorities for improvement. The report showed that 41 percent of respondents marked parking availability as "poor" or "very poor," and 58 percent of respondents selected it as the most important item for the WVIA to address.
For the WVIA, the next step in combatting these negative perceptions involves teaming up with ParkMe, which already caters to communities in more than 1,800 cities around the world on all seven continents, from Kista, Sweden to Khimiki, Russia. The co-founders of the company, which is headquartered in Santa Monica, created the application to "solve [their] own parking problems," according to the ParkMe website.
Walter Elly, a 34-year-old New Hampshire resident, said the ParkMe application helped him when he was in a time crunch, scrambling to find parking at the Boston train station last February. Like many commuters in big cities, Elly said he relied on a single parking garage and he wasn't familiar with other options in the area.
"I had parked there for years without a problem but worried about that I would do if the lot was ever totally full…I used ParkMe to not only find alternative parking near me but also to find out which offered overnight parking and took credit cards."
ParkMe has created an online map for the city Santa Monica, another tourist hub. But although the company powers WVIA's interactive map, it has yet to create an application just for Westwood. ParkMe's spokesman, Kevin Blomberg, said he hopes the Westwood application will be completed within the next six months.
One of the biggest advantages of partnering with Westwood, said Blomberg, is it could have a drastic environmental impact, particularly since Los Angeles is infamous for its smoggy air.
"We can get people off the streets faster. It's urban management. It's CO2 emissions," said Blomberg.
Blomberg's go-to guru on these matters is Donald Shoup, a professor of Urban Planning at the University of California, Los Angeles, who is known in his field as the "parking prophet" and has published academic works on the issues surrounding parking.
In his book, The High Cost of Free Parking, he states that an average of 30 percent of cars in traffic are cruising for parking. Shoup believes the primary goal for organizations like the WVIA who are trying to reform an urban parking system should be to get long-term parkers off the streets and into off-street lots.
"Parking in Westwood has been mismanaged for as long as I can remember," said Shoup, "Around 1984, Westwood reduced the price of parking thinking it would help, and Pasadena installed parking that very same year. Pasadena thrived, Westwood failed."
In one of Shoup's articles, Turning Small Change into Big Changes, he said Pasadena's parking was unusually expensive for the time, but those high prices helped revive the area. People who couldn't pay the meter made room for people who could, and who were more likely to spend money at local stores.
Shoup referred to pre-1980s Pasadena as a "commercial skid row," whereas, he said, Westwood was one of the hotter parts of town. Shoup said people used to drive from Pasadena to walk around in Westwood, but today, it's the reverse.
Thomas, of WVIA, acknowledged that cruising for parking constitutes a major concern for Westwood.
"Folks are looking for any available parking meter and aren't accepting what's off-street, people drive around in circles, which adds to congestion, traffic and pollution," said Thomas.
Thomas said most drivers prefer the convenience of meters, which allow people to come and go as they please, offer the cheapest prices in the city of $1 per hour, and are not, as Thomas put it, situated in the "bowels of a building."
The problem, according to Thomas, is that meter spots fill up first. Between 10 a.m. and 10 p.m. on any given day, they are completely occupied, and not always by Westwood visitors, but by employees of local businesses who feed the meters all day. Parking is even more difficult on Thursdays, when the popular Westwood farmers market lines Broxton Avenue.
An additional phase of the WVIA's plan to reduce parking problems involves incorporating the program "Express Park" to the neighborhood. The Department of Transportation put up a $15 million grant in 2012 to fund the Downtown L.A. project, which implemented hourly parking spots with sensor technology, measured peak periods of parking during the day and established hourly rates and adjusted parking rates by location when there is a major event, like a movie premiere.
Last year, City Council approved the extension of the project through June 30, 2014. Blomberg, of ParkMe, said he has noticed the effects of automatically adjusted rates.
"Now instead of $1 per hour at a meter it might be $5 per hour, which might make people say, 'Wow, I don't want to pay that, I'm going to go find something cheaper,'" said Blomberg.
The goal is to get people off the busiest streets, with the most convenient meter parking, and into some of the more hidden, off-street lots that will eventually start to offer lower prices than meters do. It will boil down to a decision of convenience versus price.
At present, said Thomas, owners of private lots often charge significantly higher prices than parking meters.
"They can't compete with what's going on on-street, and it's not a realistic option for them to charge $1 an hour right now," said Thomas, "but what you see is that meter parking on Hollywood Boulevard costs a lot more than $1, and off-street prices are coming down, so there's a new market of drivers looking for alternate options."
But until some of the meters in Westwood open up, he said, those lot prices won't come down.
Visitors trying to save a few bucks said they appreciate the application because it provides discounts on spots booked ahead of time, and for customers deterred by "cash only" parking lots, the application takes credit cards. Blomberg said this is helpful for people who want to hold onto cash they brought to spend at their destinations, whether it's Santa Monica pier or a local farmers market.
While Express Park and ParkMe are geared toward making parking easier and more efficient, Thomas said Westwood is very "walkable," and hopes the initiative will replace car traffic with foot traffic.
Until there's more awareness about off-street parking options in the neighborhood, drivers may continue to wrangle over meter spots.
On a recent Friday afternoon, disgruntled drivers clogged the streets, scanning the jam-packed meter areas for any sign of a departing vehicle. When a shopper returned with keys in hand, traffic halted as the leader of the pack, in a black Nissan Altima, inched forward hopefully.
After five minutes of adjusting and reversing, the driver claimed one of the rare meter spots, good for only 30 minutes, while others honked impatiently from behind.
Reach contributor Alexandra Janin here.