Style
Le Fashion Truck: Los Angeles' First Boutique On Wheels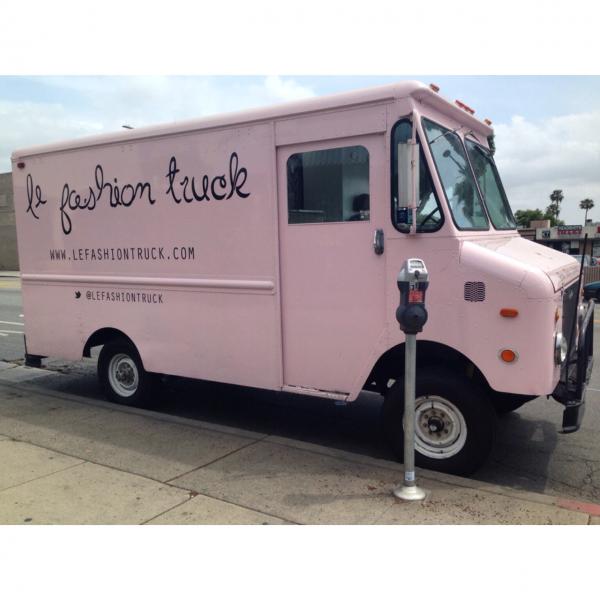 Entrepreneur Stacey Steffe first got the idea for a boutique on wheels while working at the El Cerino farmer's market in Los Angeles vending handbags. Bored with the restrictions of her marketplace shop, Steffe approached handmade jewelry vendor and eventual Le Fashion Truck co-owner Jeannine Romo, after coming across her booth at the same market. Steffe loved Romo's designs, and it wasn't long before Steffe came up with the unique idea to give L.A. its first fashion truck.
"Why not put a store in the back of a truck?" said Romo. And with that, Le Fashion Truck was born.
READ MORE: Peddling Fashion a la Food Trucks
Opening in January 2011, Le Fashion Truck carries styles that you won't find in your usual stand-alone boutique or department store.
"We carry a swimwear line out of Oklahoma, a handmade jewelry line out of Los Angeles and a floral headband line that is handmade by a designer in Orange County. We work as much as we can with people that are producing their own designs, and that's why you can't find what we carry in another boutique or department store," said Steffe.
However, that means that customers sometimes have to pay boutique prices. The clothing and accessories range from as low as $7 to over $100.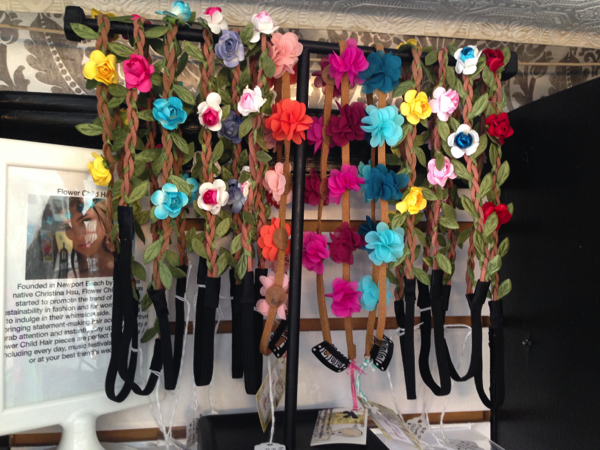 The unique shopping experience is created by combination of local designers in a small shopping space. Because Steffe and Romo cultivate the pieces featured inside the truck, they are able to accurately answer questions about the products they have, as well as help style the customers they interact with.
"It's awesome. Everything is super cute and we found a lot of items that we want to purchase," said Tatum Henderson, a designer and shopper.
With a low overhead cost, starting a mobile business has been a trend that is more attainable than starting your traditional restaurant or shop.
"An average start-up cost is about $20,000, which is a lot less of an expense than a traditional brick and mortar boutique," said Romo.
The minimal start-up cost leaves more room for profit and allows truck owners to spend less time paying storefront rent and more time creating a unique shopping experience. Henderson thinks so, too.
"Pop-up shops are the way for everything; it's really an ingenious idea, not only for the consumer, but for the business owner to be able to own a retail space without the high overhead," said Henderson.
READ MORE: Moving Trend: Fashion Trucks Hit the Streets
Romo says that some standalone boutiques have brought on trucks to add another aspect to their store and drive revenue that is lacking in their boutiques.
"The truck is another way to keep going in the retail word, even after their standalone boutiques have closed," said Romo.
Spending what you save on rent to retrofit a truck to your design theme ensures that a store-on-wheels can realistically compete with a traditional shop. When walking into Le Fashion Truck, you feel as though you've been transported into a quaint French boutique. From light-pink accents to vintage floral wallpaper, the design of the truck is chic and enhances the trucks space without overcrowding it. The aisle remains open to display the designs against the truck's walls, creating more room for a dressing room, decorated with a pink striped curtain and a full-length mirror, where shoppers can try on clothes and test out accessories.
The owners of Le Fashion Truck have helped pave the way for other trucks after it by establishing the American Mobile Retail Association, an organization that offers consulting and business services to retailers wishing to set up a mobile shop. Their unique vision has spawned 19 fashion trucks all over Southern California. Cruz and Selvedge Dry Goods are just a few that have gained notoriety amongst the mobile retail world and more continue to pop up each year.
If you can't make it to Le Fashion Truck, you have the option to rent the truck for private events.
"We bring the store to the hostess' house. She's there with her friends, they'll sip wine and have light bites to eat, and we just bring the shopping experience right to their home," said Romo.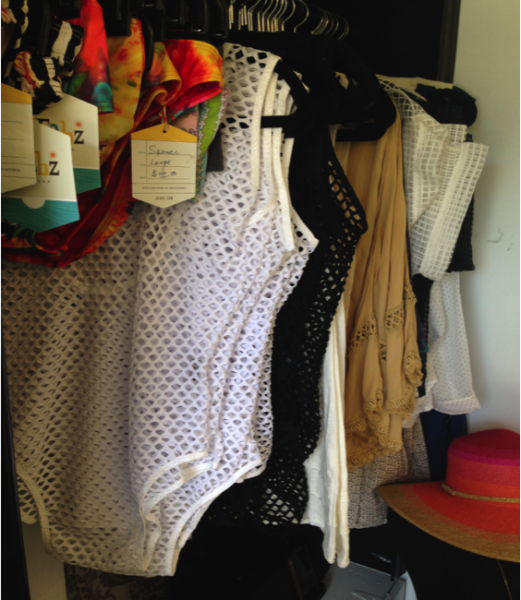 Anyone can rent out the truck for an event, with some requirements. Le Fashion Truck requires a minimum of 10 women at each private shopping event, and will travel at no cost to the host within a 30-mile radius of their 90028 zip code. Otherwise, a cost of $25 per additional 25 miles outside of this radius will be charged to the hostess. But, once the truck has a parking space, your private event can begin.
READ MORE: Host a Le Fashion Truck Party
All purchases are made via iPad, and customers have the option to pay with credit, debit or cash. Receipts are emailed to customers, creating a truly digital shopping experience, which is just another way that Le Fashion Truck sets itself apart from other boutiques and department stores.
Just this week, Steffe and Romo held a shopping event outside of the W Hotel in Westwood. The event attracted passersby and customers who had been alerted about the event through social media. The truck's Twitter and Instagram handles are written under the truck's name, sparking a curiosity to all that drive or walk by the truck.
"The way we let our repeat shoppers and fans know where we'll be is through social media. Social media is huge in mobile retail. We post on Instagram, Twitter, Facebook and we have an email list that we send out to our subscribers. You can check our website; it's very technology based," said Romo.
Social media has helped contribute to spreading the word about fashion truck events, including Le Fashion Truck's latest two-day stop outside of the Coachella Music and Arts Festival a couple weeks ago.
Designer Kisha Hicks of Wilma & Ethel, a jewelry line that has been featured on Le Fashion Truck, uses social media to keep repeat shoppers informed and attract new customers as well.
"I post where I'll be on my Facebook page and Twitter account, so that my followers can follow me. They don't necessarily have to buy my jewelry through my online store, they can actually come touch and feel my products," said Hicks.
Social media creates a solid fan base and a more intimate relationship between the customers and designers, which leads to additional business opportunities.
READ MORE: Chicago Food Trucks Ticketed By Cops Using Social Media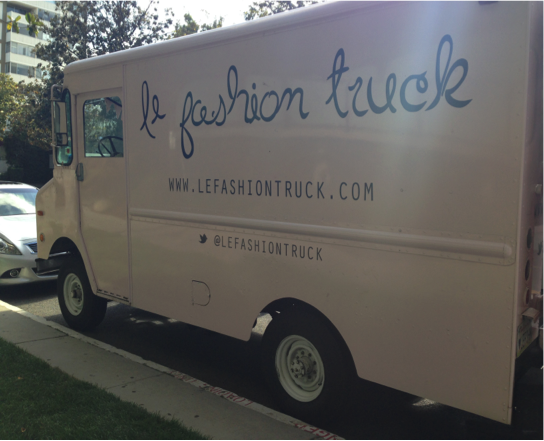 The future of retail has taken on a new image because of the Le Fashion Truck's emergence. With malls and department stores experiencing less foot traffic than before, a business that can come to you is gaining more appeal. Both Steffe and Romo see retail turning mobile in the future, and they're not the only ones.
Hicks uses that same idea to take her designs all over California.
"Le Fashion Truck has helped me determine the direction I wanted to go with my line. Before I was mainly doing wholesale through my online store, and that was a harder way for my business to flourish. Almost everyday, I'm at a different location, setting up a pop-up shop for my line. The mobility that you have by not being in one location has allowed my business to grow in a way that it could not in a traditional boutique," said Hicks.
Hicks doesn't just do business in Southern California. In addition to her online store and weekly pop-up shop at USC's farmer's market, Hicks travels as far as San Francisco to bring her handmade jewelry to customers.
Outside of online shopping, Le Fashion Truck is the closest you can get to a convenient shopping experience that is also hands-on. With a wave of mobile businesses in a town that is constantly on the move, and often stuck in traffic, Le Fashion Truck makes it possible to pull-over and check out their designer duds without having to step into the monotony of a mall.
Le Fashion Truck's reach goes much farther than Southern California. Designers Tatum Henderson and Stacy Lee traveled all the way from Oahu, Hawaii to get inspiration for their own fashion truck.
"We came to check the truck out because they are the pioneers. It's such a novel idea, and it's just a different way to shop," said Tatum.
This novel idea that started as just a thought in Los Angeles, is taking flight across the nation, making mobile boutiques the next hot place to pick up unique clothing.
Reach Staff Reporter Mona Khalifeh here.