Film and TV
Film Review: 'The Amazing Spider-Man 2'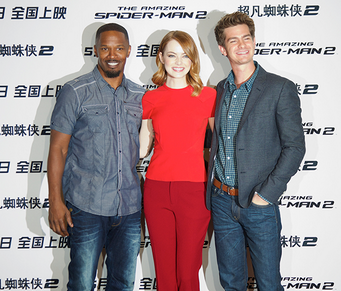 On May 2, "The Amazing Spider-Man 2" swung back into theaters with more action and trouble than before.
Peter Parker (Andrew Garfield) is caught in a web of trying to save New York City while juggling responsibilities of graduating high school and keeping up with his romantic relationship with Gwen Stacy (Emma Stone). Gwen is on the path to success as the high school valedictorian with plans to attend college at Oxford.
READ MORE: 5 Things To Expect For 'The Amazing Spider-Man 2'
The film starts off with Peter Parker swinging around the city and saving lives. But, his routine job makes him late for his graduation and he misses Gwen's valedictorian speech.
Throughout the film, Gwen and Peter hint that Spider-Man has caused them to have had a rocky relationship. Peter feels guilty about the relationship because he had promised Gwen's father (who died in the first film) that he would never let Gwen be in danger.
Director Marc Webb gives us a lot of what we expected to see in the sequel to "The Amazing Spider-Man." The film introduces known characters with new personas, such as Harry Osborn (Dane DeHaan) and Electro (Jamie Foxx).
Misunderstanding and overlooking people is a clear motif in the film, which consequently leads to not only Harry Osborn becoming the Green Goblin, but also an Oscorp employee Max Dillon becoming Electro.
Other things to keep an eye out for are the Spider-Man jingle, which is used as Peter Parker's cellphone ringtone, celebrity actor appearances such as Paul Giamatti and learning the truth about Peter's parents.
Watch the trailer below.
Reach Staff Member Tanya Mardirossian here. Follow her on Twitter.