Los Angeles
USC Student Protesters: President Max Nikias Has Ignored Us For Eight Months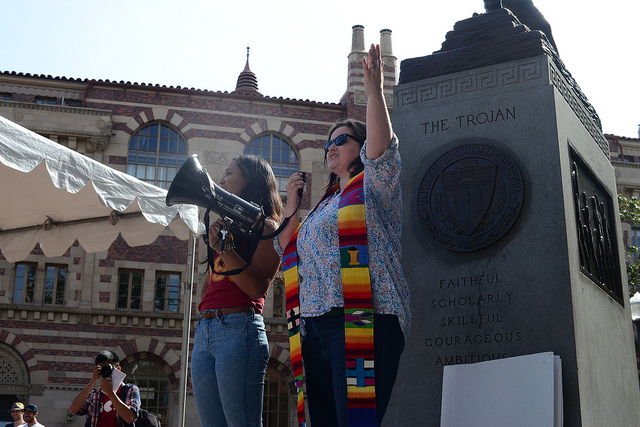 "The people over profit!" students passionately yelled at the top of their lungs as they walked through the USC campus.
Over 55 protesters rallied at Tommy Trojan to protest USC's contract with JanSport. Prior to the protest, USC students and Student Coalition Against Labor Exploitation (SCALE) members conducted sitiins at various locations across campus including Town and Gown, the USC bookstore and the Office of Student Affairs in the Student Union.
SEE ALSO: USC Student Protestors Rally Against University Policies
Students from each location walked through campus chanting, "This is what democracy looks like!" as they joined forces with other univeristy student groups to end up at their final destination: Tommy Trojan. Standing on a bench, SCALE representative Sarah Newell yelled, "That is why we are coming together today, we are taking back our university!"
According to Newelle, students from SCALE have been meeting with USC administrators for eight months asking them to cut their ties from JanSport, "a brand that notoriously kills workers." And for eight months, she said, students have been ignored.
Last week, 18 students occupied Bovard Auditorium to get attention the attention of USC President Max Nikias to cut the university's contract with JanSport. The confrontation ended with threats of suspension and scholarship withdrawals.
"After last weeks occupation in bovard the administration responded extremely harshly...frankly things that no other university would dirty its hands to engage in," said Newell. "Students were angry."
SEE ALSO: USC SCALE Tells President Nikias: 'Sweatshops Keep Us Up At Night'
Student leaders took turns standing on the steps of Tommy Trojan and told the large crowd about each sit-in. Liz Fernandes, who was at the Vice Prrovost's office, said that the administrator she spoke with mimicked her and took photos of the group of students.
"To hear the administrator say to me that my voice doesn't need to be heard is absolutely ridiculous and she had no solutions for us. I know I'm going to continue to keep fighting and I know everyone in my room will," Fernandes said.
Andy Su, who sati-in at the university bookstore, mentioned that Bookstore Manager Dan Archer had already left when the group of students arrived. They then had to speak with Campus Activities instead. Su said that the office has been very supportive and has been pushing for meetings, and that they were going to have a meeting with administration later this week or next week.
"There's some hope there," Su said.
A host of USC Department of Public Safety officers stood nearby as the rally occurred.
SCALE says the VF Corporation, which is directly involved in the deaths of over 29 workers in Bangladesh, owns JanSport.
Flashing colorful posters stating "down with sweatshops," "student power," and more students in front of tommy trojan asserted their right to have a voice at USC. " Its not a SCALE issue its a universal issue that students don't have channels to make change when usc pushes back their students who dissent against their policies," said Newell.
SCALE students said they hope thier university president finally gives them the attention they have been yelling for.
"We felt that USC was not taking the time to adequately address student concerns when the university should exist to address student concerns," said Gloria Leung, a student protester.