Sports
USC Spring Football: The Spring Game And Beyond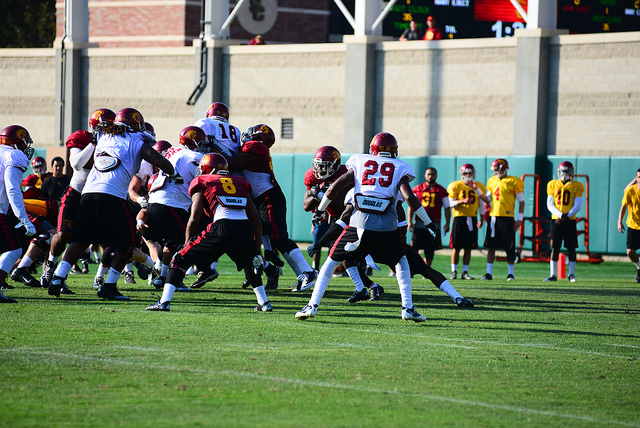 Spring practice is over, and after the defensive line's performance in the spring game, USC's offense has quite a bit of catching up to do in fall camp. After a slow start, the defense took control in Saturday's scrimmage at the Los Angeles Coliseum, finishing up the game with a score of 19 for Team White (Defense) to 15 for Team Cardinal (Offense.)
Cody Kessler might have won the quarterback competition, but he certainly will need to be amping up his confidence as the team moves through. Kessler underthrew a few passes during his series, and wideout George Katrib took a solid hit from Leon McQuay trying to catch a pass, as an example. Another shaky pass by Kessler on a third down was followed by Andre Heidari missing a 34-yard field goal to the left. Heidari made up for it later, though, hitting a 44-yard field goal from the other side of the field, leading offense to a 9 to 4 lead. The only two touchdown passes by USC Saturday were by a young USC fan and to another fan, showing a need for improvement on the deep ball.
Kessler did find tight end Jalen Cope-Fitzpatrick for a 33-yard gain over the middle among other connections, as Cope-Fitzpatrick showed he could replace Xavier Grimble as a receiving threat at the spot.
Pullard's Perspective
At first glance, while the running game didn't seem overly impressive, much of this could have been due to the offensive line suffering from injury depletions. Also, USC's defensive abilities have been showing strength throughout practices, and once again showed up. The offense had a few starts from its own 40 to try and get some late points, but was constantly pushed back and held down by the strong defensive line. With the performance of the USC's defense, linebacker Hayes Pullard gave the game to "the whole defense line all the time" because "without the front seven, [the team doesn't] have anything." Sacks were seen by Antwaun Woods hitting Max Browne on a 4th and 9 scramble, J.R. Tavai way back from the line of scrimmage, and Scott Starr on 3rd-and-long. As Pullard stated, "ones and twos, every single one of the D-linemen I think had a sack each."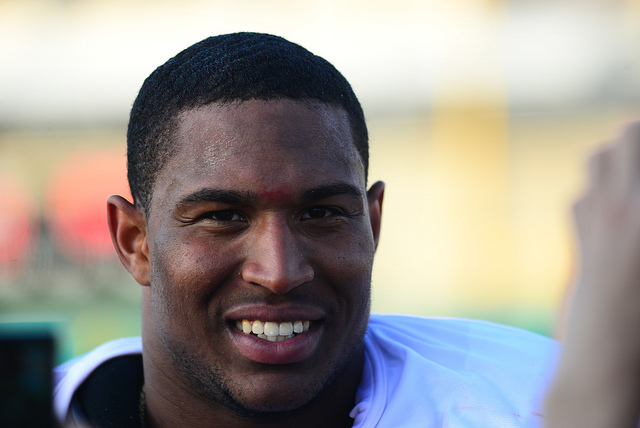 "All spring ball they've been a little shaky, some days they come out hot, some days they come out cold," started Pullard, "and today they just dominated." When asked what this could mean for summer or even fall, Pullard was pleased.
"It's just a great opportunity. It makes you feel like, 'okay things are coming along, summer's gonna be good, but fall's gonna be good.'"
Even with the defense's domination, there were some solid plays and good up-tempo work from the offense, with the Cardinals team (the offensive line) moving the ball smartly down the field. Javorius "Buck" Allen was very impressive at times, especially when the rare hole was opened up by the O-line. The completion ratio wasn't the greatest, but that didn't stop the offense from moving the ball from time to time with some big gains.
Head Coach Sarkisian Shares His Thoughts
Jalen Greene was a bit shaky on his first throw while taking his first series at quarterback, but found tight end Connor Spears on his next throw and managed to get USC into the red zone. Plays like that are more of what head coach Steve Sarkisian is expecting as the team continues practicing.
"Hopefully we'll score a few more points in the red zone, keep tackling, keep playing good defense, and that's the key to success to when we're playing here come fall," he said.
Despite the lack of points the offense got up on the board, Sarkisian seemed content with today's game.
READ MORE: USC Spring Practice: Defense Takes A Stand
"For what we do offensively and defensively," began Sarkisian, "which are relatively complex schemes on both sides of the ball, we got the majority of both of those two things installed and got quality reps at them. So, when we go back to teach them and install them at fall camp, it won't be foreign to these guys. they'll be accustomed to it, they'll feel good about doing it, and they can really start to fine tune it. I feel good about that."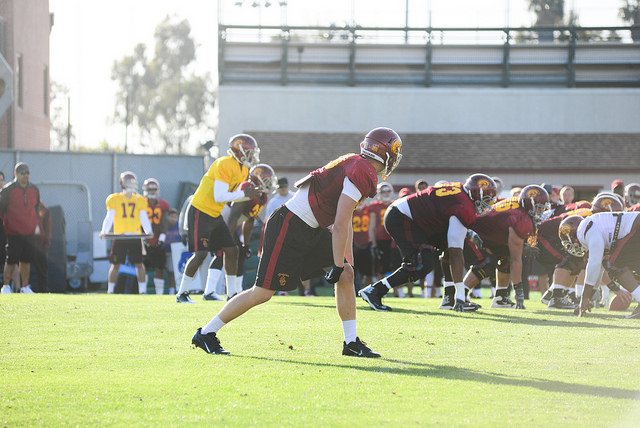 With his team shaping up to a point where he can start to feel good about things, Sarkisian has now turned his focus to "work on getting healthy," keeping in line with his desire to develop a deeper team.
"We've got 23 guys on that injury list," he stated. "We need to get our football team really healthy during training camp." Pullard echoed this thought, explaining that the teams plays have been "getting faster" and the players have been "playing a little more physical."
Heading into summer and fall, Pullard said the team can look forward to "just practicing, and capitalizing every single rep." As far as the new, incoming players, Pullard stated that "[the younger guys] have been maturing very fast. They study and ask some of the older guys to come in there and help," and believes practices will be "a great opportunity for them."
READ MORE: Spring Practice Update: Offense Intrigues Yet Again
So, What Does This All Mean?
The biggest thing to be taken away from spring practices, as well as today's spring game, is that USC is continuing to grow its depth. The various competitions among the first line made for tough practices, and a tougher team.
Sarkisian's efforts have paid off, and it's doubtful that USC will have to rely one set of players, which they often did on defense in 2013. Sacks came from a variety of the players, and come the 2014 season, the onus is on the offense to step up to the defense's level of play.
Reach Staff Writer Durga Ghosh here.