Sports
USC Spring Football Practice: Defense Takes A Stand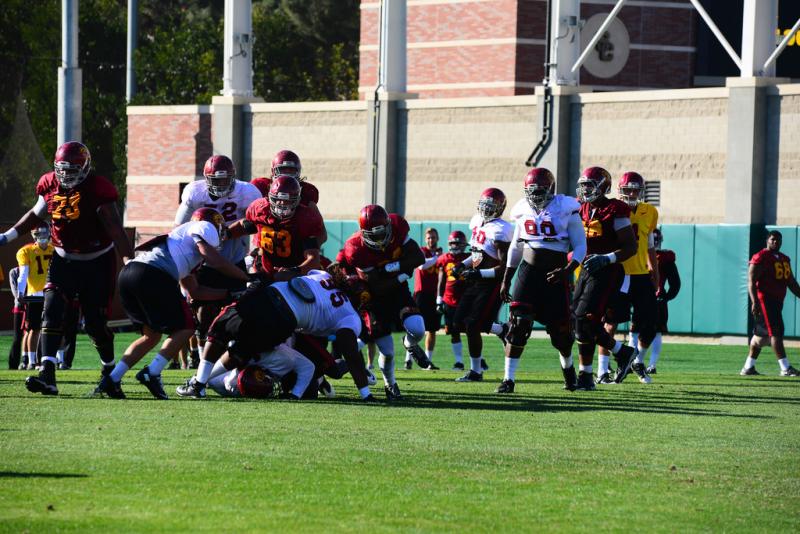 After a few pratices of offensive domination, the defense showed their strengths on Thursday afternoon during a fourth quarter simulation by coach Steve Sarkisian.
"I was really encouraged by the defensive line," Sarkisian said when asked about Thursday's practice. "As we've seen, Tre Madden, Cody Kessler, and Jalen Greene have all made successful, consistent improvements throughout spring practice - but yesterday was the day for defense."
Defensive linemen Kenny Bigelow and Claude Pelon made a number of plays in the backfield, and Sarkisian noticed.
"Maybe they're getting more in shape than I was giving them credit for."
READ MORE: Spring Pratice Update: Offense Intrigues Again
Kenny Bigelow
When asked further about Bigelow, defensive coordinator Justin Wilcox said "Kenny's getting better, he's got a lot of tools." Bigelow, who enrolled at USC in the spring of 2013 after graduating a semester early from high school, redshirted as a freshman defensive tackle. Again, as a redshirt freshman, Bigelow is pushing for a starting defensive line job. To get there, Wilcox said Bigelow's "consistency has to continue to improve." Bigelow's size has been working in his favor, and he is starting to grasp the fundamentals of the game, clearly becoming a better technician.
Antwaun Woods
Defensive lineman Antwaun Woods is also looking tougher and much more physical, which is "what you want in a nose guard," according to Wilcox. He continued to say that he's been "extremely impressed" by Woods, in the improvement of "his motor in practice, attitude," and over the fact that he's "a great leader." Woods wants to get better, and this practice showed his efforts.
Defense Looking To Blitz
With the depth of the defense building, could there be a possibility for more blitzes? "It just kind of depends," Wilcox said.
"In our menu we'll have a variety of those and then based on game plan…there are things that will dictate how much per game," he said. Mainly, it'll depend on the team USC is playing. "If you're a team that can generate four-man pass rush then that's good, so if we can do that, then we'll cover," continued Wilcox. Though the team didn't blitz much last year, they're looking to pressure more of their games in this upcoming season. "You have to be a threat," started Wilcox... "you have to have it."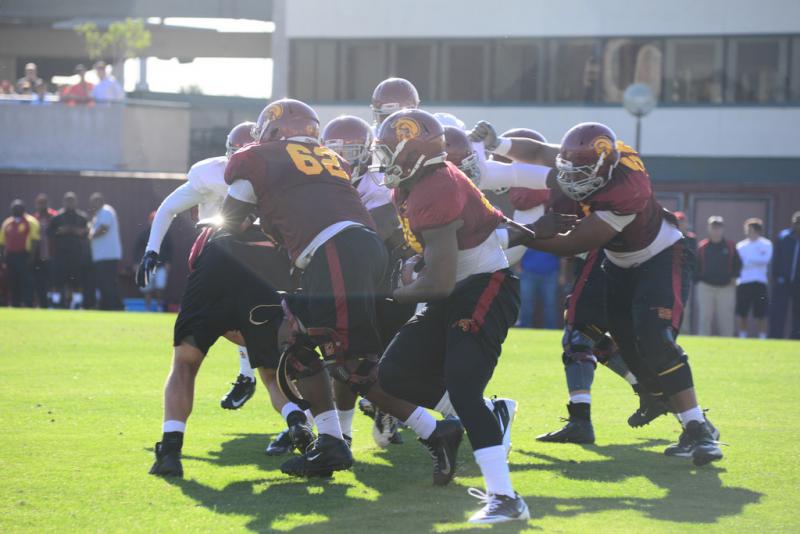 Team As A Unit
With the defense shaping up Thursday, and the offense playing strong Tuesday, the players look like they're starting to find their groove. However, Sarkisian won't be convinced until "the [players] go through these practices and they say 'give us some more, coach.'" Sarkisian plans to keep pushing his players and reminds us "these practices are harder than the games."
Reach staff writer Durga Ghosh here.
SPECIAL TEAMS PRACTICE