National
Mothers In Prison: Who Really Gets Hurt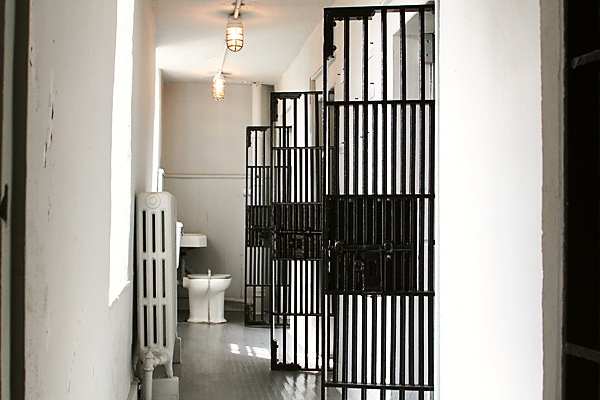 "When he was beating me against the wall, I knew that he didn't care about me. All I wanted to do was get away and never come back," said Harriette Davis at a panel discussion for battered women in 1993. After four hours of physical abuse, Davis was convinced her husband Henry was going to kill her. "He said that he was going to rest and that after he rested, he was going to finish what he started."
Once her husband fell asleep, Davis grabbed a gun from under the mattress and was about to leave, but her husband awoke, calling her name. Fearing for her life, she shot him. All the while she continued to worry that "he was going to get up and beat me for shooting him."
When she realized her husband wasn't getting back up, Davis thought immediately of her 9-year-old son in the other bedroom and his younger sister, who was with Henry's family. As her children fled to her mother's house, Davis stayed and called her attorney for help.
Two years later Davis joined the rapidly growing ranks of imprisoned women at the California Institution for Women.
She was a survivor of domestic abuse, a mother of two and seven months pregnant. But judges saw her as a criminal deserving punishment.
READ MORE: Prison Labor: Exploitation or Rehabilitation?
The majority of incarcerated women are survivors of abuse, according to multiple reports by the Bureau of Justice Statistics. In a 1999 study of women in New York's Bedford Hills Correctional Facility, 75 percent had suffered serious physical violence by an intimate partner during adulthood.
No other nation in the world incarcerates women at a higher rate than the U.S., which currently holds over 200,000 female inmates in jails and prisons. According to the American Journal of Public Health, between 6 and 10 percent of incarcerated women are pregnant at any given time, yet most states fail to protect women from being shackled during pregnancy or provide them prenatal care.
Not only do imprisoned mothers face the separation and loss of their children, but for approximately 65,600 women like Davis with children under the age of 18, incarceration can prevent them from maintaining familial relationships at all.
READ MORE: CA Prison Reform: Meet the Stakeholders
Despite prior police documentation of domestic violence, Davis was initially prosecuted for first-degree murder and ruled guilty of voluntary manslaughter. She was given a six-year suspended sentence with five years probation; if she passed probation first, she would not go to prison.
But because the terms of her probation dictated that any interaction with law enforcement was a violation, a DUI arrest in 1983 that resulted in no charges was enough to put Davis in prison, leaving her teenage children motherless.
When she went into labor two months later, Davis was handcuffed until a doctor demanded that the restraints be removed for the conclusion of the delivery. Once her daughter was born, the shackles went back on, only to be removed if Davis needed to go to the bathroom or the nursery.
Two days after giving birth, Davis was sent back to prison, leaving yet another child.
"My daughter is 30-years-old now and it still hurts," said Davis, fighting back tears. "It was inconceivable that I wouldn't be there to nurse her, to feed her, to kiss her, to have a relationship with her and her sister and brother."
Incarcerated mothers can lose contact with kids or lose parental rights entirely, according to attorney Carol Strickman. While Davis was able to leave her children with her sister, some mothers are unable to find viable caretakers. If prisoners do not have any family members approved to serve as their children's guardians—and even having someone with a previous record in the same house as a caretaker could disqualify them— the children could be placed into foster care.
READ MORE: L.A. Youth Groups Condemn California's 'Incarceration Problem'
"I find it shocking—the number of women who end up with no rights at all because they're incarcerated and therefore [temporarily] can't take care of their child," said Strickman, who works for Legal Services for Prisoners with Children (LSPC).
Strickman teaches inmates about family law issues and how to gain visiting rights with their children. In order to file a civil suit for parental rights, incarcerated parents must go through dependency court, often serving as their own lawyers. Even when a child's caretaker is willing to work with the incarcerated parent through visits, phone calls and letters, barriers remain—visits can be far away, weekly phone calls can be too expensive to afford and letters can take weeks of turnaround time.
"How do you parent while you're on the inside and your child is on the outside? It's very difficult," said Strickman.
One alternative that allows incarcerated mothers to be with their young children is the Community Prison Mother Program. Nonviolent female offenders can apply to the program and, if accepted, serve their sentence in a community environment with their children from birth to age 6.
Davis applied for the mother-infant program but was rejected four separate times because according to officials, she was a violent offender, having used a gun to commit a crime.
"Some people think you commit a crime and then you don't deserve to be a parent, but we all make mistakes," Davis said.
READ MORE: California Contracts with Private Prisons to Alleviate Overcrowding
Davis eventually contacted LSPC with her story and shared the problems she had encountered with other female prisoners, many of whom were uninformed or ill-informed about their options. LSPC helped the women bring a successful class-action lawsuit against the California Department of Corrections for failing to carry out the mother-infant program.
After her victory, Davis was soon placed into the program to spend the last seven months of her sentence with her youngest daughter, already 2 years old. In the program Davis was able to follow a routine: care for her daughter, take college courses and regain her freedom in phases to ease the process of reentry.
But incarceration not only affected Davis' ability to be a mother behind bars, it also prevented her from doing so for over a decade after she left prison.
Davis was working as a registered nurse when she discovered that she had a 7-month-old granddaughter. After running away at 15, her daughter returned home asking for help; she had been separated from the baby after both tested positive for methamphetamines. Davis applied for guardianship, but with her criminal record following her, the baby was put up for foster-adoption. Months later, Davis' sister and mother also put themselves up to adopt the baby girl, but despite their clean records, a judge ruled that the baby would be adopted by a foster family.
"They used my conviction to say I was of bad moral character," Davis said. "I had gone to prison and done my time; my family should not have continued to be punished."
READ MORE: Jerry Brown's Prison Policies: Conservatives Disapprove, Too
Davis' story exposes many of the ways the penal system fails women—especially mothers. While some things have gotten better, others have worsened.
The federal Violence Against Women Act, passed in 1994, made police response to domestic violence more aggressive and more reliable. Since the act's passage, there has been a 40 percent decline in the rate of women killing their partners.
In California, incarcerated women like Davis are also now protected from being shackled during any point of their pregnancy. Yet, the practice is only restricted in 18 states, so women in the remaining 32 states can be restrained regardless of what kind of crime they committed—with shackles even being applied to women detained only for immigration violations.
Most mothers who have been in mother-infant programs have comparatively lower recidivism rates, meaning they relapse into criminal behavior less often. But five of the six mother-infant programs across California have been closed by the state's Department of Corrections, and the remaining facility only has a 24-bed capacity.
Although the resources for these women are shrinking, the number of incarcerated pregnant women remains high—in 2011-12 alone, 233 California inmates gave birth.
Custody issues remain a major problem for many incarcerated parents. While Davis was reunited with her family, the same cannot be said for her daughter and granddaughter; since the child was adopted at age 3, Davis and the rest of the family only see her about twice a year.
"Of course we had to try to move on; I have eight other grandchildren who require my love and attention," Davis said. "But even when you heal, there will always be a scar there."
Contact Staff Reporter Sophia Li here.