Film and TV
Film Review: 'Breathe In'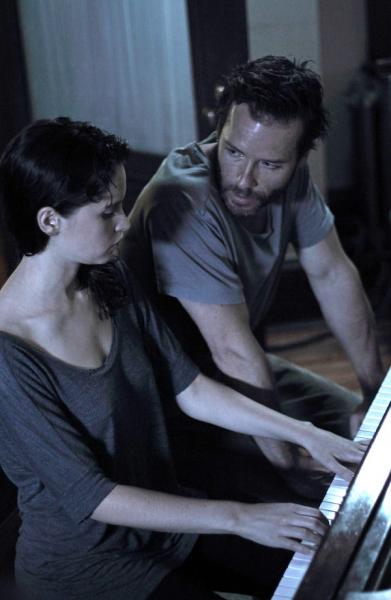 Like a concerto, "Breathe In" (2014) strikes a sharp chord as a man looks to escape the melancholy of his diluted life.
The film opens with a family of three posing for a portrait in their backyard. The Reynolds live the quintessential suburban life. Keith (Guy Pearce) and wife Megan (Amy Ryan) happily fold and mail out cards detailing the family's summer adventures. They play Jenga at the dining table with their teenage daughter Lauren (Mackenzie Davis), who appears to genuinely enjoy spending time with her parents.
But there's a restlessness lurking under Keith's madman hair and horn-rimmed glasses. Keith is a cellist, quietly burned by the course of his life, which he feels has wasted his talents. He's a music teacher at the local high school but cherishes his time moonlighting for a New York City orchestra. He offers extra credit to his students should they go and watch him perform.
"We had a life cut short," Keith tells his wife. He misses his past life in the city. Megan, on the other hand, talks about the bills. Megan is always in the driver's seat both in the car and in life. She dismisses Keith's music as a "hobby," laughing off his time with his former rock band, The Unconscious Brothers.
Keith nervously awaits an important audition that could land him a permanent chair with the symphony when a newcomer interrupts the foundation of his upstate Victorian home.
Sophie (Felicity Jones) arrives as a foreign exchange student from England. Quiet and steadily gazed, the barely legal, raven-haired beauty shares a room with Lauren, who initially befriends her. Sophie turns out to be a talented pianist, and during Keith's music class, Sophie plucks the attention of her homestay dad when she vigorously plays Chopin.
The sexual tension between Keith and Sophie drives much of the film, a slow crescendo of "Will they, or won't they?" unease that makes you squeamish. It plays out like a gothic novel — indeed, Sophie has a copy of "Wuthering Heights" stashed in her trunk. Thunderstorms and forbidden dalliances in the forest are conventions all present in the film. And just as how you secretly root for Heathcliff and Cathy (as twisted as their relationship is), you can't look away from Keith and Sophie's muddy puddle of a courtship. It's cringeworthy and deeply disturbing — a hard feat to pull off successfully, which "Breathe In" does.
The film's subdued tempo might be too drawn out for some. But Keith's willingness to venture into tabooed territory is a nuanced depiction of an anxious agitation that exists in all of us when we feel we're not living up to our potential.
Pearce, last seen in "Iron Man 3" (2013) and most notably the amnestic leading man in Christopher Nolan's "Memento" (2000), is convincing as the disheveled father and husband wound too tight in his self-misery. With wide pale eyes and pursed lips, Jones also delivers a commendably understated performance. The forbidden young fruit is a role familiar to the actress. She most recently played Charles Dickens' secret lover, Nelly Ternan, in "Invisible Woman" (2013).
"Breathe In" premiered at Sundance in 2013, director Drake Doremus' third project to debut at the film festival. The film also reunites Doremus with Jones, who starred as a foreign exchange student in "Like Crazy" (2011), which won Sundance's Grand Jury Prize that year.
Doremus' latest film is a tensed thrill to watch. Take a breath. And exhale only when the screen cuts to black.
Reach Editor-at-Large Melissah Yang here. Follow her on Twitter @MelissahYang.