National
Mental Illness: The Challenge Of The Revolving Door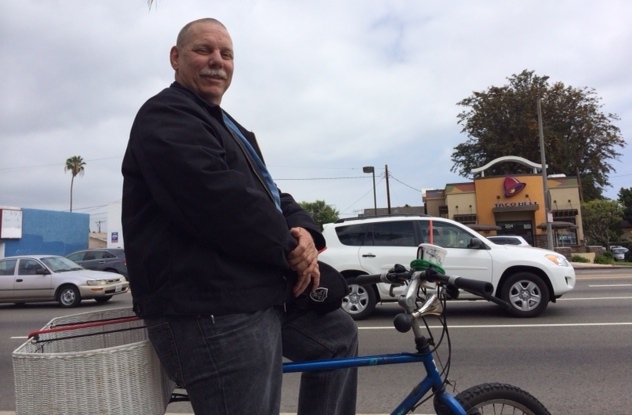 In October 2012, Noland Holliday walked to a dingy corner of Los Angeles's skid row for a meeting with his drug dealers.
Holliday has a thirty-year history of mental illness and drug addiction. He suffered from self-described depression the first time he was locked up in a juvenile hall for snatching a wallet. After his mother died, Holliday drifted between skid row streets and lockups, calling the Twin Towers jail his second home.
Holliday had sought help from many mental health programs, but none of them seemed to work. But in 2012, while awaiting sentencing for crack possession, he met a caseworker from the Integrated Recovery Network (IRN), a non-profit based in Downtown Los Angeles.
READ MORE: Mental Illness Hot Topic Among USC Students
Initially Holliday was unimpressed by the small organization at that time, but nevertheless he admitted to Marshall Temple, the director of IRN, that he owed drug dealers money.
Temple asked Ana Dominguez, who later became Holliday's personal case worker, to walk with him downtown to take care of the problem.
"I asked Ana, 'Are you scared?' This could've been a situation where people got hurt," recalled Holliday. "And she said, 'No, I am going with you.' I was very grateful for that".
Holliday "felt real love coming from the IRN," as Dominquez, his personal social worker, stood by his side throughout the confrontation with the drug dealers. Before beginning to work with IRN, Holliday had been rejected by many homeless programs because of heroine addiction.
"I always wanted a [mental health and substance abuse] program that would take me all the way and I think I found that," he said.
READ MORE: Mentally Unstable Inmates Deserve Treatment
When Marsha Temple, founded the Integrated Recovery Network five year ago, she was disturbed to find a high percentage of prisoners afflicted with mental illness.
American jails have become de facto mental institutions. In the 1970's, when large numbers of psychiatric hospitals were closed, the promised community-based alternatives did not materialize. Untreated patients wound up on streets where they latched on to drugs to escape the harsh reality of lives on the street and scant resources. At the same time, waves of mentally ill entered the criminal justice system following drug-related minor offenses or nervous breakdowns.
The woes of these patient sparked Temple's idea about treating chronic mental illness.
While mainstream professionals hold on to the doctrine of using psychiatric pills to control deviant behaviors, Temple doesn't see the value in immediately putting her clients on medication. For each client, she gathers a team of social workers, doctors, job skills trainers and housing specialists, and focuses the first few months of the therapy on building a close bond between patients and the treatment team. The multi-faceted team focuses on answering one main question: what does a patient want?
Holliday's case manager, James Coley, spent countless hours with him, driving to mental health clinics, group psychotherapy meetings and sometimes just listening to Holliday's stories.
"When I first started my Alcoholics Anonymous meetings, I was not sober," said Holliday. "I would drink a little a bit and thought nobody would notice…The IRN did not kick me out because of my drinking issues; they would always let to me to work everything out."
A few months later, under pressure from group peers, Holliday quit alcohol altogether.
READ MORE: California Prison Reform: Assessing Realignment
According to Temple, patients tend to experience fewer emotional ups and downs as they gradually build relationships with their social workers. Then the rest of the team fills the void – securing low income housing spots and involving patients in volunteer work and job trainings.
Five years of running the busy office taught Temple another lesson: client improvement happens slowly, with many clients cycling back to drugs and lockups before she pulls them out of the endless loop.
Ninety percent of the mentally ill inmates in the Twin Towers jail have repeated arrests, according to a study by R.H. Lamb. By comparison, Temple's program has a 30 percent reincarnation rate.
Inside the system, prisoners often have limited medical resources, with some of them having to wait up to five days to see a psychiatrist. Upon release, the Twin Towers routinely sent mentally ill inmates to an overnight center at Saint Julian and 5th street. From there, correction officials routed mental patients to different programs throughout the city, according to interviews with four former inmates.
"We are dealing with people who have had mental illnesses for thirty to forty years, needing real long-term medical care and social support," said Temple. "That's why short-term programs won't work on these patients."
READ MORE: The New Asylums: Jails Swell With Mentally Ill
Temple's therapy model has proven to be effective on some hard-to-treat patients where the medical prescription approaches fail.
Two years ago Temple took in James Puntar, a tall slouchy guy with his teeth rotted by methamphetamine who had been diagnosed with Attention Deficit Hyperactive Disorder (ADHD) and schizophrenia in elementary school.
His adoptive parents, wealthy Serbian immigrants, had contacted a roster of psychiatrists in the Valley, only to see their son's hallucinations worsen over the years. The psychiatric pills made Puntar sleepy and depressive.
"I was talking to my psychiatrist whom I have been seeing for years about voices inside my head," said Puntar. "And she told me all she can do is giving me the medication to reduce symptoms."
He heard imaginary voices constantly; one day, Puntar was driving at 120 mph on the freeway, cutting through the traffic until the police stopped him. He had thought people were chasing him when they actually were not.
Puntar resorted to drugs and was busted by police in the bathroom of his parents' house one time while getting high on methamphetamine. After his parents' death, he lived on the street, occasionally passing out on sidewalks from drug overdoses. He slept right in front the police station, fearing that "someone tried to slit his throat."
His addiction led to seven prison terms.
READ MORE: Court Needs Alternatives In Handling Mentally Ill
"Every time I got out of the prison, the first place I went was the drug dealers," Puntar said. "I could not wait to get out of the cell to feel that euphoria brought by meth."
Puntar spent a total of 18 years behind bars on criminal charges ranging from dealing drugs to stealing a car to pay for drugs.
In 2012, after being released from state prison, Puntar joined the IRN program. It was at that time he realized drugs were a cause, rather that a solution to symptoms, further ripping his mind apart.
At the IRN program, Puntar occupied himself with hour-long substance abuse meetings, intrigued by other people's stories. Because he was so good at listening, the IRN enrolled him in courses on drug and alcohol counseling. Puntar now works for a Long Beach-based mental health clinic as a counselor intern.
READ MORE: Mothers In Prison: Who Really Gets Hurt
In March, Temple filed a motion with the Board of Supervisor proposing to divert 1,000 mental patients from the jail to treatment programs based on her alternative model.
Under the bill, programs like Temple's will provide housing, medical support, job training and courses to cope with explosion in mentally ill inmates. A group of researchers from University of Los Angeles' Public Affairs School will track patients over the years, presenting statistics on treatment costs, reincarnation rate and hospital visits.
But the total therapy cost for every patient—up to $20000 dollars per night—makes it a very expensive alternative to consider, according to David Philon, the director of Mental Health America Los Angels.
Nevertheless, Temple's proposal represents a big bargain for the city, because state hospital expenses are more than eight times that of community therapies, according to psychologist Patricia O'Neill. Treating patient in jail is also way more expensive, costing at least $100 per night, or $365000 per year, excluding medical and hospital related expenses, according to American Civil Liberties Union of Southern California.
Temple said one supervisor, Mark Ridley Thomas, supports the bill, while others are still pondering over details on how to unfold her plan.
Reach Staff Reporter Meng Meng here.