Nation and World
Laura Ling: The Journalist Bill Clinton Rescued From North Korea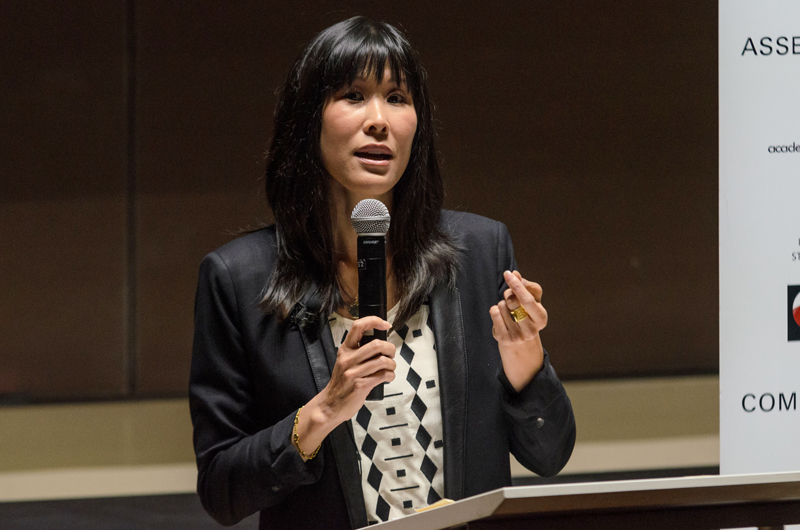 Investigative journalist Laura Ling never thought she'd be the catalyst to an unusual meeting of minds between the United States and North Korea.
Former President Bill Clinton and then-North Korean leader Kim Jong-Il met in August 2009 to negotiate the release of Ling and colleague Euna Lee, who were detained by North Korean soldiers at the country's Chinese border.
What the United States gained was the return of two of its journalists. And according to Ling, North Korea got a "powerful piece of propaganda" — a photo op of a grim-faced Clinton with North Korea's grinning "Fearless Leader."
Ling spoke Wednesday night about her harrowing 140-day detainment in North Korea, an experience that left her with both physical and emotional scars. But she found ways to keep the mood light, charming her way through spotty audio from a bad microphone.
"It's a little odd to be known as one of the women Bill Clinton rescued from North Korea," she said, smiling to a packed lecture hall of 300 students. "But if what happened to me finally allows me to tell the story I set out to tell, I will gladly wear the designation."
USC Speakers Committee, which hosted the event as part of Asian Pacific American Heritage Month, brought Ling to campus because it saw her wide appeal as a guest speaker.
"We've been trying to get as many diverse speakers as possible to cater to all the different interests our student body may have," said Sarkis Ekmekian, a showrunner for the committee.
Ling showed clips from her investigative work abroad, including coverage of Buddhist monks protesting in Myanmar and drug wars in Ciudad Juárez, Mexico. But most of the night was dedicated to speaking about her imprisonment in one of the most isolated countries in the world.
In March 2009, Ling and the rest of her Current TV team were reporting on human trafficking at the border between North Korea and China. They had followed their guide across a frozen river to shoot extra footage, trusting it was safe.
But on their way back, Ling began to hear shouting.
"I turned around and saw two North Korean soldiers with their rifles raised in the air, and they were running after us," she said. "We all just ran for our lives."
Ling, Lee, a producer and their fixer rushed across the icy river to get back on Chinese soil. While her producer and guide got away, Ling and Lee were caught.
Ling recalled clawing at branches and dirt as the soldiers dragged her across the border to North Korea. Remembering that her wireless microphone was still attached to her sweater, and thinking her producer might hear her, she called out to him.
"I think I'm going to die," she screamed.
Separated from Lee, Ling was eventually transported to North Korea's capital, Pyongyang. There, she was kept in isolation and interrogated by North Korean officials. Accused of attempting to topple the government, she was sentenced to 12 years of hard labor in a prison camp.
Ling didn't hesitate to say it was the darkest time of her life. It was clear her captors hated Americans. She was beaten and abused. She admitted she contemplated suicide.
But she made an effort to point out that she did experience moments of compassion from some of her guards. When one found out about her sentence, Ling said the guard's face had a genuine look of shock.
"Laura," the guard told her. "Always have hope."
It was those small acts of kindness that Ling shared that surprised many of the USC students attending.
"I was expecting a completely bleak story," said Mitchell Winkie, a USC junior studying film production. "But the fact she found a way to instill hope in such a dismal situation, I thought that was great thing to apply to our lives."
Ling said she was afforded more freedoms in Pyongyang than what other North Korean prisoners had. Her room included a bed and a bathroom. She was allowed to watch television at times. Some days she got three meals.
She also was allowed to receive letters from her family, including her sister, journalist Lisa Ling. Together, they strategized over how to secure her safe return, eventually realizing the only person who could help bring her back would be former President Clinton.
One day, Ling was told a U.S. envoy had arrived in Pyongyang. She didn't dare to hope until she saw Clinton standing in front of her.
"I don't know if it was the lighting in the room or my utter astonishment and disbelief, but I swear he had a halo over his head," she said, the crowd laughing.
She later learned that the North Korean leader had wanted to meet Clinton since 1994, when the former U.S. president offered his condolences for the passing of Kim Jong-Il's father, Kim Il-Sung.
When asked how her situation differed from that of Kenneth Bae — an American currently detained in North Korea for allegedly conspiring against the government — and imprisoned journalists around the world, Ling said she knew how fortunate she was. She had a sister on television who could raise awareness about her situation and a former U.S. vice president as her boss. Al Gore was part-owner of Current TV at the time.
"I cannot help but just press on us all to do more and help keep their stories alive," she said during a Q&A.
Ling, now a host on "E! Investigates," said in an outside interview that with two young children, she is more interested in staying in the United States and covering domestic issues.
But despite her ordeal, she said she would be open to reporting in North Korea, though with some conditions.
"I would, if I were guaranteed I would come home safely," she said.
Editor Ashley Riegle contributed to this story.
Reach Senior News Editor Melissah Yang here. Follow her on Twitter @MelissahYang.