Los Angeles and Region
When A Hair Salon Meets A Record Store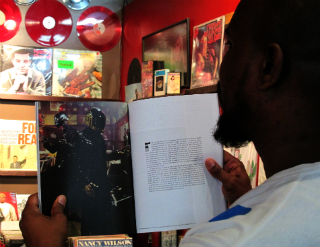 Hair has never been funkier, as one salon in downtown's Arts District is proving.
The vintage-themed Artform Studio mixes together the soul of a 1970s record store with a modern style. The clever collaboration by owners Adrian and Sherry Younge opened four years ago with the idea of taking a spin on the common hair salon.
"Everything here is old school. We try to get everything from at least the 60s and 70s," said Patrick Washington, Artform Studio's record manager.
Located on the corner of East 3rd Street and 4th Place, the unique shop invites visitors to take a look inside, using a sign advertising "Haircuts & Records" while James Brown's "Super Bad" plays from a sidewalk stereo.
Vinyl records decorate much of the shop, with hundreds more stacked in the front music section. Four hair salon stations also occupy parts of the warehouse-styled building.
Apart from selling vinyl records, the salon offers hairstyling, haircuts and coloring, makeup artistry, henna tattoos and nail art, owner Sherry Younge said.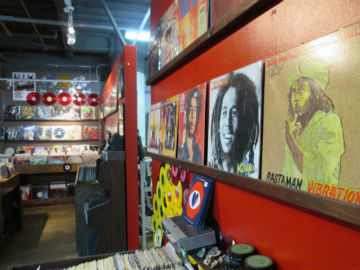 "There is always something new happening here," she said. "We just hired a new barber, and I've opened two more spaces for stylists. We hold events here every month."
Younge's salon has also caught the eye of local celebrities, including hip-hop artist Rza from the Wu Tang Clan, rapper Snoop Lion (formally known as Snoop Dogg) and the French electric duo Daft Punk, who also used the store's vintage feel during a photo shoot for Wax Poetic Magazine.
"It's been really nice to see local actors and musicians come in here to buy a record or get a quick haircut," she said.
Apart from all the celebrities, the group also has a solid base of loyal regulars that stop by daily, if only just listen to some classic tunes.
"I like to come in here a lot because they have a good selection of music, and over time we've become real friends," Los Angeles resident Ishmael Rahim said. "It has a real mom-and-pop feel."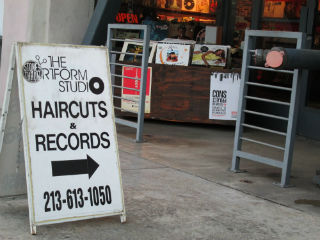 Some locals though didn't know the shop existed amid big-name spots such as eateries
Wurstküche,
Novel Café and
Umami Burger or art venues like
District Gallery and
Arts Share Gallery.
But Rahim said the mystery surrounding the hybrid store helped add to its charm and appeal.
"It's the kind of store you just have to discover on your own, you know a hidden jewel," he said.
Check out more Arts District stories here.
This story is part of a Neon Tommy special on the revitalization of downtown Los Angeles. Click #reviveDTLA for more.
Reach Staff Reporter Celeste Alvarez here or follow her on Twitter here.