USC Sports
2014 USC Recruiting Class: Defensive Line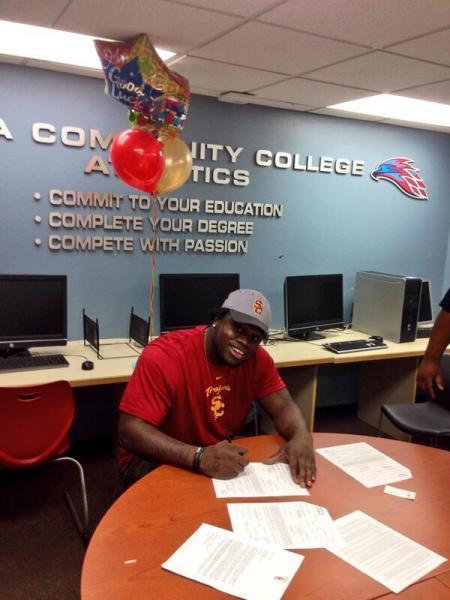 Note: Many of the defensive line also can be linebackers at USC. For more on the linebacking class, go
here
.
USC may have emerged a winner coming out of National Signing Day, but many of the victories for Steve Sarkisian came before Adoree' Jackson even put on his hat on Wednesday afternoon. Besides a couple of mishaps during the 2013 season, the USC defense was one of the strongest parts of the team. This season, the squad held all but three teams under their average points per game, and USC only lost one of the games in which a team put up more points than its average. Coming out of the season though, it appeared that USC was going to take a hit, especially on the defensive line. With the departure of George Uko, a pass-rushing presence, it seemed as though the Trojans would have a difficult time putting up the kind of numbers that they did last season. Seemed is the key word. Steve Sarkisian recruited rising stars to hopefully one day anchor the defense in USC's continuing effort to return to national dominance.
Claude Pelon is the star in this year's class of defensive line signees, and he has the best chance of turning into a household name in the years to come. The 6-foot-5, 285-pound defensive tackle coming from junior college is a big, physical player who will most likely make an impact in 2014 as Uko's replacement. If he plays like he does in his highlight tape, USC will be able to stop both the run and the pass effectively. Obviously Leonard Williams will be given the most playing time as a defensive lineman, but watch for Pelon to make plays during his time on the field.
Joining Pelon are two 3-star defensive ends, Malik Dorton and Don Hill, ranked numbers 21 and 29 respectively. It seems as if at least one of these two might be redshirted this season, as USC already has J.R. Tavai on one side of the line. On the other, it could turn out to be a battle between these two and Jabari Ruffin, but Sarkisian will most likely stick with the experience he has on the field already. Either way, these two will benefit greatly from the leadership from veterans like Tavai and Williams and could rise up the rankings in the next couple of seasons.
The final member of the defensive line class in 2014 for the Trojans is Olajuwon Tucker. Tucker, another 3-star recruit, is ranked as the 124th best defensive end coming out this year, but mostly Trojan fans will see him making his impact as an outside linebacker. Tucker doubles at both positions, but is clearly stronger as an OLB. Tucker should see field action either this season or next.
USC had a successful signing day with big names like Jackson, Smith, and Mama all making their decisions at the last possible moment, but Sarkisian's 2014 class is a lot deeper than three 5-star recruits. These D-Line recruits, especially Pelon, will make a difference this year and in seasons ahead, keeping USC's defense strong, even with its departures.