Science+Tech
Tech Talk In Downtown L.A. Spurred By New Innovation Campus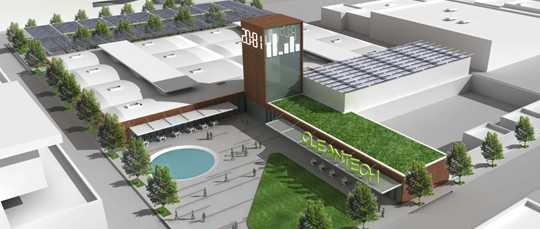 On the corner of 5th and Hewitt, the twang of bricks and steel heralds the start of the long-delayed La Kretz Innovation Campus.
The $46-million, 3.2-acre facility is the crown jewel of Los Angeles' plan to create a "Cleantech Corridor" in the heart of downtown, bringing high-paying technology and manufacturing jobs to an industrial core long thought extinct.
Experts initially projected the campus would directly or indirectly create 300 new jobs, but those figures are now over two years old. Fred Walti, executive director of Cleantech L.A., believes the actual number could be more than double.
"Our vision is to rebuild L.A.'s historical industrial base with tomorrow's industry," Walti said. "We're not creating just software. We're creating real manufacturing jobs."
Walti also wants to leverage the the campus' proximity to the Arts District as a potential lure for entrepreneurs, despite the "natural tension" that nearby residential expansion — like the mixed-use One Santa Fe development — creates for his industrial vision. Walti sees the campus as a benefit to the revitalization of the Arts District.
"People want to live and work close by the action near interesting things," he said. "Places like this make sense to a lot of people. The diversity, in turn, sparks creativity and new ways of thinking. Our location can only contribute to innovation."
Walti bristles at the suggestion that the Cleantech Corridor competes with Silicon Beach, the much-ballyhooed stretch of land littered with tech startups in Santa Monica and Venice Beach.
"The media becomes enamored with names and concepts easy to grasp," he said. "That area is very cool but very expensive."
Whereas Santa Monica is geographically removed from much of Los Angeles' commerce, the La Kretz Innovation Campus will be centrally located and far less expensive for startups to operate.
But getting the campus built has had its share of obstacles. Construction was stymied by the economic downturn and the complexity of the funding surrounding the project.
"We're talking $46 million of public and private funds, with 12 different sources of funds, on land owned by the L.A. Department of Water and Power," Walti said. "It's an incredibly complicated deal. People familiar with it say it's one of the most complicated deals they've ever seen."
The program saw its share of ups and downs since launching in 2011 with the Los Angeles Cleantech Incubator (LACI), one of former Los Angeles Mayor Antonio Villaraigosa's leading agenda items. When Villaraigosa reshuffled his priorities, his administration's focus on clean technology faded.
Walti insists that despite being maligned in a recent L.A. Weekly story for being unfocused, current Mayor Eric Garcetti has been more supportive of the Corridor than his predecessor was.
"Garcetti probably understands technology more than Villaraigosa," Walti said. "Antonio was ahead of the curve. He had vision. But Garcetti understands technology in his bones."
So when the project secured $14 million in funding from U.S. Bank late last year, it was a watershed moment. Construction finally began in earnest in December.
Once completed, the LACI will occupy nearly half of the La Kretz campus. Startups will be able to lease inexpensive, open workspaces and engineer new technologies within the facility's research and design labs. The campus will also house educational and conference facilities, allowing researchers and students to connect directly with cleantech entrepreneurs.
The L.A. Department of Water and Power will also occupy two bays, working on energy efficiency projects and inside consumer engagement laboratories that Walti hopes will contribute to Los Angeles' development of clean technology.
With construction of the La Kretz campus underway, and his vision for a robust cleantech economy so close to fruition, Walti thinks he's on the verge of a revolution.
"If you build it, they will come," he said.
Check out more Arts District stories here.
This story is part of a Neon Tommy special on the revitalization of downtown Los Angeles. Click #reviveDTLA for more.
Reach Associate News Editor Will Federman here. Follow him on Twitter.