Los Angeles and Region
Fashion District Buckles Under Foreign Market Pressure
Carla Rendon leans on the doorframe of her teen clothing store on South San Pedro Street, looking at passengers whose quick pace reminds her of plunged sales and the gloomy future ahead.
As currency devaluation sweeps through Latin America and pushes inflation to a record-high level, wholesalers on the once busiest block of downtown Los Angeles' Fashion District are feeling the pinch.
"This is the probably the toughest month for us. People won't even stop and take a look at our clothes," says Rendon. "Sometimes I have to wait in front the store and invite people in."
Across the street is Govanni, a lady's jeans manufacturer which closed its factory in China due to lackluster revenues last year.
"Nothing sells," says Anna Day, manager at Govanni. "2013 was the worst year, but 2014 is not getting better."
New designers and wholesalers moving into the Fashion District have fueled the neighborhood's growth. But instead of relying on the public to wander into their shops, they operate at the mercy of the global economy, selling a bulk of their merchandise overseas, particularly to South American countries.
"Wholesalers are at whims of consumers' taste. It is a very competitive and volatile industry," says Kent Smith, the executive director of the Fashion District Business Improvement District.
Wholesale businesses in the Fashion District have grown from 700 in 2005 to 1600 firms this year, accounting for over 80 percent of all companies in the area, according to the Economic Development Department (EDD). At the same time, Fashion District's manufacturing is on a tailspin, dropping from 1,200 companies in 2003 to just 600 in 2009, the EDD reported. Driven by growth in the wholesale sector, Los Angeles has become a leading exporter of T-shirts, hoodies and knitwear among all major portals in the U.S. Yet the city's casual wear exports fell 2 percent, a loss of $725,850 in 2013, because of the sluggish Latin American economy, accoridng to Worldweb City, a global trade data company.

Mexico's peso
depreciated 11 percent from May 2013 to 13.5 pesos per dollar in February 2014. And the
Argentine peso
fell below the U.S. dollar by 60 percent to 7.8 pesos per dollar.
"Mexican customers pay 270 pesos for a $20 winter coat that costed 240 pesos six month earlier," says Jeff Zino, an Israeli immigrant and one of the earliest shop owners on 12th Street near Santee Alley. "And some of them said they couldn't afford it if the peso continued to depreciate."
Zino, a UC Berkeley graduate in electrical engineering, inherited the children's clothing factory from his father in 1989. He opened a new store, selling exclusive merchandise he designed and manufactured in downtown. Then one day, he found a pink puffer he designed show up in his competitor's store without his label. And within a few years, factories in South China provinces offered lower costs, knocking out L.A.'s independent manufacturers' prices. Zino ultimately had to close his manufacturing unit and move production overseas to the Canton region of China, where labor costs were extremely low.
READ MORE: "Downtown's Economic Development Is A Mixed Bag"
Many shop owners' dependence on the Latin American market stems from competition with expanding large retailers while the rise of developing countries has created new manufacturing hubs.
Over 80 percent of Zino's clothes shipped to Mexico last year, but in January, less than 20 percent of his customers came from Mexico. Zino hasn't been able to offset his losses with revenue from other countries so he plans to cut down his inventory this year.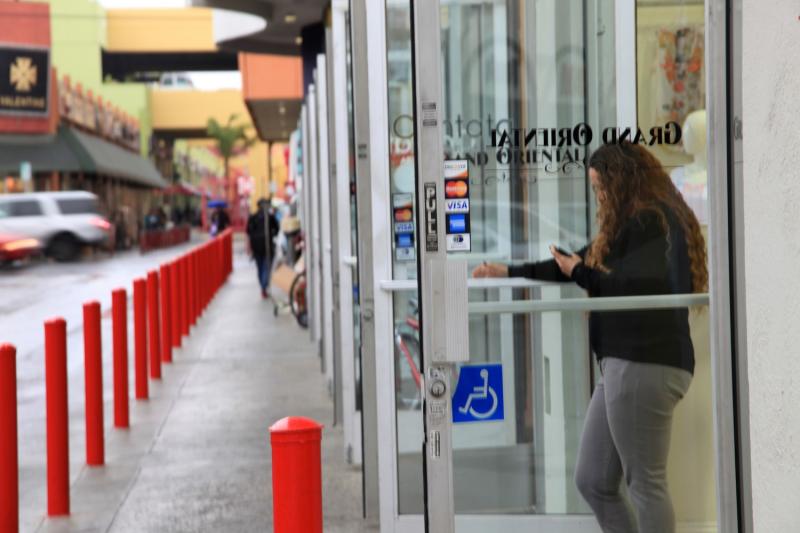 Other businesses are feeling the pinch too.
Every morning at the Port of Long Beach, a swatch of Chinese-made merchandise is sent to fashion brokers' warehouses, whose major clients are wholesalers like Bruce Tabib of B One Kids. His store on 12th Street displays sample clothes in the windows while boxes of inventory are stacked high in the back of his office. Imports are resold to South American clients and end up in retail stores in other countries.
"We can't compete domestically with Walmart and online sales websites that offer a better deal," says Tabib. "But countries like Ecuador and Venezuela look upon us as trendsetters, especially in women's fashion, so they become our major clients."
But Zino points out that the exporting business might not last. Mexico is currently negotiating a Free Trade Agreement with China, eliminating tariffs as high as 20 percent on clothing. With the new FTA, "made-in-China" goods will be able to be sold directly to Mexico without stops in the U.S., which will push owners like Zino and Tabib out of business.
Also caught in the currency crisis are small cargo companies like Eric Escalante's warehouse on East Pico Boulevard. Escalante and his wife, both originally from El Salvador, opened the center in 2011. He has three employees who shuttle around the neighborhood, packaging orders from different wholesalers and shipping them overseas. He says making money was easy three years ago when increasing trade between U.S. wholesalers and Latin America helped bring him customers.
But now his warehouse is half empty.
"I am thinking about closing the business, going into retail or wholesale instead," says Escalante. "There is too much competition. Cargo companies are fighting for the same customers, and profits are thin."
Smith of the Fashion District's BID says the apparel manufacturing is picking up this spring, a sign of stronger consumer demands. Along with the Port of L.A., his office holds workshops to help businesses understand procedures and risks associated with exports. But his main focus is boosting sales of clothing made in the Fashion District.
"The L.A.-style clothes inspired by the warm weather and beaches are our advantages," says Smith. "And focusing on our design will help the Fashion District to grow faster."
This story is part of a Neon Tommy special on the revitalization of downtown Los Angeles. Click #reviveDTLA for more.
Reach Staff Reporter Meng Meng here.