National
Dunn Claims To Be Victor And Victim In Murder Case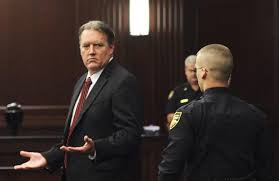 Just how far do you have to be provoked for the blame to be not be blamed for your own actions? If you're Michael Dunn, apparently it's not very far.
"I'm the [expletive] victim here. I was the one who was victimized." Dunn told prosecutors on Tuesday, allegedly chuckling about the situation. "I'm the victor, but I was the victim too."
And exactly what was he the victor of? Firing a weapon at unarmed teenagers after they refused to turn their loud music down, and actually killing one of them, a 17-year-old Jordan Davis, in the process.
From ABC News:
"Prosecutors accused Dunn of killing Davis in a convenience store parking lot after they got into an argument over loud music. Jurors found Dunn guilty on four of five charges for shooting at Davis' friends, who were also in the car, as well as firing a gun into a car in the 2012 incident. However, jurors could not agree on the first-degree murder charge for shooting Davis, prompting a mistrial on that count."
The trial was brought back into light when prosecutors released audio from Dunn's jailhouse calls in an attempt at revealing Dunn's mindset in the case. In one of them, he spoke to his fiancé about a connection between his situation and scenarios where officers and officials doubt the victims of rape.
"I was the one that was being preyed upon and I fought back. It's not quite the same but it made me think of like the old TV shows and movies where like how the police used to think when a chick got raped going, 'Oh, it's her fault because of the way she dressed.' I'm like, 'So it's my fault (laughing) because I asked them to turn their music down. I got attacked and I fought back because I didn't want to be a victim and now I'm in trouble. I refused to be a victim and now I'm incarcerated."
The particular case has rekindled rage against leniency in self-defense laws, "stand your ground" in particular, although that was not brought up during the case itself. Dunn had testified that he believed his life was in danger and had little choice other than to shoot.
Dunn has been charged with at least 60 years behind bars for the attempted murder case alone while prosecutors are set to retry Dunn with a first-degree murder charge.
Read the full story here.
Reach Executive Producer Eric Parra here.