Arts+Culture
Bestia Heats Up The Culinary Scene In The Arts District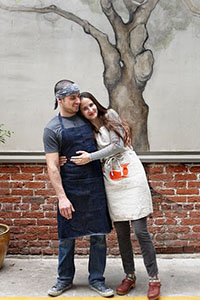 Rows of freshly baked bread lie at one end of Bestia's open kitchen while a large metal container full of cured meats stands at the other. With just three hours until doors open, a bartender squeezes fresh juice while the hostess schedules reservations made weeks in advance.
Chef Ori Menashe bustles around the kitchen, preparing food and chatting with his staff. His wife, pastry chef Genevieve Gergis, is surrounded by exposed brick and cast iron accents while she handles paperwork at a large wooden table.
Menashe and Gergis are the husband-wife team behind Bestia, a new-age Italian gem tucked in a refurbished warehouse in downtown Los Angeles' Arts District.
In recent months, downtown L.A. has become a must-eat destination for trendy hotspots, many of which opened after Bestia started serving to rave reviews 15 months ago. But Gergis hesitates to say the surge of new restaurants is part of a culinary renaissance.
"It just happened with people like us and Church & State and Bread Lounge and all these people," says Gergis. "We knew about these places. It's not so much a revival, we're just taking advantage of the spaces that are down here."
READ MORE: "Hole In One: The Pie Hole Los Angeles Revolutionizes Breakfast"
Menashe, who moved to the United States 19 years ago, calls himself "more American than Israeli," but he fondly talks about his childhood in Israel. He learned to cook from his father, the former owner of clothing company French Connection. Menashe's father would always cook at home and would often bring his family to Western Europe, where Menashe discovered a love of French cooking and food.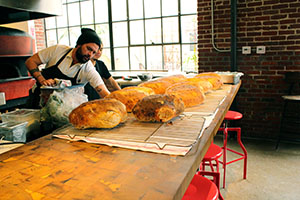 "He used to go to Europe to get inspiration, and he would take me to great restaurants as a kid," says Menashe. "So I started eating good stuff when I was young."
Menashe went to culinary school for only four months before deciding he knew enough to jump into the industry.
"It was so boring," says Menashe. "If you don't know or you try to figure something out, you're less close-minded. I do things sometimes when I cook that don't make any sense, but they taste really good."
Gergis, who grew up in California and attended USC as a music performance major, didn't have any professional culinary training nor did she work as a chef before. She credits friends for her decision to start making pastries professionally. They sent her to work at Chez Panisse for ten days to see how to run a professional kitchen.
"I'm actually totally self-taught," she says, laughing. "This is my first job."
The pair met nine years ago at a restaurant called La Terza where they both worked. Menashe pursued Gergis for nine months before she agreed to have coffee with him — and they've been inseparable ever since.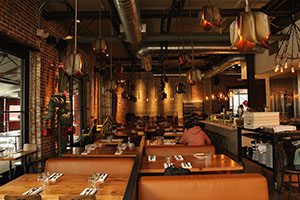 READ MORE:
"Well Bread: L.A.'s Best Sandwiches"
Bestia has been a critics' darling since opening its doors, an experience that Menashe and Gergis consider as one of the highlights in building their own business. Yet, running a restaurant presents challenges as well. A kitchen fire and electrical problems delayed the restaurant's opening, and work demands often left the couple with little time to spend together.
But for the culinary duo, the best part of running their own restaurant is that their jobs reflect who they are.
"We make our job how we want it," says Gergis. "We made the restaurant and the food and everything how we are in our vision. We made our work revolve around who we are."
The chefs are planning to open a new restaurant in downtown's Arts District that will feature Middle-Eastern cuisine, a nod to Menashe's heritage. But before then, they'll embark on a different kind of adventure. The two chefs are expecting their first child, a baby girl, in two months.
As for the future of downtown, Gergis is optimistic. "It's a natural expansion, there's so much here, you'll see," she says.
This story is part of a Neon Tommy special on the revitalization of downtown Los Angeles. Click #reviveDTLA for more.
Contact Staff Reporter Kaitlyn Mullin here. Follow her on Twitter here.