Los Angeles
The Ace Hotel Breaks New Ground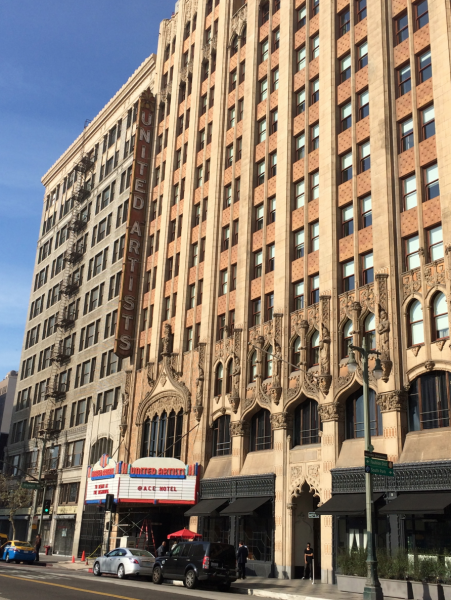 Roman Alonso was boarding a flight to San Francisco last November when he got a phone call that squarely brought him to ground: Alex Calderwood, creator of the hip Ace Hotel chain,
had died in London
at the age of 47.
Alonso and Calderwood had worked together on an Ace Hotel in Palm Springs, Calif., so it was hard for him to lose both a friend and business partner.
But the unexpected death didn't shake Alonso and his design team's determination to finish Calderwood's work on Ace's Los Angeles project.
"He has a very strong team," said Alonso. "They know what he wanted and desired for the brand. They carried forward what he started and how he wanted to do it."
WATCH HERE: "The Ace Hotel Raises The Curtain For A New United Artists Theatre"
The opening of Ace Hotel in downtown Los Angeles marks a new chapter for the neighborhood, an era of "coolness" that welcomes young urbanites and fresh ideas on what downtown can be.
Alonso's company, Commune Design, invited 14 California artists to renovate the United Artists building, which also once housed an old Texaco office, in the shape of the Ace philosophy: localize and give life to a city's history.
Designer Simon Haas, along with his brother Nikolai, hand-drew landscapes, animals and characters that now adorn the lobby's walls and reception desk. The pencil sketches were inspired by drawings found on the walls of an old 17th century building.
"[Alonso] wanted it to be raw and feel sort of like excavated Los Angeles hieroglyphs," Haas said.
Haas used Google Earth and photos he took while driving around L.A. to draw landscapes based on the San Gabriel Mountains. He included portraits of Snoop Dogg, James Dean and other iconic celebrities. His brother, on the other hand, took the humorous route, creating comical portrayals of California wildlife such as pudgy bears, skinny coyotes and quail.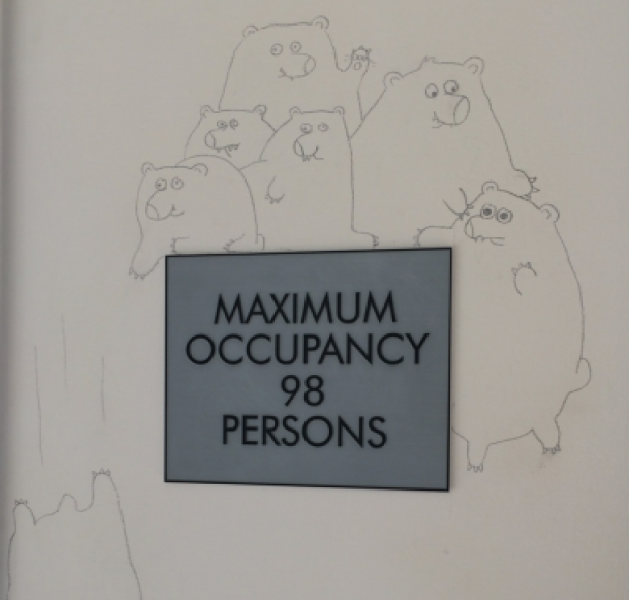 "We like the way our drawings work with each other — the serious and the light-hearted," said Haas, who spent three weeks drawing in the hotel with his brother.
Haas said he was glad to see changes happening in downtown.
"We have seen DTLA on the rise for a long time," said Haas. "But this brings a broader and hipper audience to a neighborhood that we are very happy to see being revitalized."
READ MORE: "Why Independent Retailers Are Setting Up Shop In Downtown L.A."
It's been a year and a half since Alonso first began working on the block of 9th Street and Broadway, so he has yet to see all the changes firsthand. But shops, cafes and restaurants are already showing Ace's influence on bringing new business to the area.
"It's no accident that Urban Outfitter, Acne and Aesop and all of those businesses are opening on Broadway because of Ace," Alonso said.
The Swedish fashion brand, Acne Studios, opened their first boutique store on the West Coast last December. Tanner Goods, a Portland-based goods and accessories label, will open next month. Downtown also welcomes the "Kinfolk Life" this August when the Brooklyn apparel and bicycle retailer sets up in the historic Eastern Columbia building.
"Downtown L.A. was already well on the way to being a new and exciting nightlife destination, but the Ace gives it that final seal of approval and brings a cool factor," said Felipe Delerme, Kinfolk's communications director.
Alonso said he was happy to see Calderwood's legacy of capturing a city's culture through his hotels continue with the L.A. location.
"I was there last night, and I couldn't believe it," said Alonso. "There was so much life all around the streets."
This story is part of a Neon Tommy special on the revitalization of downtown Los Angeles. Click #reviveDTLA for more.
Contact Staff Reporter Scarlett Zhiqi Chen here.