Style
13 Best Red Carpet Dresses Of 2013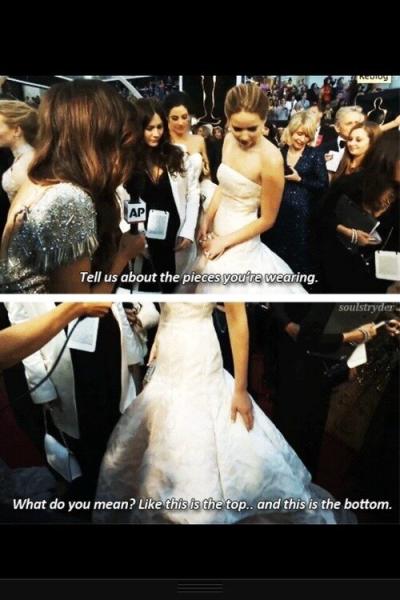 An excellent dress is a force to be reckoned with. The right gown can be transformative when worn by the right girl. Think about how Julia Roberts blossomed when she put on that unforgettable, red off-the-shoulder number in "
Pretty Woman
," or, more recently, how Cinna in "
The Hunger Games
"
used costumes to manipulate the Capitol citizens' impressions of Katniss. When you consider clothing's influence on perception, fashion seems to have more depth.
With that in mind, here are the thirteen dresses of 2013 that were the most chic, smart, and--dare I say it--influential. Red carpet dresses were rather refined this year. Celebrities took a step away from the disco-ball glitz of 2012 and opted for more classic designs, choosing to let the pieces' cuts and colors do the talking.
Jennifer Lawrence and Taylor Swift emerge as our overall winners. The year was a fashion coming-of-age for both young women; their red carpet looks were sharp, chic, and mature.
Here are our 13 favorites:
Best Year of Dresses: Taylor Swift

Swifty's choices in men may not have been spot-on this year, but her red carpet looks were nearly flawless. Though Taylor wore a bevy of beautiful, classic gowns, her best choices had a little more edge. This white J. Mendel with a super cool silver bodice has an elegant flair. Creative construction and draping makes this Swift's most adventurous (and best) choice this year.
Best Chest: Kate Hudson

Kate Hudson stunned in Alexander McQueen at the Golden Globes. The simple black dress with an elaborate golden collar and plunging neckline is refined, elegant, and supremely sexy. Necklines such as this are better suited to smaller chests, proving that all chest sizes are equally beautiful, and your dress should fit what works for you.
Best Red: Rihanna

At the 2013 Grammys, Rihanna dazzled in one of her best red carpet looks to date: a custom Azzedine Alaia gown in lipstick red. Though the slightly-sheer bodice is daring, the flowing skirt (and glamorous accessories) exude pure class. Rihanna usually leans toward an edgier style, which makes this elegant look all the more special.
Best Little Black Dress: Emma Stone

There are thousands upon thousands (okay, dozens upon dozens) of little black dresses on the red carpet each year. Out of the masses, Emma Stone's Gucci number emerges as our top pick of 2013. The unique shift is sexy and playful and doesn't take itself too seriously. Stone knows the key to accessorizing a daring dress is keeping it simple. Any kind of bling would kill this look, but simple black pumps and a splash of fuchsia lipstick looks just right.
Best Princess Dress: Amy Adams

Amy Adams channeled her former role as a Disney princess during the 2013 Oscars. Adams' Oscar de la Renta ball gown is everything that a four-year-old could dream of. The gown is total perfection, from the ice blue color to the frothy layers of tulle on the just-gigantic-enough skirt. It's frilly, ridiculous, and perfect.
Best-Dressed Pair: Jennifer Lawrence and Anne Hathaway

Say what you want about Anne Hathaway's, er, wardrobe malfunction at the Oscars: I loved this Prada dress. It was simple and sweet, and went perfectly with her classic hair and makeup. And Jennifer Lawrence's Dior Couture gown, obviously, stole the show. But what I REALLY loved about these dresses is the way they looked together as the Best Actress and Best Supporting Actress posed for pictures after the awards. The hues, materials, and cuts compliment each other beautifully. They totally planned this.
Best Sexy Dress: Gisele Bundchen

Not many people could pull off this little Anthony Vaccarello number with confidence, but Gisele rocked it at the Met Gala on May 6th. The clingy cut and chain maille cut-outs that bare (almost) all definitely aren't for everyone, but Giselle gets props for flaunting what she's definitely still got.
Best Take on a Classic: Carey Mulligan

Carey Mulligan wore this simple Vionnet column gown at Cannes in May. The black-and-white colorblocking idea has been around forever, but this dress's avant-garde cut mirrored the tuxes worn by Mulligan's "Great Gatsby" costars in a clever, new way.
Best Little White Dress: Rosie Huntington-Whiteley

2013 was the year of the little white dress, a fresh summer alternative to the LBD. The best one of all was Rosie Huntington-Whiteley's Christian Dior frock at the Cannes Amfar Gala. Its strapless, high-low shape is simple and sweet, while Huntington-Whiteley's undone waves and white pumps give it a chic, classic edge.
Best Surprise: Tina Fey

Who knew Tina Fey had such a kickin' bod? This funny lady usually chooses more understated red carpet looks, so this clingy Narcisco Rodriguez halter gown in an attention-grabbing electric blue is all the more wonderful. It fits her perfectly and is terrifically flattering (although age-appropriate.) Five stars for you, Tina Fey! You go, Tina Fey!
Best Use of Color: Amy Adams

Amy Adams takes her second spot on my list with this metallic Gucci sheath from the LACMA Art + Film Gala. This is a great example of a dress that's okay on its own, but absolutely exquisite on the right girl--Amy's titian hair and fair skin absolutely glow next to her dress's coppery/rusty/gold-y hue. An excellent choice on Adams' part to suit her individual coloring.
BONUS Best Jumpsuit: Robin Roberts

Okay, a jumpsuit isn't technically a dress. But it's a great alternative for a fashion-forward lady who wants to try something different. Robin Roberts looked smoking hot at the Country Music Awards in this simple black number with glitzy detailing by Emilio Pucci.
Best Recycle: Kate Middleton

Kate made waves when she arrived at the UK premiere of "Mandela: Long Walk To Freedom" in this Roland Mouret dress, which she--gasp!--has already worn once before in May at a royal dinner. This time, she ditched her usual voluminous waves for a classic ponytail and, to my delight, added a $35 necklace from Zara. Smart high-low pairings like these could make Kate the new people's princess.
Best Accessorizing: Michelle Obama

The First Lady stunned at the Kennedy Center Honors Reception on Dec. 8th in flowing Marchesa. The off-the-shoulder cut showed off her famous shoulders and arms, and the emerald green hue was lovely against her skintone. Her simple, delicate jewelry and voluminous waves were perfect additions that didn't overwhelm the effect of the dress. And, of course, she had the best accessory of all on her arm: the nation's C-in-C in a dapper tux.
The #1 dress of 2013 is Amy Adams' Oscar de la Renta ballgown from the Oscars. It was a real-life Cinderella dress, as well as a reminder that fashion doesn't have to be serious and mature 24/7. Your dress doesn't have to make a political statement or show the world how sophisticated the wearer is: it's enough, some nights, to indulge in a princess fantasy.
Gigi Gastevich is a Staff Reporter who likes dresses. Reach out to her here.