Los Angeles
USC Educational Project Provides Brighter Futures For Students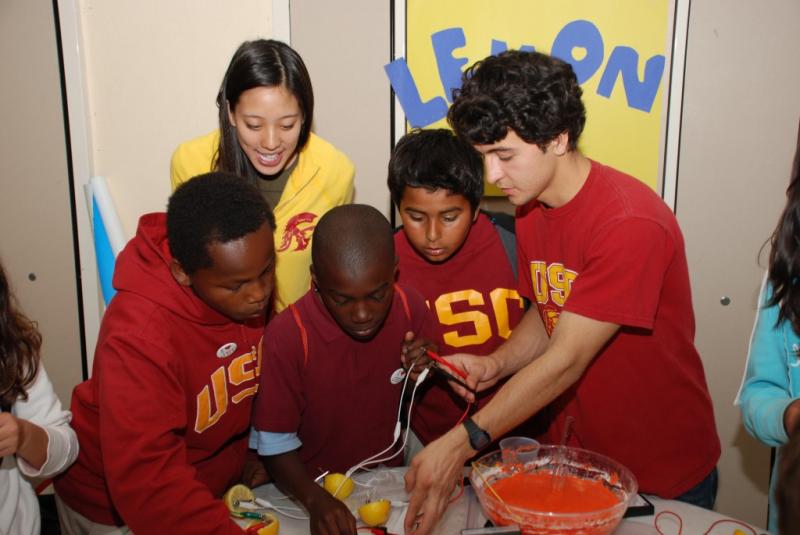 The Joint Educational Project (JEP) at the University of Southern California (USC) provides an outlet for college students to pursue their own academic aspirations while making a difference in the lives of local students in the south Los Angeles area.
USC students visit local elementary, middle, and high schools to aid teachers in improving the students' classroom performance while also developing their own leadership skills.
The JEP program takes pride in its identity not merely as a volunteer organization, but as a service-learning program.
"Community service can be connected to classroom learning in such a way that service is more informed by theoretical and conceptual understanding and learning is more informed by the realities of the world," according to the program's website.
At the beginning of each semester, nearly 50 USC faculty members and professors offer course credit or extra credit in exchange for the students' commitment to working with JEP. Every year more than 2,000 students enroll in JEP and are assigned to a local school where they work with students on life skills in and outside the classroom.
For public relations major Alissa Gwynn, her involvement in JEP has truly enhanced her experience at USC and opened her eyes to issues she would have never been able to see first hand.
"As a service-learning program, it offers a way for USC students to gain hands on involvement in the South Central Los Angeles community, rather than staying in the USC bubble for the duration of their college experience," Gwynn said.
JEP works to break down the barrier between the university and surrounding community, providing a pathway for local students to create a positive relationship with an institution that might otherwise seem like an ominous "castle" with iron gates.
Before going into the classroom, student volunteers must attend one round of training where they learn the philosophy and vision behind JEP. The students organize lesson plans and after working in the classroom, must submit reflections where they discuss their own personal progress and the development of their students.
"The reflections force me to constantly think each week how I can make the next week even better for the kids, so they can have the best JEP experience possible," said international relations global business major Alexis Orozco.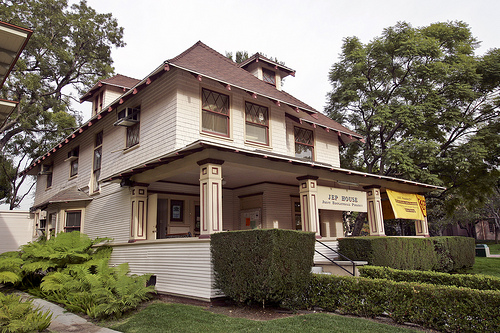 Orozco found that the passion her fourth graders possess for learning far surpasses that of any other elementary school children she has worked with in the past.
"One might have these notions about the students—that they may not be as motivated or driven about education," Orozco continued. "But it's the opposite. These kids participate so much and genuinely seem to love to learn."
Sydney Zahabizadeh, a philosophy politics and law major and Program Assistant for JEP, sees the interaction between volunteers and students producing results that resonate far beyond just the classroom.
"A lot of students in elementary schools surrounding USC need more personal, one-on-one attention in order to reach proficiency level," said Zahabizadeh. "[JEP] also gives them a change to learn from college students who value education and can pass this value on in the process of volunteering."
As "cool college kids," JEP volunteers help inspire the students to succeed.
"The local students love it because it spices up their everyday classroom routine and inspires them to aim for higher education," JEP volunteer Grace Carballo said when asked about the beneficial takeaways JEP provides for both volunteers and students. "JEP helps me by allowing me to interact with some of the brightest, sweetest kids and realize how much I want to incorporate this into my career."
JEP recently celebrated its 40th anniversary, citing involvement from more than 70,000 USC students—completing more than one million hours of service in classrooms.
At the 40th anniversary celebration held at USC's Town and Gown on Oct. 29, Emmy Award-winning actress and USC alumna America Ferrera reflected on her time volunteering with JEP.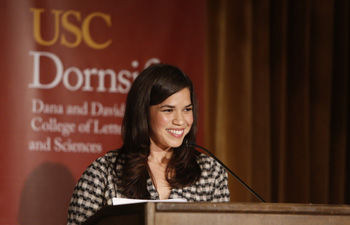 "I remember on my last day teaching TIRP (USC Dornsife's sub-program Teaching International Relations Program), I made certificates for my ninth graders saying, 'You did it!'… And a young woman came up to me with tears in her eyes and showed me the certificate I had made at Kinkos a few hours earlier. And she said, 'This is the first thing I've ever won,'" Ferrera said.
JEP was founded by Barbara Seaver Gardner in 1981 as a way to create a mutually beneficial relationship between USC and the surrounding community. USC Dornsife College of Letters, Arts, and Sciences Dean Steve Kay believes that the original mission of what JEP set out to accomplish is still being fulfilled and will continue to expand in upcoming years.
"As Barbara once explained, JEP's goal is to constantly foster intellectual connections between what the [USC] students experience in their community service and what they study in their formal academic courses," Kay said at the anniversary celebration.
And that is exactly what JEP volunteers are gaining from their investment in the lives of students.
"As both a participant and Program Assistant at JEP, I have been able to connect issues we learn about in the classroom—our flawed public education system, the disparity between the rich and the poor—with real life situations, and think about what I can do to help change them," Gwynn said.
For most of the volunteers, the true benefit of JEP comes from seeing just how a simple push to succeed can inspire these students to defy the statistics and strive to become someone no one ever thought they could become.
"I was helping a kindergarten student who had just moved from Mexico with his family and therefore didn't know a lot of english. He struggled with the sounds that English letters make so we worked on that for the entire semester. Finally at the end he was comfortable to share with the teacher that he knew all the sounds that the letters in the English alphabet made," Zahabizadeh said.
"At the end of the day, the goodbye is always a little bittersweet. It consists of hugs and the classic, 'When will you be back?,'" Orozco reflected.
Check out JEP volunteers in action with local students.
Reach Staff Reporter McKenna Aiello here, and follow her on Twitter here.