Los Angeles
USC Limits Access To George W. Bush Talk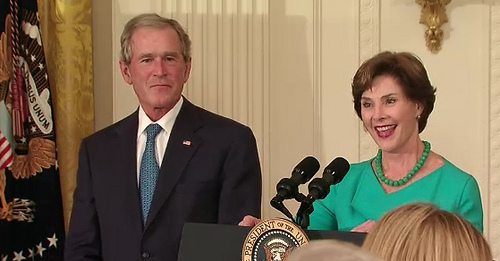 A lack of transparency and communication from USC Student Affairs has frustrated students who are otherwise excited for Tuesday's talk from former U.S. President George W. Bush and his wife, Laura Bush.
Director of USC's Political Student Assembly Justin Bogda took issue with what seemed like a "hierarchy" in deciding who would be allowed to attend.
"I don't think it needs to be elitist, where you are only inviting a certain group of students," said Bogda, a senior. "I don't think the only students interested in going to this event are the executive boards of the College Republicans, the College Democrats, and the Political Student Assembly. No, I think a ton of students would love an opportunity to do this."
Freshman Audrey Emerson was among those who did not get invited. Emerson heard about the event from a friend, who forwarded her the invitation. But when Emerson tried to RSVP, she was given a message that she was ineligible to register.
"I don't understand the way the system worked and what the invitation was based on," Emerson said. "Obviously I would love to go, and I wanted to go."
Emerson said that she thought it was great USC was bringing Bush to campus but wished the event would have been open to all students.
A university representative said approximately 2,500 students received email invitations, the bulk of which were sent to Trustee, Presidential, Provost and other scholarship recipients. Some members of USC College Republicans, College Democrats and Political Student Assembly were also invited as well as some ROTC students and residential advisors. Only students who received invitations could RSVP, preventing the event from being open to the public.
Tuesday's event — the cost of which is unknown because it was covered by an anonymous donor — will take place in Bovard Auditorium, which has a capacity of 1,235 seats. Roughly 700 spots are reserved for students with the remaining spots being given to faculty, alumni and donors, according to the university representative.
READ MORE: The Price Of Political Speakers — How much does it cost for your favorite ex-politician to speak?
LA Weekly published a leaked email sent from the president of the College Republicans, which implied the student organization was hosting the event, and that it was exclusive to the GOP, neither of which are true.
"That was a mistake, and it wasn't a mistake on the College Republican's part," said Bogda, who blamed the misunderstanding on how invitations were distributed.
USC freshman Kristen East, a Presidential scholar, received an invitation but wished the university was more public about the event and that the school clarified the purpose for the Bushes' appearance.
"I don't want to choose to go only so I could tell people that I've heard President Bush speak," East said. "I don't want to go just because it's a celebrity event. I want to go because I'm interested in what is being spoken about."
The invitation East received simply identified the event as part of the President's Distinguished Lecture series, describing it as a "memorable evening."
What USC students might hear at the Bush event is plenty of talk about the couple's philanthropic and charitable work. Their appearance will mark the first time the Bushes have publicly spoken together since the end of his presidency.
Dan Schnur, director of the Unruh Institute, thinks the event is "an extremely good idea."
"It's important for USC students to be reminded that there are a lot of ways to make your community a better place to live," said Schnur. "Politics and government are one path, but philanthropy and charity and volunteering are others."
While the former president has largely stayed out of the public eye since leaving the White House, his wife has kept a more public profile with her education initiatives and other philanthropic work. The former First Lady recently spoke in Omaha, Neb., about helping children with learning challenges. She also joined Hillary Clinton and John Kerry at Georgetown University to advocate for the rights of Afghan women.
Although Schnur said he would be "surprised" if the former president brought up political issues, he anticipated there will be students upset over the visit.
"There were people who were upset when Barack Obama came to campus, and there are probably people who are upset that the Bushes are coming," Schnur said. "But the obligation of an institute of higher learning is to expose our students to as broad a range of thinking as possible from across the ideological spectrum."
Bogda, a self-proclaimed moderate liberal, said he was excited for the event and did not think Bush was polarizing enough to warrant a student protest.
"He was our president, and whether you liked everything he did or not, he brought our country through a very difficult time, for better or for worse," Bogda said. "And even though he's a Republican, I think protesting him coming to campus would be a little bit ignorant."
Reach Staff Reporter Sophia Li here.