Los Angeles
Conservative Students Protest At Obama Rally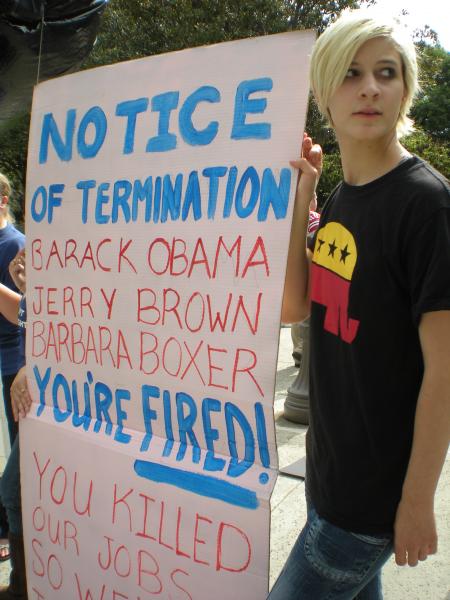 A few conservatives banded together near the edge of USC's campus Friday to counter the sentiments of President Barack Obama's "Moving America Forward" rally.
A small group carried a black balloon with "Stop the Hot Air" written across it. Other students held signs decrying Obama's policies.
Despite recent polls that give Democrats the edge, the USC College Republicans and other student conservative groups said they are optimistic about Meg Whitman and Carly Fiorina's chances in the upcoming election.
Joseph Clark is not a member of any of the student organizations, but he decided to join in the protest anyway, wearing a T-shirt emblazoned with Sarah Palin's image and carrying a sign that said, "Teach a man to fish, and the Democrats lose a vote."
He said he considers himself a Tea Party member, and like many of that ilk, he argues for a more libertarian government.
One person in line for the rally briefly heckled the conservative protesters. Another shouted, with a raised fist, "I like your sign!"
Clark said he supports Fiorina for Senate and, with some reservations, Whitman for Governor. He said he joined the modest protest to let people know that "even in southern California, there's opposition to the spending, the waste, the debt."
Rob McCarty, a USC junior, said he worries about the job market he will face in two years and how the elections might affect his prospects for employment.
"I believe it's necessary for people to realize they are shaping their future through their voting," he said.
The protesters mainly argued that the Democratic candidates are running on platforms of wasteful government spending and creating mountainous debt.
Democrats counter that their policies have helped prevent an economic depression.
The conservative protesters' other chief complaint against Boxer is that she has simply held the office for too long, said Alexandra Russo, a member of USC College Republicans.
Reach staff reporter Ryan Faughnder here. Follow him on Twitter here.