Politics
White House Correspondent Peter Baker On Washington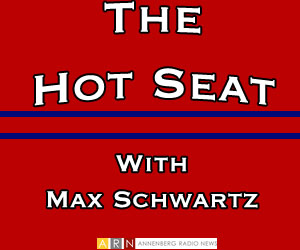 Peter Baker, author of "Days of Fire: Bush and Cheney in the White House" and chief White House correspondent for the New York Times, was on USC's campus on Wednesday. After his appearance in a Students Talk Back, he joined host Max Schwartz in The Hot Seat.
Schwartz and Baker talked about the book, which in just a few weeks has become the leading book on the Bush-Cheney administration, as well as major topical issues in Washington, including the NSA. They also discuss President's Obama's behavior with the press.
Reach The Hot Seat here; follow Max on Twitter here. Please use #TheHotSeat and #ASCJ when Tweeting about The Hot Seat.
You may need: Adobe Flash Player.