Nation and World
Obama Accused Of "Fear-Mongering" Over Iran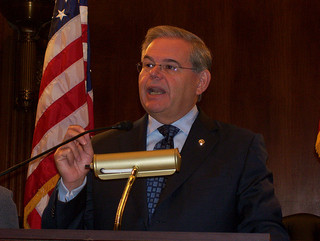 The Democratic chairman of the U.S. Senate Foreign Relations Committee criticized President Barack Obama for agreeing to lighten economic sanctions against Iran in exchange for restrictions on its nuclear program, accusing the administration of using "fear-mongering" tactics,
according to Reuters.
Senator Robert Menendez (D-N.J.) appeared on National Public Radio's "All Things Considered" and criticized the White House for portraying their attempts at a diplomatic resolution with Iran as the only option that would prevent war.
"What I don't appreciate is when I hear remarks out of the White House spokesman that ... if we're pursuing sanctions we're marching the country off to war. I think that's way over the top, I think that's fear-mongering," Menendez said.
Many Republicans have already criticized the Obama administration for holding the U.S. back from increasing sanctions on Iran by delaying a bill in the Senate that would put more economic pressure on Iran. Menendez is the highest-ranking Democrat to come out against the White House.
Both the White House and the Iranian government have said that if Congress enacts new sanctions in the next few weeks, the deal they have just made could be terminated. Even though the deal has received approval from major world powers in the U.N. and would reduce the need for U.S. military action, many members of Congress have spoken out against it, particularly due to concern for Israel. Plans are already being made for bipartisan talks over additional sanctions beginning next week.
Reach Executive Producer Jeremy Fuster on
Twitter