Nation and World
National Push To Confront Colleges That Mishandle Sexual Assault Surges Forward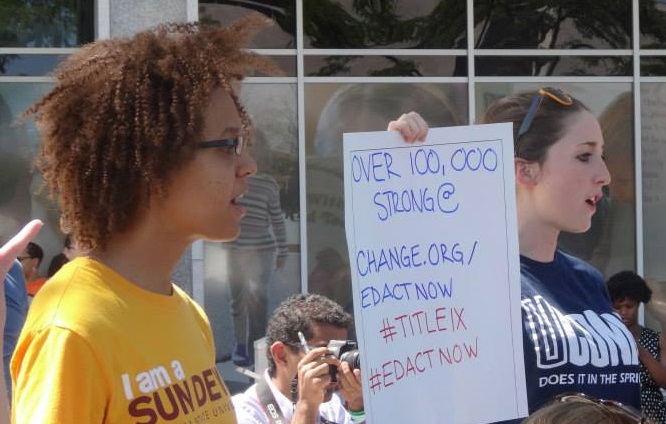 "For the 'bigger picture,' we need to prove that rape, sexual assault, violence and discrimination are not isolated to one campus. This is not about UNC. This is about a nationwide culture ... and the time for CHANGE is now."
Annie E. Clark and her friend Andrea Pino pinned these words to a paper map of the continental United States. Then the survivors-turned-activists from the University of North Carolina at Chapel Hill got to work, placing red dots on every school of which they "had heard something" about a mishandling of a sexual assault or a violent crime case.
Soon, the pair had a working list of colleges that faced similar issues regarding sexual assault or rape: Penn State University, University of Virginia, LeHigh University, Notre Dame University, Texas A&M University, Yale University, Oregon State University, Occidental College, Davidson College, Ohio State University, Harvard University, Florida State University, Amherst College, Princeton University, Emory University, Appalachian State University and their alma mater, UNC-Chapel Hill.
Patterns came into focus.
"You look at a small private school like Oxy [Occidental College] and you look at UNC, which is a large public flagship institution, and you see the same problems," said Clark, now a staffer with End Rape On Campus (EROC), a consultancy group that provides free assistance to student activists across the country looking to take legal action. "You listen to the narrative from these survivors coming forward, and they're often similar."
READ MORE: A Timeline Of Sexual Assault At USC
The pair found themselves with a damning portrait of systemic sexual assault in colleges across the country. Of course, such cases extend far beyond the 17 colleges listed on their dorm room wall. The Department of Justice, citing information collected under the Clery Act — a federal law passed in 1992 that requires colleges to report crime data to the public — came to the stunning conclusion more than a decade ago that one in five women and one in 16 men would become victims of sexual harassment or rape in college. Meanwhile, the Department of Education received more than 1,300 Title IX complaints pertaining to harassment and assault in the past five years alone. The Department is currently investigating 100 of those cases. (Title IX, a federal law passed in the 1970s, prohibits gender discrimination at any institution that receives federal funding.)
A key point to note — such statistics only reflect the number of reported rapes and assaults.
"By and large, rape and sexual assault go highly unreported on college campuses," said Tracy E. Vitchers, a representative for Students Active For Ending Rape (SAFER), a volunteer group that assists student campaigning to reform sex crime policies. She speculates even more revealing numbers will come to light when the Campus Sexual Violence Elimination Act (SaVE), a law which strengthens crime reporting requirements, goes into effect in March.
"Student activists have been pushing for a long time to have these changes come about," said Vitchers. But she said only in the last two years have work on the federal level and national grassroots student movements spurred the beginnings of a "systemic shift" in the way colleges go after sexual assault.
"It's going to take a while," she said.
READ MORE: Sexual Assault Incident Reporting Procedure Remains Unchanged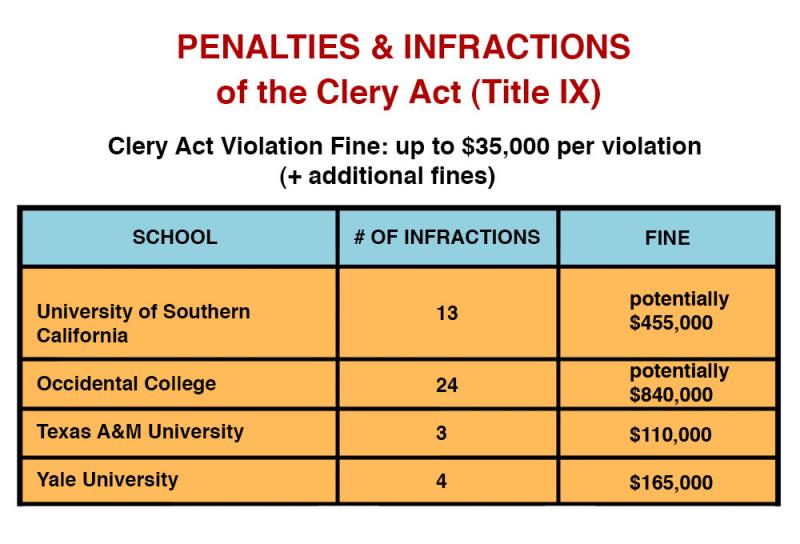 Vitchers traces the federal push back to 2011, when the Department of Education sent a "dear colleague" letter to colleges across the nation to clarify the requirements of Title IX. The letter stated that under federal law, schools must have an established body to handle sexual assault. That they must take immediate action to ensure survivors can continue their education without continued discrimination, harassment or violence. That they cannot discourage students from contacting the police.
"When that came out, it was a huge letter," said Vitchers. "Colleges and universities suddenly had to revisit their sexual assault policies and procedures and really take a hard look."
Around the time this letter was sent, Clark and Pino, two of five UNC-Chapel Hill students and faculty members who filed high-profile Title IX complaints against the school in Jan. 2013, reached out to students at Amherst College.
"They expressed similar things that were happening at their associations," said Clark. "We studied their cases and decided we wanted to do something."
Clark traveled to Los Angeles to meet with students from Occidental College and USC, who had heard about Clark's case and wanted to follow suit with legal action.
READ MORE: UNC Sexual Assault Victim Faces Punishment For Sharing Her Story
"We realized this is something huge," said Clark. "At first it was an organic sort of, 'Let's see where this goes,' kind of thing. But once we realized we could use a law, and we didn't need lawyers, we could use the media and we could talk to the Department of Education, it became a very intentional national, 'Come together, let's pull our resources and push for change.'"
In May, their efforts caught the attention of The New York Times:
Frustrated and angry over the handling of sexual assault cases at Occidental College in Los Angeles, a group of students and faculty members recently decided to take the matter to the federal government as a civil rights case. Few people had explored this legal terrain, so the Occidental group reached out to women at the University of North Carolina at Chapel Hill, who had filed a similar complaint — which this month prompted a federal investigation — for insights on how to press their case.
The North Carolina group had taken inspiration, and a few strategic cues, from students who last fall drew attention to the mishandling of sexual assaults at Amherst College in Massachusetts. The Amherst students had, in turn, consulted extensively with women at Yale.
"As soon as that piece was published, Berkeley called," said Clark.
"You have all of these students who started to learn their rights, file complaints and create a larger movement to educate students about their rights," added Vitchers. "And when you look at their members, they're composed of students from institutions all across the nation."
From the development of the national network came EROC and the "Know Your IX" campaign, which educates students about Title IX, along with the continued formation of local campaigns at more and more colleges across the U.S. The result: out of the 59 Clery Act compliance reviews that the Department of Education conducted against institutions facing allegations of underreporting campus crime, more than a third had occurred within the past two years.
"Our group used to act as a watchdog," said Alison Kiss, the executive director for the Clery Center for Security on Campus. "There was little enforcement in the beginning," so the group — founded by the parents of Jeanne Clery, a LeHigh University freshman whose murder spurred the development of federal crime reporting laws — "really had to act as the stalwarts of the law. But our organization hasn't acted in that capacity for four years now. It's really because of the increased awareness of students, parents, administrators and faculty."
Sun Devils Against Sexual Assault, a group at Arizona State University, officially formalized in August after consulting with activists from Know Your IX, EROC, Michigan State, Swarthmore, Dartmouth and USC.
"It was kind of sad to realize how similar all of our experiences are, with being silenced by our administration," said ASU alum Jasmine Lester, one of the group's founding members.
The movement at ASU started years earlier when sexual assault victims started confiding their experiences to Lester. "It got to the point where people would know to contact me and not the school when they had a friend who was a victim of a professor," she said.
READ MORE: USC Students Condemn University's Handling Of Sexual Assault
They trusted Lester because years before, she had unsuccessfully tried to file a sexual harassment complaint against a professor. The teacher caught wind of Lester's plans and filed a counter-complaint for spreading false rumors. Administrators, said Lester, eventually dismissed the case and told her to "get over it." They also, according to Lester, told her that her experience did not count as sexual harassment and would later refuse to "reinvestigate" her claims because her professor already denied any wrongdoing when interviewed for the counter-complaint.
"I was like, 'How could that constitute an investigation of everything when no one even asked for my side of what happened?'" said Lester, who added that she wasn't aware of Title IX at the time.
Later, other students confided to Lester that they too had been assaulted by faculty members. Lester and her friends saw patterns in the way they had been treated by their universities. So they confronted the university and asked them to do something.
"We were met with a lot of resistance, like the university not wanting to take responsibility, leading us around in circles, turning us over to different people," Lester said. "That's when I realized there needed to be something outside of ASU that can help students navigate the process."
"I think it's a very common experience to negative experiences when coming forward," said Clark. "That's not always the case. We do have a lot of really great people working on it [sexual assault], but a lot of administrations really don't know what they're doing."
READ MORE: Story Of Sexual Assault At Amherst College Sparks Change In Policy
Clark knows the feeling firsthand. A college administrator likened rape to football when Clark tried to report her own experiences. She later published her account of their conversation on The Huffington Post:
"So why are you here today?" the administrator asked me.
"I want to report what happened and get counseling. I was raped."
The response which I received left me both speechless and confused:
"Well... Rape is like football, if you look back on the game, and you're the quarterback, Annie... is there anything you would have done differently?"
I was then handed a multiple page-survey to fill out about my rape.
In both accounts, administrators violated Title IX. But while Clark could file a Title IX complaint, Lester said she cannot. Her abuse and the subsequent nightmare of trying to report it occurred years ago and has already exceeded the 180-day statute of limitations required to file a complaint.
But Lester does have options. She can file a waiver with the Department of Education against the 180-day limit. And she's already in the process of filing a Clery Act complaint against her school.
"Schools need to be held accountable for when they misreport the numbers and also when they are treating people like crap," said Lester. "Schools need to understand this is serious. They need to take a strong stance against rape culture and violence."
Note: An earlier version of this story said that Clark and others had "consulted" with Amherst activists before filing Title IX complaints in Jan. 2012. Clark stresses that these conversations did not revolve around the Title IX complaints, which were filed in Jan. 2013. The story also stated Lester cannot file a Title IX complaint because of the statute of limitations, which is also untrue. Changes have been made to reflect these considerations.
Reach Senior Staff Reporter Aaron Liu here.
Senior Staff Reporter Tasbeeh Herwees contributed to this report. Reach her here.