Opinion
Story Of Sexual Assault At Amherst College Sparks Change In Policy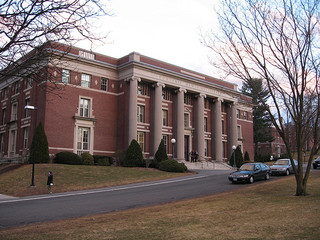 Though much of opinion writing revolves around criticism of public figures and institutions, sometimes there are amazingly hopeful things to write about. That certainly wasn't the nature of my op-ed two weeks ago, when I wrote about the irresponsibly low-key reactions that many universities have to sexual assault on campus. But, thankfully, the opposite is true today.
In this country, institutions of higher education unfortunately have a history of sweeping sexual assault under the rug.
That pattern seemed be continuing in the handling of the rape of a young woman attending Amherst College named Angie Epifano.
The mishandling of her case eventually forced this student to withdraw from the school.
Amherst officials, who were supposed to support her both as a sexual assault victim and just as another human being who deserved understanding and compassion, failed Angie Epifano time and time again.
In a heart-wrenching and painful account, on October 17, the former Amherst student laid out her tragic story in a deeply personal and powerful post in the student newspaper of Amherst College.
But her story didn't just remain one publicized account of the heartbreak that sexual assault victims on college campus suffer each year.
Angie Epifano's bravery in posting her story encouraged sexual assault victims across the country to speak out about their own challenges in reporting these crimes to university officials.
Alexis Myers, a student from Mount Holyoke College, felt encouraged to share her own story as well, writing a letter to Amherst President Carolyn Martin on "The Amherst Student." She was raped by an acquaintance from Amherst College and reported the crime both to her school and to Amherst; but what she described as the worst part for her was not the terrible rape she endured, but rather memories of the demeaning hearing that she had to go through after reporting her rape. For hours, she was questioned about whether she had just fabricated the entire incident.
While these stories reveal indescribably horrible experiences that sexual assault victims are forced to endure, the attention that they're receiving points to positive change in how sexual assault will be handled on campuses in the future.
Criticism from across the country as a result of these stories has forced Amherst College officials to commit to changing the outdated and unfair standards for handling sexual assault cases on their campus. In response to backlash in the news, President Carolyn Martin affirmed, "We need to do everything in our power to become a leader in encouraging victims to report sexual assault."
These concessions from Amherst led to actual, definitive measures to change the policy on sexual misconduct. The pressure from media coverage as well as student meetings and rallies to protest the mishandling of sexual assault led to an important moment.
Ten Amherst students were selected to appear before the Board of Trustees to describe areas of the Amherst policy on sexual misconduct that fell far short of decency and justice.
Although some students were dissatisfied with the selection process of those students and the effectiveness of the gesture entirely, this meeting and other measures taken by Amherst in the wake of Angie Epifano's poignant story certainly tell us that Amherst is moving in the right direction.
In fact, Amherst's policies will soon be under the scrutiny of independent review. While there is likely still a long way to go, there is hope to be seen in this situation.
Angie Epifano's experience with Amherst was one that no victim of sexual assault should ever have to go through. But, as these concessions from Amherst show, the voice of one person speaking out can cause immense change. Though this may be too optimistic an outlook, hopefully the courageously successful impact of Angie's story will continue to keep sexual assault victims from being as afraid to speak up out of fear of judgment or recrimination.
Reach Contributor Zion Samuel here.