Arts+Culture
9 Group Halloween Costumes With A Twist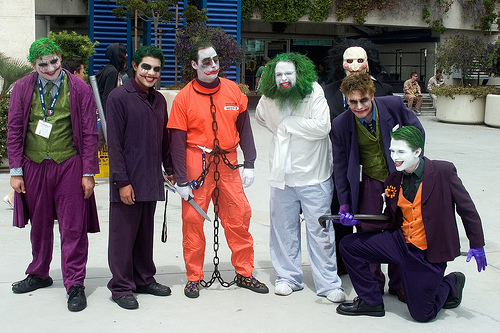 Grab your entourage and zombie walk to your Halloween party in style! Group halloween costumes are perfect for your breakfast club, significant others or even just your best friends. Take a look at some of these ensembles and add your own twist to it.
1. Teenage Mutant Ninja Turtles
Forget ninjas, Power Rangers and samurais. This year, show your inner warrior with a TMNT Halloween costume. The best part about group costumes is that everyone gets to bring a little bit of their own style to the group. With the Ninja Turtles costume, everyone gets to be a kick-butt, crime-fighting ninja turtle, but with their own signature color and weapons. Match your friends' personalities with the characters, too. Your jokster friend would make the perfect Michelangelo. If you don't have time to pull together a full turtle suit, keep it simple. Some plain green shirts and color coordinating ninja headbands should make the ensemble work just fine.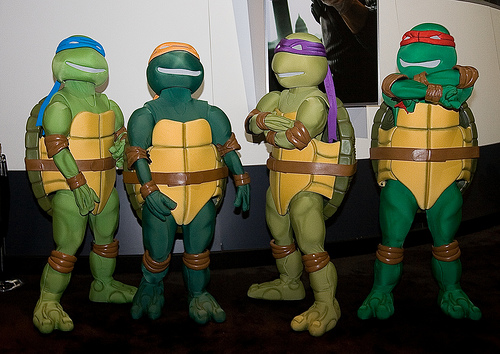 SEE ALSO: Halloween Costumes Based on TV Show Characters
2. Tetris Pieces
Everyone wears costumes from pop culture, but what about the gaming culture? No, we're not taking about Zelda costumes here. Get together a group of friends to be pieces from popular games, such as Tetris. This outfit is probably one of the simplest homemade ones. A couple of colored boxes and you're set to make any of those frustrating geometric shapes in the game that everyone knows and both and hates. If Tetris isn't really your game, you and your friends could always be Scrabble pieces, Candy Land figures (King Kandy, anyone?) or of course, Mario Kart characters complete with balloons so that you're ready to battle.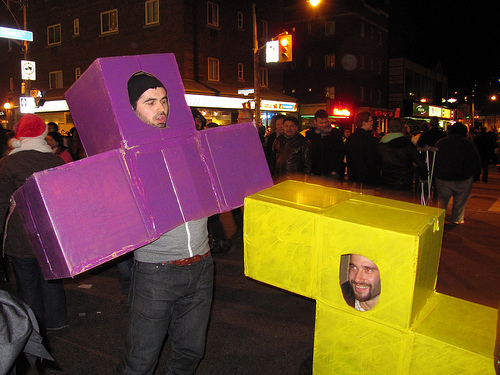 3. Disney Characters
Take a look at this group's Halloween costumes. Their take on Disney's Aladdin is creative and well executed. They captured the heart of the story with the iconic magic carpet as a costume, instead of just as a prop. Have your friends dress up as the animated sidekicks to go with your movie ensembles. It's the perfect way to include more of your friends in the theme. For example, someone can be the chameleon and the horse to go with Rapunzel and Flynn from Disney's Tangled. Find a Toto to accompany your Wizard of Oz group. The possibilites are endless.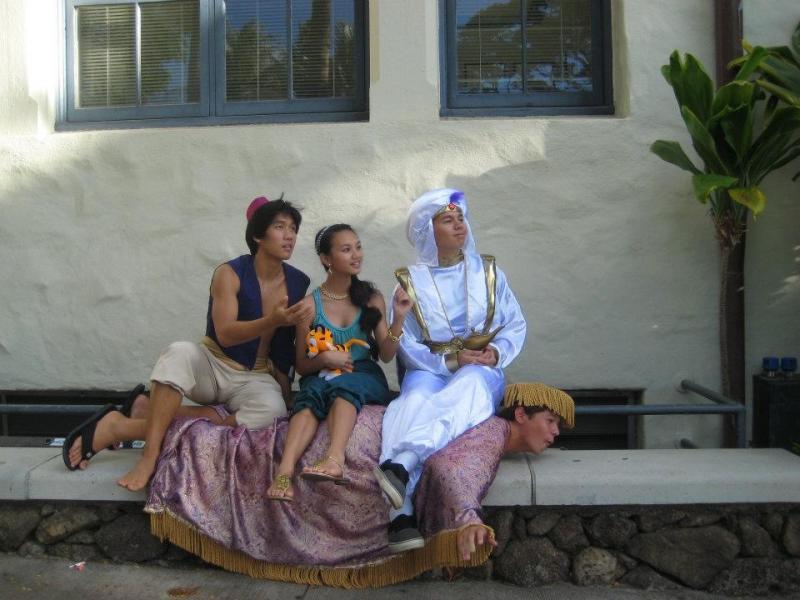 4. Harry Potter Wizards
Ok, the Harry Potter book and movie series may have ended, but that does not mean this group costume idea is any less recognizable. Stand out from all the other Harrys, Hermiones and Rons by putting your own spin on it. Dress as the Gryffindor Quidditch team, complete with a Golden Snitch. Also, don't forget about some of the lesser known characters, such as Tonks (perfect for that crazy colored wig you've been dying to wear), Dobby and Sirius. A group could also dress up as the symbols of the different houses of Hogwarts, such as the lion of Gryffindor and the snake of Slytherin.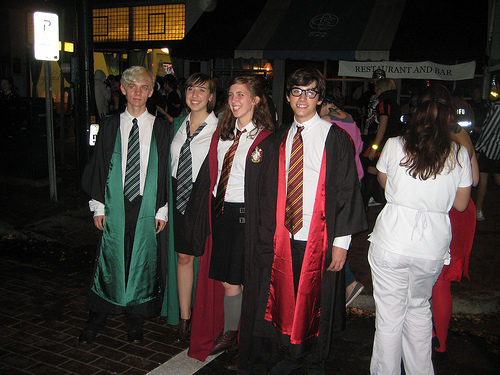 SEE ALSO: J.K. Rowling And Warner Bros. Entertainment To Create New 'Harry Potter' Spin-Off
5. Bacon and Eggs
Food is always a good choice for group costumes because so many ingredients go well together. For couples or best friends, the popular choices are bacon and eggs, peanut butter and jelly, salt and pepper and mustard and ketchup. If you really want to get creative, green eggs and ham could be a fun addition to a Dr. Seuss themed group with Cat in the Hat, Thing 1 and Thing 2 and an elephant Horton.
If you've got more than two people, try a BLT. Or confuse everyone about what holiday it is by dressing up as Thanksgiving dinner.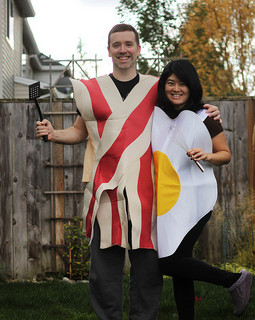 SEE ALSO: 10 DIY Halloween Costumes
6. Zombie Princesses
The Disney princesses are a favorite choice for group Halloween costumes. There can be sexy Disney princesses, modern Disney princesses and just about everything in between. With a plastic tiara and the right colors, princess costumes can be some of the easiest ones out there. Put a twist on it by making your sweet Disney princesses into terrifying zombies. With a little face paint, you'll be giving happily-ever-after a whole new meaning.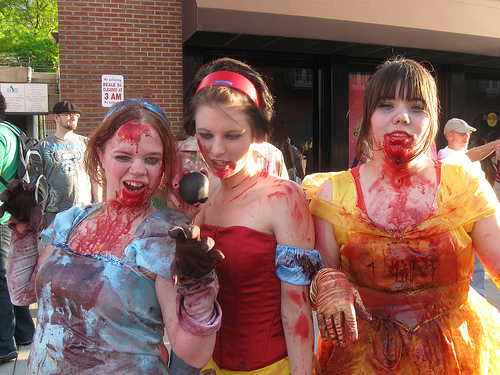 7. Powerpuff Girls
There will be plenty of superheroes during Halloween. Spiderman, Superman and Wonder Woman have been done plenty of times before, but for girls looking for a different sort of crime fighting, behold the Powerpuff Girls.
This easy costume idea is perfect for three besties with different hair colors. Grab a blue, red and green dress, throw on some white stockings or socks and you've got Blossom, Bubbles and Buttercup. Even better, find a boy willing to play one of the best animated evil characters around: Mojo Jojo. Professor Utonium would also be another fun character to add to the mix.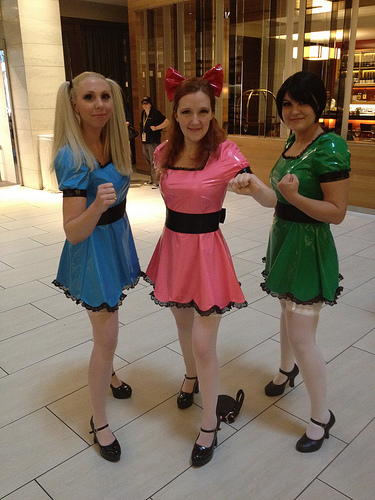 8. Game of Thrones
This will be a hot costume idea this year because the Game of Thrones television show had one of its largest audiences during its last season. It's been awhile since the show aired, though, and let's face it, no one can really keep the entire plot straight anyways so maybe give people a little refresher by gathering a few friends to dress up as the many versions of Daenerys Targaryen. Everyone must have a blonde wig with the signature side braids, of course, but one friend can don the rugged Khaleesi look while another can wear her blue dress and cape outfit and someone else can sport her bronze armor ensemble.
Other ideas for group costumes of the same character include the many different versions of Britney Spears or the varied characters played by Johnny Depp.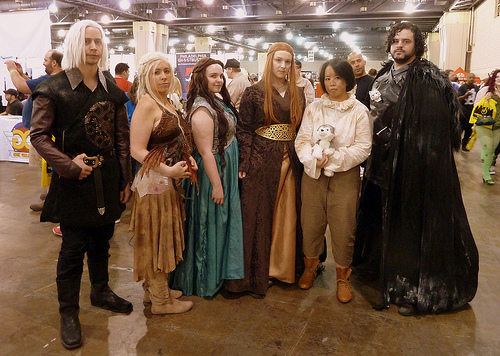 SEE ALSO: "Game of Thrones" Delivers On Its Hype
9. The Scooby Doo Gang
There is no twist here. For some groups, just gather your best friends and stick to the classics. It doesn't get much better than this.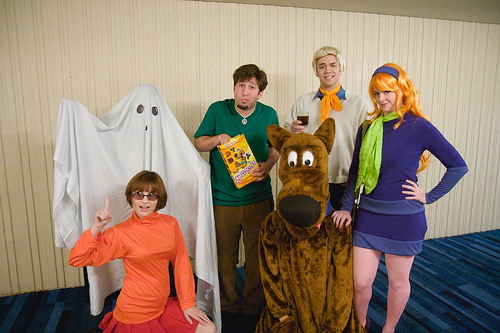 Reach Staff Reporter Meghan Coyle here.
Want more Halloween inspiration? Neon Tommy's got you covered.