NFL
NFL Week 5 Betting Preview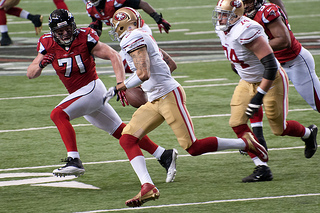 After a mediocre last weekend against the spreads, I'm not feeling confident this week because there are a lot of tough lines. So, for this week, there will be only two best bets. There are a few underdogs that are decent values, but there are two favorites that I like more. Home teams are in CAPS.
Chiefs -1 over TITANS
I hate to go with such a public bet as one of my top bets, but I'm not a big fan of the spreads this week, and this one definitely stood out. The Tennessee Titans are a good team with a nice defense, but this line should be higher since Jake Locker is out with a hip injury.
Locker had been playing very well this season, and now the Titans have to suffer the quarterback drop-off with Ryan Fitzpatrick. Fitzpatrick's first start against a monstrous Kansas City Chiefs pass rush, which leads the NFL in sacks with 17. Because of the pressure they've been getting, the Chiefs are also tops in the NFL in allowing only 5.8 yards per passing attempt.
MORE: Government Shutdown: 5 Reasons Why Lane Kiffin Could Replace Harry Reid
While Chris Johnson has struggled this season for the Titans, Chiefs running back Jamaal Charles is having a good start to the season, even if he isn't getting a lot of carries. However, Charles has been a weapon in the passing attack, as he's on pace to catch more than 90 balls this season. Alex Smith's strength is the short passing game, and there isn't anyone on the Titans defense that matches up well with Charles.
If Locker was healthy, the Titans would be a strong a home underdog this week. However, with Ryan Fitzpatrick in, I'm surprised the line isn't at least a field goal, if not more.
49ERS -6 over Texans
Here's another line that doesn't make sense. Two weeks ago, the 49ers were a 10.5-point home favorite against the Colts, and now they are only favored by six against a potentially worse Texans team.
When is the public going to see that the Texans just aren't very good? Their two wins came on choke jobs by the Chargers and Titans. The following week on the road, they got blown out by the Ravens. Then, in a big-time contest against the Seahawks, the Texans choked at home and lost in overtime.
The Texans coming off an overtime loss and the 49ers having extra rest because of their Thursday game last week does not bode well for Houston in this game. The 49ers are a little undervalued as well. Their blowout losses this season have come against the Seahawks and the best home advantage in football, along with the Colts beating them with San Francisco not having Vernon Davis, a key target this year for Colin Kaepernick.
The 49ers defense has been spectacular against the run this season, allowing 3.5 yards per carry. If the Texans have to rely on Matt Schaub, the 49ers should easily win this game. Schaub has even thrown a pick-six in three consecutive games. Schaub needs an effective play-action game to succeed, and if the 49ers are stopping Arian Foster and Ben Tate, the Houston offense will struggle.
Other Picks:
Bills (+4) over BROWNS
BENGALS (PK) over Patriots
PACKERS (-7) over Lions
COLTS (+3) over Seahawks
Ravens (+3) over DOLPHINS
Saints (PK) over BEARS
Eagles (+3) over GIANTS
Jaguars (+11.5) over RAMS
Panthers (-1.5) over CARDINALS
COWBOYS (+8.5) over Broncos
Chargers (-4) over RAIDERS
FALCONS (-9.5) over Jets
LAST WEEK 8-7 || SEASON 27-19-1 || BEST BETS 3-4

Reach Senior Sports Editor Max Meyer by email.