Entertainment News
In Case You Missed It: Jamie Dornan Is The New Christian Grey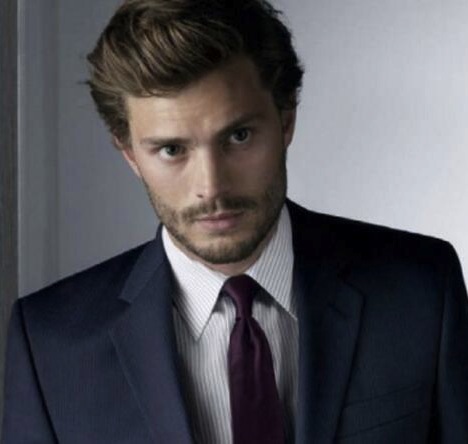 Every Friday, Film Editor Kathy Zerbib brings you the top five highlights of the entertainment world. In case you missed it, here's what's going on this week!
Jamie Dornan Cast As Christian Grey
The search is over (again) and the speculation is unnecessary (again)… Jamie Dornan - the Hunky Huntsman from "Once Upon A Time" - is our new ultimate man candy, Christian Grey. Charlie Hunnam from "Sons of Anarchy," who?!
The "50 Shades of Grey" filmmakers wanted a fresh face for the role, and Jamie's is as fresh as they come. He's not our immediate pick, but he's easy to warm up to as Christian Grey. In addition to acting, Jamie models for brands like Calvin Klein and Dior. He looks fan-tas-tic posing in underwear, has a great body, and has that "mysteriously seductive" look in his eyes. Remember when he was so rudely killed off of "Once Upon A Time"? Well, look at the guy now. Literally… Look at him here, here, here, and here. That face won't let down our expectations for this movie.
For now, "50 Shades of Grey" is expected to hit theaters on August 1st, 2014. The anticipation is only building from here.
Cee Lo Green Pleads Not Guilty In Felony Drug Case
Back in 2012, Cee Lo Green (AKA Thomas DeCarlo Callaway) was hit with a drug and sexual charge. A woman claimed the TV star/music artist slipped her the party drug Molly before a dinner date.
Fortunately for Cee Lo, the Los Angeles County District Attorney's office thought she had insufficient evidence to prove a felony rape charge. The two were apparently intimate for months before the incident, which helped Cee Lo's case. The sexual assault charge was tossed, but the "Voice" judge still has the drug charge to clear himself of. Cee Lo pleaded not guilty in court this week.
He's expected back in court on November 20th for a preliminary hearing.
READ MORE: CD Review: Cee-Lo Green's 'The Lady Killer'
Pauly D Confirms He's A Dad, Allegedly Told Mom To Get An Abortion
Gone are the carefree days at the "Jersey Shore." First, Snooki had an adorable baby boy named Lorenzo with her fiancé Jionni LaValle. Now, Pauly D (Paul DelVecchio) just found out he's a parent, too. Amanda Markert, 25, met Pauly in Las Vegas in August 2012. One thing led to another, and now the 33-year-old DJ has a 5-month-old daughter named Amabella.
HollywoodLife provided an inside look into Pauly's baby mama. Apparently, she is a college student and mother of two. She has a 5-year-old son from a prior relationship. Amanda worked as a Hooter's waitress. She lives in Atlantic City, New Jersey.
Pauly just found out he's a father and hasn't met Amabella yet, but already took Amanda to court to fight for custody. He doesn't think she's a qualified mom, citing her other child and previous job with Hooters. She's filing for child support. Yikes, this could get ugly.
…Oh, wait, it just did. Pauly said he's proud to be a dad. Amanda, however, has some texts that prove otherwise. She's allegedly trying to sell text messages of him telling her to get an abortion when he first found out she was pregnant. He even offered to pay for it. She reportedly took the money, but didn't go through with the abortion.
READ MORE: 'Pauly D Project' Recap: Pauly D Problems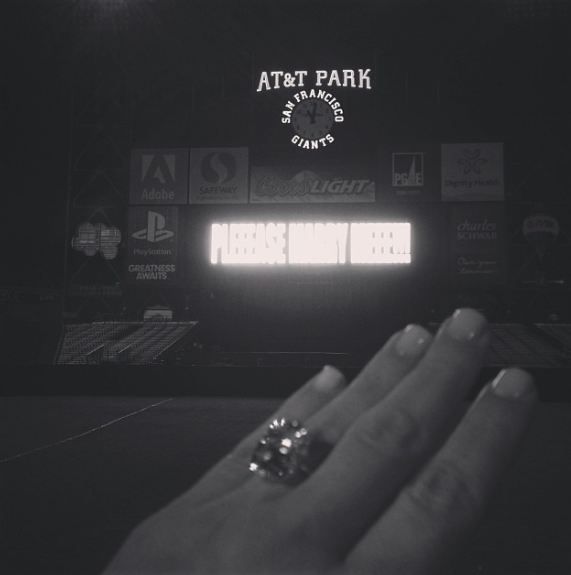 Kim Kardashian Engaged to Kanye West, Bruce Jenner wasn't invited
Yes, it finally happened! KimYe got engaged. If you thought Kim and Kris Humphries' wedding was a huge extravaganza, expect Kanye to want to top that. He's off to a good start, judging by how he went about proposing.
Kanye popped the big question on Kim's 33rd birthday. He rented out the entire San Francisco Giants' AT&T stadium for the big event. Kanye also brought along fireworks and a 50-piece orchestra. The two's family and friends were in attendance. Kanye presented Kim with a 15-carat Lorraine Schwartz ring.
However, not everyone was invited to the big event. Bruce Jenner wasn't there, since the proposal was being filmed for "Keeping Up with the Kardashians." He and Kris Jenner had already separated, so he wasn't invited for sake of continuity. For the same reason, Lamar Odom was also absent.
Early reports are already coming in that the couple are planning a prenup. Not because they feel like the relationship won't last, of course, but because they both have assets they'd rather be safe about. It makes sense, since they're individually worth so much - he's worth about $100 million, she's worth about $40 million - and their potential divorce could get messy without paperwork.
Congratulations to the happy couple!
READ MORE: Kim Kardashian's 9 Kraziest Moments
VH1's Biopic "CrazySexyCool: The TLC Story" Causes Controversy
"CrazySexyCool" premiered on VH1 to the tune of 4.5 million viewers. KeKe Palmer starred as Rozonda "Chilli" Thomas, Drew Sidora starred as Tionne "T-Boz" Watkins, and Lil Mama starred as Lisa "Left Eye" Lopes.
Of course, as biopics usually are, "CrazySexyCool" wasn't well received by everyone portrayed in it. Two people have spoken out against the biopic - the former manager Pebbles and a former group member Chrystal Jones.
In the movie, Chrystal was in the group before Chilli. When the group auditioned for Perri "Pebbles" Reid (who became their manager) and music producer L.A. Reid, it was clear that Chrystal lacked vocal talent. Infuriated with her portrayal, Chrystal did an interview with Atlanta radio station V-103 to clear things up. According to her, Pebbles cut her because she didn't want to sign a contract without her mother's approval - not her vocal skills. Chrystal went on to say the filmmakers took quite a few creative liberties and she was disappointed at how much of the real story was left out.
As for Pebbles, she isn't too happy with being portrayed as a money-hungry manager. She took to Twitter to express her disgust towards Chilli and T-Boz.
Watch the VH1 movie's trailer below.
Find all the "In Case You Missed It" posts here.
Reach Film Editor Kathy Zerbib here. Follow her on Twitter here.