USC Sports
USC-Arizona State Betting Preview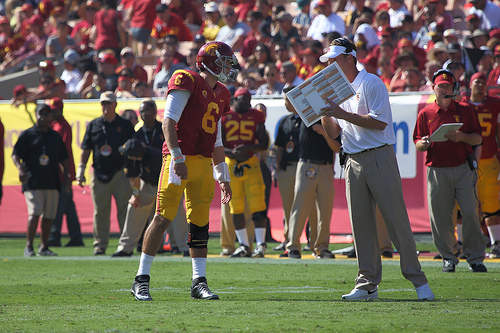 USC 3-1 (1-3 ATS) at Arizona State 2-1 (1-2 ATS)
Saturday, September 28th at 7:30 p.m. PST on ESPN2
Latest Odds: USC +6 and Over/Under 50.5
This Pac-12 matchup is a major one for both USC and Arizona State since both teams already have one conference loss. Considering how impressive UCLA has looked to start the season, neither of these teams can afford to fall too far behind in the Pac-12 South race.
Arizona State is coming off a 42-28 loss against Stanford, and the game was a bigger blowout than the final scoreboard suggested. That lackluster performance is probably why Vegas was hesitant to make the Sun Devils a touchdown favorite over USC, even with the Trojans struggling mightily on offense.
While the troubles on offense are the focus of the national media, USC's defense is quietly putting up spectacular numbers. Last week, they held electric Utah State quarterback Chuckie Keeton to only 179 yards passing and negative 15 yards rushing.
USC's run defense has been especially impressive, allowing only 2.2 yards per carry in their first four games. Arizona State's rushing attack has been terrible to start off the season, which has forced their offense to become one-dimensional.
Against Stanford last week, the Sun Devils gained only 50 yards on 24 carries (2.1 yards per carry). The previous week, Wisconsin's run defense gave up 116 yards on a whopping 42 carries, which is once against under three yards per carry. Even in their opener against Sacramento State, Arizona State rushed for a subpar 3.6 yards per carry average on 44 carries.
MORE: USC-Utah State Betting Preview
ASU's quarterback Taylor Kelly has been affected by the lack of a run game. He's had to throw over 50 passes against Stanford and Wisconsin, and he's completed fewer than 57 percent of them in both of those games. Another telling fact about Kelly's struggles have been his splits for the first and second half. His completion percentage has fallen from 66 percent in first 30 minutes of the game to 52. His passer rating (144.8 in the first half to 128.3) has also dropped quite a bit.
Kelly has also struggled when Arizona State has not been winning during his first three games. When the Sun Devils have been up, Kelly's numbers, 25 for 33 for 337 yards, along with five touchdowns and zero touchdowns, are spectacular. When they've been tied or losing, and more reliant on Kelly's arm, his numbers have crippled. He's only completed 57 of 104 passes in those situations, and has had the same number of interceptions (three) as touchdown passes.
This will be a close game, so will Arizona State be able to rely mostly on Kelly's arm to beat their Pac-12 rivals? I'm not sure he's trustworthy yet, and Arizona State's 38-13 loss to USC last year doesn't help his case. Kelly completed 19 of 30 passes in that game for 174 yards, and added to those bad numbers with three interceptions compared to just one touchdown.
Additionally, Arizona State's run defense has struggled to start off the season, which is great news for USC. Stanford rushed for almost five yards a carry (240 yards on 49 carries) against them this past weekend. Wisconsin's rushing attack had a monster game against the Sun Devils, rushing for 231 yards on just 32 carries for a 7.2 YPC average.
This has also resulted in lessening the quarterback's load for the game. Stanford quarterback Kevin Hogan attempted only 17 passes against Arizona State, resulting in a measly 151 yards. Wisconsin's Joel Stave threw for just 187 yards on 30 throws, and 10 of those passes came on Wisconsin's last two drives. Considering this is a similar formula that Lane Kiffin wants to do with USC's offense because of their quarterback situation, it's encouraging for the Trojans that teams can compete with the Sun Devils without a spectacular passing game.
Arizona State will certainly have their hands full with Tre Madden. Madden has been a workhorse so far, as he's tops in the Pac-12 with 90 carries and 455 yards. Additionally, Madden and fellow USC stud running back Justin Davis are both averaging over five yards a carry.
USC matches up well against Arizona State, which is why they are a big threat to upset the Sun Devils at home this week. However, the three biggest ingredients to pulling off this win are penalties, pass rush and third-down conversions.
Arizona State under Todd Graham has shown they are a very disciplined team. They finished with the 10th in the nation for fewest penalties per game (4.23) last season, and eighth-best in penalty yards per game with 34.9. USC is averaging over seven penalties and 60 penalty yards over their first four games this season, and has always struggled in this department under Kiffin.
MORE: NFL Week 3 Betting Preview
USC's four sacks per game average is fourth best in the nation, led by a standout defensive line. Yet, Leonard Williams and company will have a tough test against Arizona State's offensive line, which has allowed Kelly to be sacked just five times this season. While their run-blocking has been part of the troubles on offense, they have certainly done a fine job protecting the quarterback.
USC is currently 113th in the nation in third-down conversion rate, only succeeding 27 percent of the time. Stanford had 15 third-down attempts this past week, and converted seven of them. In Wisconsin's fluky loss against the Sun Devils, the Badgers succeeded on eight of their 17 third-down attempts.
The key for USC on third downs is to make them manageable yardage wise, which they can do by running the ball often on first and second down. Last week against Utah State in the first half, they ran the ball 18 times out of their 28 first- and second-down plays. USC's reliance on their strong rushing attack in the first 30 minutes allowed them to score two offensive touchdowns in the first half for the first time since the UCLA game last year.
This will be definitely be a close game, and even with USC's recent struggles on the road, I'm picking the Trojans to prevail in an upset. USC has won five of their last six games against Arizona State when they've played them on the road, and they will continue that trend. However, the bet I like the most this week is the UNDER, as six of the last nine games between these two teams have finished with that result. Vegas is not giving USC's defense enough respect in this game, so take advantage immediately.
Final Score Prediction: USC 21, Arizona State 20
Best Bet: UNDER 50.5 Points
LAST WEEK'S PICKS 1-1 || SEASON'S PICKS 7-1 || BEST BETS 4-0

Reach Senior Sports Editor Max Meyer by email.