Entertainment News
Rihanna And Teyana Taylor: An Ugly Twitter Feud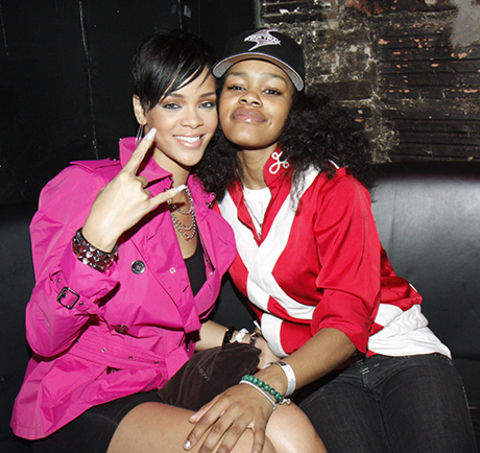 Rihanna's
latest Twitter fight on Tuesday
was with up-and-coming singer Teyana Taylor of G.O.O.D. Music.
Things took a turn for the ugly when Taylor, 22, recently posted a video of herself covering Anita Baker's "Caught Up in the Rapture."
Soon after, Rihanna tweeted an Instagram video of her male stylist Yusef singing the same song while wearing a curly wig, snapback, and sneakers making a clear strike at Taylor's cover.
READ MORE: The Good, The Great, The Ratchet: Rihanna's Diamonds World Tour
It didn't take long before Taylor snapped back in an extremely public manner with a series of angry tweets.
Rihanna's fans began to take their own swings, calling Taylor out for her hits at Rihanna. Taylor made her own defense, tweeting "y'all could bully everybody else and get away wit that sh-t…"
Both singers changed their Twitter headers to further heat the feud up, with Rihanna's comparing her $90 million net worth to Taylor's at $500,000; and Taylor's a photoshopped image of her boxing Rihanna.
Rihanna finally replied, but without an apology, saying she would not help Taylor's career by mentioning her on Twitter. "You will NOT get an @ from me! Not till you pay me!" She then deleted all of the tweets aimed at Taylor.
Taylor also responded, saying her mother told her to remove the sour tweets. It doesn't seem like either of the singers are apologetic about the public feud aside from removing their tweets.
While Taylor and Rihanna were both extremely hostile to each other, Rihanna has had quite the history of cyber battles against other celebrities such as Ciara, Amanda Bynes, and others. Maybe it's time she realizes that she takes things a bit too far in the public eye.
READ MORE: 2013's Top Five Most Heated Celebrity Twitter Feuds: Who Won?
Contact Staff Reporter Dale Chong here. Follow her on Twitter here.