Arts+Culture
2013's Top Five Most Heated Celebrity Twitter Feuds: Who Won?
Obsessed fans no longer have to tear through the pages of People magazine in order to learn the latest celebrity drama. In 2013, stars have taken to the 140-word limit of a Twitter text box to shamelessly express exactly what they would like to say. Here are five of the most heated celebrity Twitter feuds from 2013:
5. Contenders: Olivia Wilde vs. The Beliebers
Everyone knows not to tamper with the Bieber fandom. The group, consisting of approximately 50 million hopelessly devoted "Beliebers", has historically proven its rationality to be blinded by a perpetually love-struck psychosis (this plague is illustrated by the January trend #CutforBieber). Despite this knowledge, earlier this year, 29-year-old "House" star Olivia Wilde allegedly decided to "poke fun" at photos that teenage sensation Justin Bieber posted online via her Twitter account.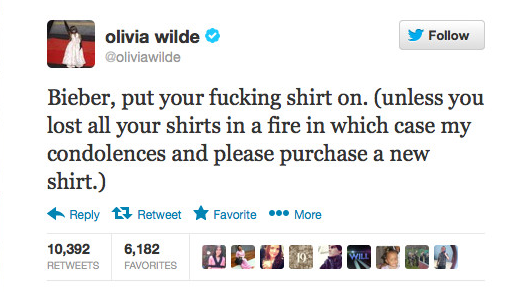 While the tweet may have elicited a grin or even a chuckle from some of Wilde's million fans, hyper-sensitive Beliebers interpreted her statement as an irrefutable attack on their beloved superstar. The enraged followers took to their keyboards in retaliation, devising a flood of their most scathing Tweets and projecting them in Olivia Wilde's direction. During an appearance on the Tonight Show, Wilde expressed her genuine fear of the passionate Beliebers as she read a few of their heated Tweets aloud. "'Are you a lesbian or are you too old?'" read one of the poignant responses, similar to the eloquent "Put your shirt over your mouth." Despite 35 million abusive tweets clogging Wilde's account, it seems that the actress had the last word.
Victor: Olivia Wilde
4. Contenders: Chris Brown vs. Frank Ocean
Green is not Chris Brown's color. During the 2013 Grammy Award Ceremony, audiences erupted in applause when rapper Frank Ocean was awarded the title Best Urban Contemporary Album for his blend of profound lyrics and pulsing beats in Channel Orange. Fellow rap star Chris Brown, who was Ocean's competition for the title, did not accept the rejection well.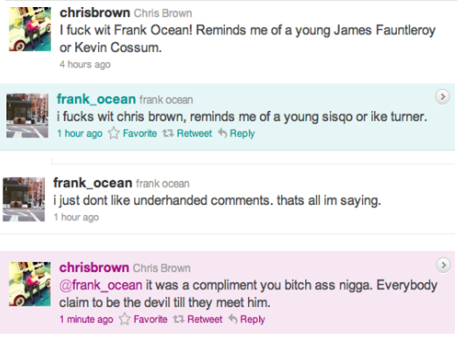 Frank Ocean, launching an equally biting Tweet back at Brown, seemed to placate the situation. Although Chris Brown immediately claimed to be "complimenting" Ocean, it does not sound like the two rap moguls will be working on a collaboration project any time soon. At least Ocean can walk away from the situation with a polished Grammy in hand.
Victor: Frank Ocean
3. Contenders: Perez Hilton vs. Lady Gaga
In the midst of promoting her new album ArtPop while simultaneously releasing the music video for her long-anticipated single "Applause", Lady Gaga has been recovering from a dangerous hip injury. Despite overwhelming support from her fans, Perez Hilton, in his classic callous tone, supposedly sent Gaga a photo of herself in a wheelchair with the word "karma" written on it, accompanied by an image of Madonna pointing a gun at her. As is characteristic of Twitter feuds between industry divas, the situation escalated with incredible speed.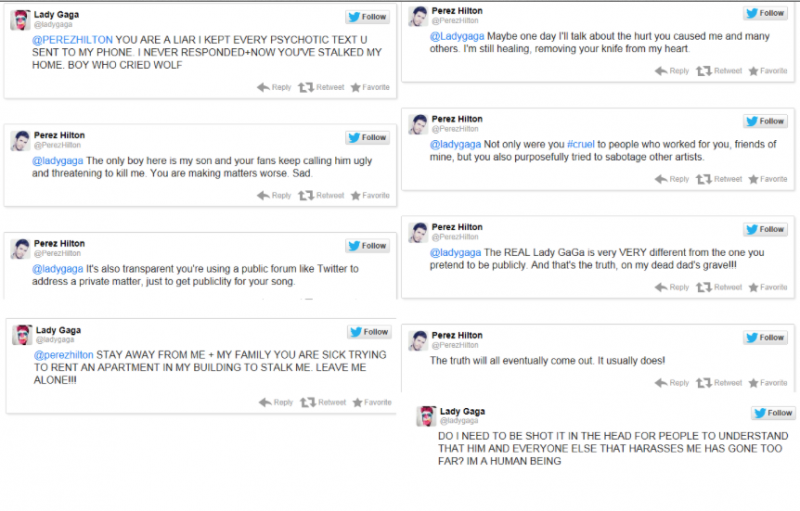 It is unknown whether or not either of the stars' accusations are valid, but it is glaringly clear that the ex-best friends ignite a hidden temper within one another.
Victor: Unknown
2. Contenders: Rob Kardashian vs. Rita Ora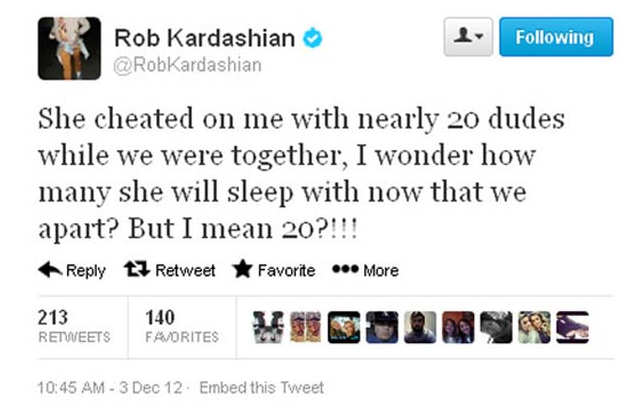 Maybe it is a symptom of growing up engulfed by the media, but Rob Kardashian is certainly infamous for his use and abuse of online social networking mediums, namely his Twitter account. It is unclear what spurred the high-profile breakup between the "Keeping Up With the Kardashians" star and the British singer-songwriter, Rita Ora, but there was definitely lingering tension between the two.
In an act of shocking maturity, older sister Khloe Kardashian tweeted at her little brother to "be niiiiiiice." Similarly, reality tycoon Kim Kardashian attempted to calm Rob's fury. "There's just no point [in tweeting]. You loved her for a reason. You aren't together for a reason now," Kim reasoned, "You just always have to take the high road." Though the sisters' past relationship turmoil hardly exhibits such wisdom, hearing their Kardashian-style advice is admittedly refreshing.
Victor: Third Party Kardashian duo
1. Amanda Bynes vs. Everyone (but especially Rihanna)
It is no secret that Amanda Bynes is no longer the lanky, beaming pre-teen that danced across our 90's television sets on "The Amanda Show." This past year, her Twitter account has exploded with racy photos of her new image, complete with facial piercings, a bleach-blonde dye job, and negligible clothing. Recently, she has adopted the charming practice of attacking nearly every fellow celebrity or even arbitrary fan who tweets at her, habitually using capital letters, exclamation points, and consistently referring to them as "ugly."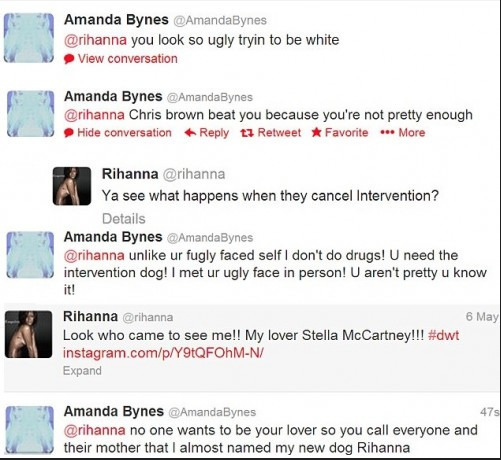 Bynes' relentless cyber-assault of Rihanna assigns a new meaning to the phrase "low blow".
At this point, it might be beneficial to confiscate Bynes' computer access.
Victor: Everyone else
Reach Staff Reporter Emily Mae Czachor here.