Food
Donut Friend Debuts 'DIY' Donuts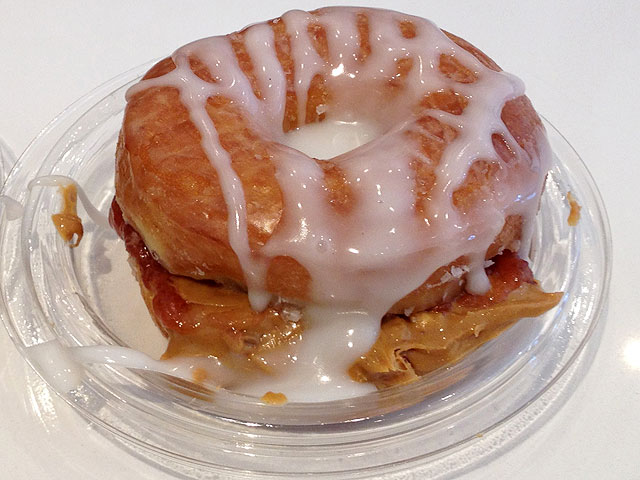 "Caramel on Parade." "Nutellavision." "Jets to Basil."
These are just a few of the unique donuts featured at Donut Friend, located in Highland Park, Calif.
The shop opened on Sept. 17 and its creative donut concoctions have been flying off the shelves since, according to owner Mark Trombino.
"There's been a lot of buzz [about this place] and a lot of people [coming in]," says Trombino, a former record producer for famous bands like Jimmy Eat World and Blink-182. "It's been great; it's been wonderful. Now [one week later], we're finally starting to get into a groove and figuring everything out."
Donut Friend was originally a collaboration between Trombino and a friend, which is how the store got its name.
"He [my friend] has a recording business called 'Music Friends,'" Trombino explains. "I just thought, 'Why don't we call it [our store] 'Donut Friend'? Even though he's [my friend] not working with me on it, the name stuck."
While Trombino had the idea for Donut Friend for about five years, plans for the store were only in the works for the past two years.
"I've been talking about it [having a donut shop] for five years, and two years ago, I decided to finally do something about it," he says, chuckling.
Donut Friend sports a casual, cheerful ambiance—its walls are painted with bright colors and the employees are welcoming—and there is even a bar with stools so customers can stay to enjoy their pastries. But it's Donut Friend's menu that has everybody talking.
"I came up with everything on the menu: all the recipes, all the combinations," says Trombino, who has no prior culinary experience but a clear vision for what he wanted his store to entail.
Donut Friend's menu includes an assortment of one-of-a-kind creations sure to satisfy any donut craving. While traditionalists will opt for donuts like "Rites of Sprinkles"—a moist, vanilla cake donut topped with chocolate icing and sprinkles—or "Dag Nutty"—a moist, chocolate donut topped with chocolate icing and nuts—more adventurous individuals have options like "Jets to Basil," featuring a traditional donut stuffed with strawberry jam, fresh basil and goat cheese and topped with a sugar glaze and balsamic reduction.
Trombino notes that the cheese-filled donuts—such as "The Jelly Sound," comprising strawberry jam, olive oil and ricotta cheese inside a sugar glaze-topped traditional donut—are extremely popular among customers.
"It's unique to have a donut with cheese in it," he says. "One of the more popular ones is 'The Spanish Bomb,' which has Manchego cheese, quince paste and honey inside our traditional donut [topped with toasted almonds and a sugar glaze]. It's pretty delicious."
As if its "Favorite Compilations" (pre-set flavors) menu was not enough, Donut Friend also features a "DIY (Do It Yourself) Donut" menu. This menu is what makes the shop unique, according to Trombino.
"Donuts have become trendy, and there are lots of people making amazing donuts out there," he says, "but as far as I know, nobody's doing a made-to-order donut like we are. And all of our donuts are made from scratch."
For the "DIY" donut options, customers first select a type of donut, such as traditional, cake or "Glootenfreis" (Gluten-free). They then have the option of choosing one (or multiple) fillings, including a vast assortment of artisan jams, fresh fruits, creams and butters or gourmet cheeses. After selecting a glaze, customers finish off their creation by selecting toppings ranging from candies and nuts to spices and bacon. Orders can be created "to go," with individual donuts wrapped in a plastic, dome-like container (a genius invention that prevents spilling and smudged/melted icing).
SEE ALSO: Some of L.A.'s best local donut shops
Although his store's menu is already extensive, Trombino says a few more items will be added in the near future. These include "Donut Fritters"—mashed pieces of bananas, peaches, blueberries or apples into traditional donut dough and fried longer to create a crunchier, darker exterior—and "Donut Bread Pudding," featuring bread pudding with bits of yeasted donuts." Donut ice cream sandwiches—cake donuts sliced in half with vanilla ice cream in the middle and covered with toppings—and an enhanced coffee menu are also in store.
"We're planning to expand our coffee program," Trombino says. "Our head barista is really innovative; he's going to make up some amazing drinks using some items we have at the [toppings] bar, like mint, blueberry or raspberry. We'll definitely have some new things because we want to keep it [our menu] fresh."
Donut Friend is currently open from 8 a.m. to 4 p.m. daily (closed on Mondays), but Trombino says that will soon change.
"Last [opening] week, we were open until 2 p.m. and this week is 4 p.m.," he says. "Next week, hopefully, it'll be even later. We're just trying to keep pushing our times [and see what works best]."
Besides later store hours and innovative menu items, Trombino has other big dreams for his donut shop.
"We're going to do some seasonal things," he says. "In October, if not a [pumpkin] donut, we'll have some sort of pumpkin-flavored filling or a seasonal donut. We'll also have promotions and specials down the road."
"I've never owned a business; never ran a restaurant," Trombino adds, grinning. "I want to do everything [with Donut Friend], but I don't want to do it all at once. I want to figure things out one step at a time."
Though his first store just launched, Trombino already has plans to expand the Donut Friend business.
"It's [our current location] an exciting area," he says. "It's perfectly situated between Glendale and Pasadena; there's a lot of energy happening here, a lot of new businesses popping up, new families, first-time homeowners, and Occidental College is close. If everything goes okay, hopefully we'll have more locations."
Stay updated with all Donut Friend news via its Facebook page and Twitter. Donut Friend is located at 5107 York Blvd., Los Angeles, 90042.
Check out a preview of Donut Friend below:
Reach Kelli Shiroma here.