Food
Dunkin' Donuts Comes to L.A. Plus Top 6 Local Donut Shops
On Jan. 16,
Dunkin' Donuts
announced plans to expand its global chain to Southern California.
Founded in Massachusetts in 1950, the donut enterprise is currently recruiting for franchises in several So Cal locations, including San Diego, San Bernardino, Los Angeles, Riverside, Ventura and Orange Counties. The new Dunkin' Donuts shops are projected to open in 2015. This expansion into Southern California is part of the company's plan to have more than 15,000 restaurants in the United States, The Huffington Post reported. Last year alone, Dunkin' Donuts remodeled 600 of its stores and launched 291 more. The company is also considering new locations in "non-traditional venues" like casinos, supermarkets, college and university campuses and military venues, according to Eater LA.
Prior to last week's announcement of Dunkin' Donuts' expansion, the chain had already opened one So Cal store in Marine Corps Base Camp Pendleton, located north of San Diego. However, to get on base and access the sugary snacks, individuals must bring their current vehicle registration, a valid driver's license and proof of current liability insurance.
Dunkin' Donuts is often recognized for its vast donut varieties, ranging from the traditional glazed and jelly to the more elaborate Reverse Boston Kreme Donut and Red Velvet Donut. Despite the national chain's fame, Los Angeles boasts several independent donut shops that consistently rake in the dough and are ever popular among customers. These independent donut shops also boast original creations—cue peanut butter-filled, chocolate-covered delights—and are beloved local hotspots. While they may not have global storefronts, these "mom-and-pop" independent donut shops often provide a plethora of donut selections and customers are treated like family. Here are a few of L.A.'s most popular donut shops.
Top 6 L.A. Donut Shops
Bob's Coffee & Doughnuts
Bob's Coffee & Doughnuts is like a hidden treasure in the bustling Los Angeles Original Farmer's Market. This shop features everything from moist cake donuts and to crumb donuts, the delicacies especially "perfect for dipping." Specialty donuts at Bob's include dinosaur- and kitty-shaped doughnuts for children, beignets and cinnamon rolls.
Doughnut Hut
The Burbank-based shop's catchy sign—"Doughn-t Hut: What's missing? U!"—often captures prospective customers' attention before its donuts do. While its old-fashioned buttermilk and cream-filled donuts are popular customer orders, the Doughnut Hut is especially known for its "French cruellers." These fluted, ring-shaped donuts have a light and airy texture, making the melt-in-your mouth treats irresistible.
Donut King
This Culver City shop boasts a grand variety of donuts, but its chocolate donut is especially popular. Chocolate fanatics will declare love at first bite — this glazed creation is covered with a thick chocolate glaze, an abundance of mini chocolate chips and contains an additional burst of chocolate inside the donut itself.
Randy's Donuts
With its large, iconic donut sign and convenient location close to LAX, Randy's Donuts is impossible to miss. The donut shop, which was founded in 1953, was listed under Bon Appétit's "Top 10 Best Places for Donuts" in March 2010 and is famous especially for its buttermilk, crumb and classic raised donuts.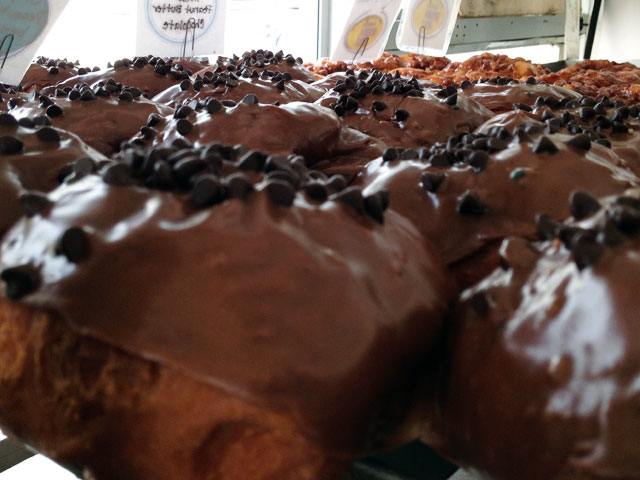 Stan's Donuts
Stan's Donuts, located just minutes from UCLA on the corner of Broxton and Weyburn, provides customers of all ages with a gourmet donut experience. Owned by the welcoming Stan Berman—who treats all his customers like family—this donut shop has been a Westwood trademark for nearly 50 years. Customer favorites at Stan's include the shop's line of Baker's Cheese donuts and the Peanut Butter donuts. The latter, described by Berman as a "peanut butter pocket," features a soft donut with a creamy, fresh, peanut butter filling and a chocolate-covered exterior. This gourmet donut, which was created about 45 years ago, still reigns as one of the shop's signature items.
The Donut Man
Located in Glendora, The Donut Man is well known for its seasonal stuffed strawberry donuts and peach donuts. For more than 40 years, the shop has been a Glendora gem and features many fresh products, including Maple Frosted Raised Glaze donuts, Tiger Tails and Maple Bars. The Donut Man serves up pastries 24 hours a day, seven days a week.
Reach Kelli Shiroma here.