Health
5 Reasons To Try Hot Yoga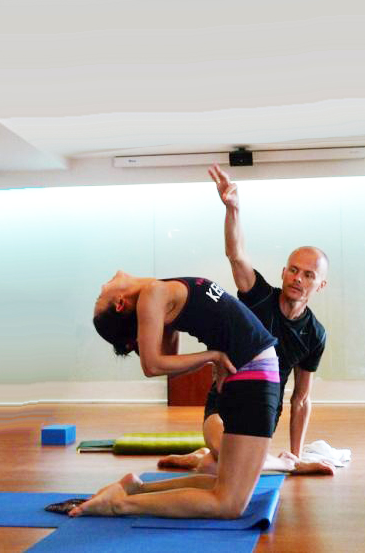 Whether you're a fad follower or not, there's a good chance you've heard of bikram yoga, also called "hot yoga."
There are a handful of benefits associated with this style of yoga. If the mere thought of sweating in a hot room makes you cringe, these facts might ease the apprehension. And if you've already been itching to try it, prepare to itch more!
Here are five reasons why you should try out this sweaty fitness craze.
1. Improves Circulation
According to Vy Brooks, Manager and Yoga Instructor at CorePower Yoga in Los Angeles, the postures practiced during the class work on getting your blood pumping throughout your body. This is especially important if you have a job that requires you to be sitting for long periods of time.
"Inverting the body into forward fold or a downward facing dog, for example, gets your blood flowing into your head, face, and brain. This can lead to a feeling described as 'yoga high,'" said Brooks.
2. Stress Relief
During the 90-minute sweat session, you reward yourself to an hour of stepping away from the bustle of the day. It's a moment to sit in tranquility and separate yourself from homework, emails, and deadlines. According to Brooks, the techniques taught in the class teach you how to handle your breath, quiet your mind, calm your thoughts, and sit through stress.
"Our hope is that students take these techniques outside of the classroom and apply them to their everyday life situations," said Brooks.
3. Toxin Elimination
Who needs a juice cleanse when you can detoxify your body by sweating? Katelyn Parks, a hot yoga frequenter at Hot 8 Yoga in Santa Monica, says she always walks out of the hot room with "glowing skin." Brooks attributes Parks' glow to the heat of the room, which ranges from 85 to 105 degrees Fahrenheit, encouraging your body to naturally detox.
"The different compression postures squeeze and loosen muscles and organs, releasing all toxins from them through the skin as sweat," said Brooks.
YogaWiz.com also stresses the benefits of detoxification for your skin. The heat opens up your pores, cleaning out dirt from the skin, and leaving you with a "yoga shine" that beats any cover-up!
4. Flexibility
According to Brooks, the rooms are set to about 30% humidity, which allows for the loosening of your joints and muscles as soon as you walk through the class doors. "Your muscles are loosened right away, as opposed to waiting for them to warm up," she said. The heat and humidity also make the postures and movements easier to achieve, giving you more flexibility throughout your body.
5. Strength
The heat in the classes makes you work harder and pushes you to work through the sweat dripping from your body. This helps build endurance and stamina. Brooks says the exercises performed during a class are "low-impact" exercises which "increase flexibility, strengthen the core, prevent injuries, and fend off sickness in the future."
Check out more health benefits of yoga here.
Reach Staff Contributor Andrea Martinez here or follow her here.