National
13 Dead In Navy Yard Shooting, Possible Shooter At Large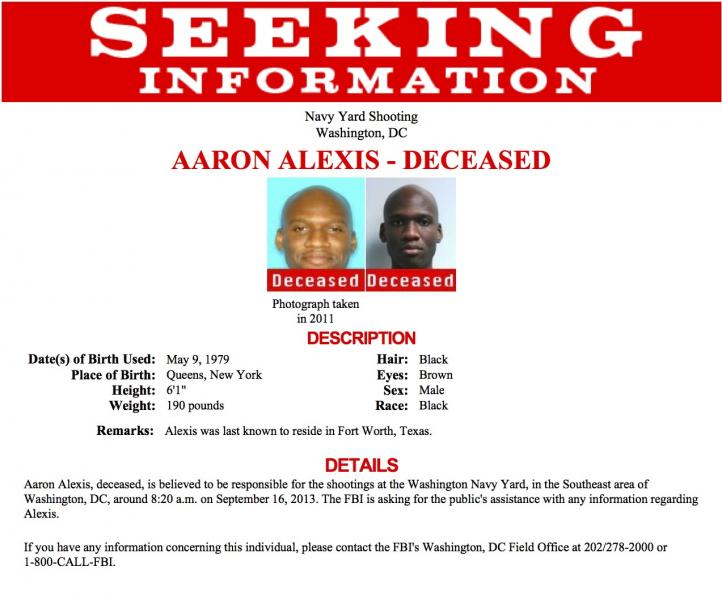 D.C. Mayor Vincent Gray held a press conference early Monday evening EST on the latest updates from the Navy Yard shooting rampage in Southeast D.C. earlier this morning, confirming that another person died at a nearby hospital, bringing the total to 13.
The mayor said there might be a dozen more who were wounded, but many numbers and facts are still unknown. Local and federal law enforcement agencies are still scrambling to piece together possible motives and timelines, from how confirmed shooter Aaron Alexis was able to get into the facility, to who the other potential gunman might be.
The shooting is the single worst loss of life in the District since 1982, when an airliner plunged into the Potomac River and killied 78 people
"There has never been anything quite like this in our city," said Gray.
Stories and rumors were circulating earlier on the possibility of there being two other suspects in the shooting, but the FBI said that is no longer the case.
SEE ALSO: D.C. Navy Yard Shooting Suspect Identified
Police say it is unclear if Alexis acted alone. Authorities are still searching for another possible suspect: a black man in his 40s with gray sideburns, wearing an olive-drab military-style uniform.
"One suspect has been ruled out," said Chief Cathy Lanier of the DC Metro Police. "There is still another suspect, an African American man wearing a drab military uniform, and we are continuing to look for him."
Alexis was armed with an assault rifle and a handgun, two law enforcement officials said. One said he also had a shotgun. One official said all the weapons have not been accounted for.
Little is known of Alexis, and Valerie Parlave of the FBI is asking the public for as much information as possible.
"We are looking to learn everything we can about him," said Parlave.
SEE ALSO: Navy Yard Suspect Had Military Contract
The Washington Post reported that military personnel records show that Alexis spent nearly four years in the Navy as a full-time reservist from May 2007 until he was discharged in January 2011, according to a summary of his personnel records released by Navy officials at the Pentagon.
Those Navy officials said they were still researching whether Alexis had been employed as a defense contractor or a civilian employee of the Navy, and were uncertain if he was assigned to work at the Navy Yard.
Gray said he did not think this was an act of terrorism, but will not rule it out.
"We don't know what the motive is at this stage and are still seeking information," said Gray.
Police are investigating whether the ID card of former Navy petty officer Rollie Chance was used by Alexis to enter the Navy Yard compound. His ID was found near Alexis' body at the scene.
Alexis is believed to have died after exchanging gunfire with police, but authorities would not give any more details.
Navy Yard workers and victims have reunited with their families, but the area is still blocked off and D.C. police are trying to divert the rush hour traffic across the city.
"We take an attack on a federal facility in our city personally," said Del. Eleanor Holmes Norton. "it's an attack on our country."
Read more at the Washington Post
Reach Editor-in-Chief Brianna Sacks here