Nation and World
Over 200 Dead In Egyptian Assault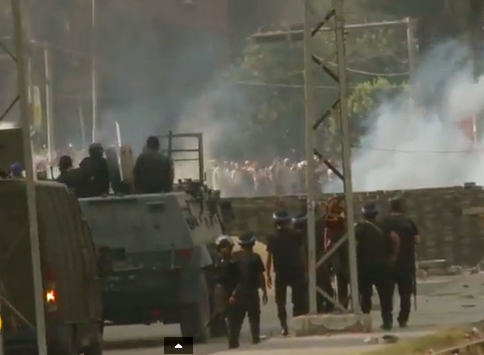 Not long after Egypt was issued to be in a state of emergency on Wednesday morning, violence quickly broke out in storms of security assaults and protesters attacking each other. The numbers claim that at least 281 people have been killed so far in potentially the deadliest day for Egypt since 2011's uprising against autocrat Hosni Mubarak.
READ MORE: Egypt Declares State Of Emergency
The violence erupted after Egyptian security forces began to clear out throngs of people in sit-ins asking for the return of former president Mohammed Morsi.
From USA Today:
"Interior Minister Mohammed Ibrahim said 43 policemen also died in the assault. He said Morsi supporters attacked 21 police stations and seven Coptic Christian churches across the nation, and assaulted the Finance Ministry in Cairo.
The streets were cleared of most people by nightfall after the military imposed a curfew. At the height of the assault, smoke filled the sky in Cairo from fires that were smoldering in the streets at two sit-ins. The sit-in areas were largely abandoned, heaped with charred tent poles and tarps.
A protester at the Rabaa Al-Awadiya camp said he saw snipers and police with machine guns firing at people."
As a direct result of the death and destruction, then Vice President Mohammed El Baradei formerly declared his own resignation, claiming that he could not "bear the responsibility for one drop of blood."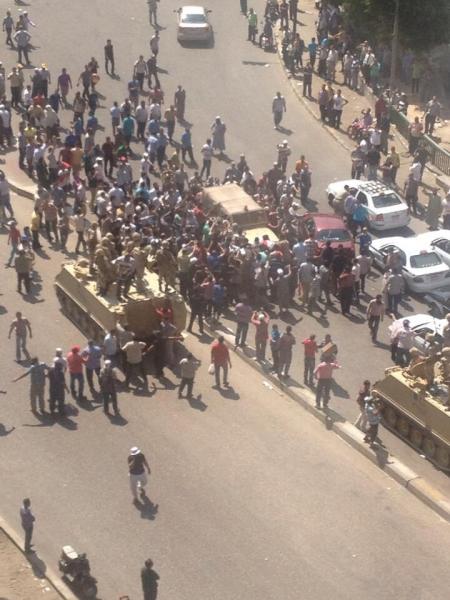 The United States condemned the violence and planned to hold the interim government responsible for its promises of a quick transition to a democratically elected civilian administration.
Authorities are blaming the Islamist group, the Morsi-allied Muslim Brotherhood, for the violence, arresting hundreds of them and confiscating all forms of weaponry.
Security traveled with bulldozers through protestor's make-shift spaces, using tear gas and weapons to clear the path.
READ MORE: World Reacts To Egypt's Interim Leader After Morsi Overthrown
From Egypt's interim interior minister, reports claim that Brotherhood supporters retaliated by burning seven Coptic Christian churches. On Wednesday evening the interim prime minister and the interior minister claimed to acted with the utmost "self-restraint" after six weeks of unauthorized sit-ins by Morsi's supporters.
From The Washington Post:
"In his letter of resignation, ElBaradei, the vice president, stopped short of criticizing the security forces or military directly. But he said it had "become difficult for me to hold responsibility for decisions that I do not agree with, whose consequences I fear.''
"I cannot be responsible for one drop of blood in front of God, and then in front of my conscience, especially with my faith that we could have avoided it," ElBaradei said in the letter to Adly Mansour, the interim president."
Read More about Egypt's State of Emergency here.
Reach Executive Producer Eric Parra here.