Food
Best Ice Cream Sandwiches In L.A.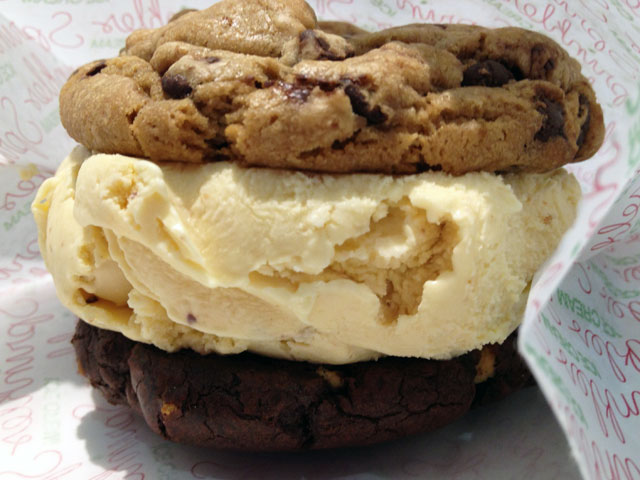 Nothing beats a blazing summer day like a cold, custom-made ice cream sandwich … especially if it's "
National Ice Cream Sandwich Day
," which is celebrated on
Aug. 2
.
Ice cream often comes in many forms — in cones, cups or sundaes. But there's something about an ice cream sandwich—whether it's straight from the ice cream truck or a Klondike bar out of the freezer—that brings back memories of childhood summer days.
Early origins of the ice cream sandwich can be traced back to "Charlottes"—signature desserts of the 18th century comprising combinations of sweet creams, custards or mousse with ladyfingers or sponge bread—and "trifles," traditional English sweets or desserts dating back to the Renaissance era. Chefs during this time added a new spin on these beloved treats—freezing the sandwich-like cakes—as advances in technology and ice cream molds made this technique possible. Considered a "novelty," the ice cream sandwich was first introduced during the late 19th and early 20th century and immediately became a hit. These treats were often served in street vendors' carts for cheap prices.
The "traditional" ice cream sandwich features vanilla ice cream between two thin, chocolate, cake-like layers. However, since then, the ice cream sandwich has expanded its horizons. "Chipwiches"—ice cream sandwiched between two chocolate chip cookies—now include more cookie brand names, like Oreos and Nestle Toll House—in their creations. Creating smaller ice cream sandwiches and using a variety of ice cream flavors in between the two cake-like layers are also widespread practices.
Looking for something sweet to celebrate "National Ice Cream Sandwich Day?" Check out some of the top places in L.A. to get this classic summer treat … or you can always whip up a "DIY" version with your favorite ice cream flavors and cookies.
COOLHAUS
Inspired by "farchitecture"—food + architecture—COOLHAUS features the traditional ice cream sandwich with a modern twist. Most of the ice cream flavors and signature sandwiches at COOLHAUS are named after famous architects and architectural movements throughout history. Besides the signature architectural concept, COOLHAUS is recognized for its wide variety of ice cream flavors—ranging from those "Nutella Almond" to "Mango Saffron Sorbet"—and cookie flavors, which include "Potato Chip & Butterscotch" and "Hotcake Cookie." The traditional COOLHAUS sandwiches feature a decent scoop of ice cream between two thinner cookies that are big in taste and often complement the ice cream flavor perfectly. The flavors and sandwich combos rotate regularly, so customers might not get the same COOLHAUS concoction every given time they visit the company's trucks or storefront.
MILK
Located in Beverly Hills, MILK offers customers a variety of sandwiches, salads and other entrées, but probably more popular than its café menu is the menu for its Ice Cream Parlor. MILK serves up many sweet treats set to please both the eyes and the palate, ranging from classics like the "Warm, Ooey, Gooey Chocolate Sundae"—warmed cookies served up with chocolate sauce and coconut ice cream—and signature shakes like "The MILKie Way Malt," a unique combination of malted milk, chocolate chips, vanilla ice cream and a caramel-chocolate swirl. Among these featured lavish, sweet tooth extravaganzas are also more "traditional" desserts, such MILK's ice cream sandwiches. Sold for $5 per sandwich, these delicious concoctions include a perfectly uniform, thick layer of ice cream between two cake-like cookies that look like oversized macarons. With the generous portion of ice cream that ensures a creamy complement to each cookie bite, these sandwiches are worth every cent.
DIDDY RIESE
At Diddy Riese, you'll find probably the cheapest ice cream sandwich in town, but don't be fooled … these sandwiches are still filled with a decent amount of ice cream and the various cookie flavors are delicious. Designed to cater to the college student—after all, the small store is located just minutes away from UCLA—Diddy Riese provides more than 10 Dreyer's ice cream flavors and about 10 cookie flavors from which customers can choose to create their own customized sandwich. Though the sandwiches at Diddy Riese may not be as large as the ones at Sprinkles Ice Cream or have unique names like those at COOLHAUS, the joint still provides a delicious version of the traditional treat. And besides, for sweet price of $1.75 each, you just might have to eat one sandwich there and order one for the road. Sidenote: Diddy Riese cookies are also a great bargain at 35 cents each (three for only $1) and serve as great solutions for the midnight munchies.
BEVERLY HILLS BROWNIE COMPANY
Sure, they're a brownie company, but who said ice cream sandwiches are limited to ice-cream-and-cookie combos? One of the Beverly Hills' Brownie Company's best sellers is its "Brownie Ice Cream Sandwich," a unique combination of the bakery's traditional, "Simply Classic" Brownie—a decadent, dark chocolate brownie infused with Ghirardelli bittersweet and See's semi-sweet chocolate chips—and McConnell's "Golden State Vanilla" ice cream. This delightful twist on the ice cream sandwich is sure to please every chocolate lover (and brownie fanatic) out there with the fresh, classic vanilla flavor complementing the sweet, fudgy brownie perfectly. The Beverly Hills Brownie Company also offers variations of its "Brownie Ice Cream Sandwich." These other options include the "Inside-Out Sandwich," which is an all-vanilla, "Pure Platinum" Brownie paired with chocolate ice cream; the "Golden Girl," a combo of McConnell's "Golden State Vanilla" ice cream and the "Pure Platinum" Brownie; and the "Choco-Latte Sandwich," featuring the "Simply Classic" Brownie mixed with coffee ice cream.
BEACHY CREAM
With unique titles like "Key Lime Cowabunga" and "Ginger Wipe Out" for its ice cream sandwiches, Beachy Cream has certainly made a name for itself on the dessert map. While the Beachy Cream storefront is based in Santa Monica, its ice cream sandwiches can be found at a variety of cafes and other locations. With products designed to be "a homage to the classic, albeit with a uniquely flavored spin," Beachy Cream definitely packs a punch in its ice cream sandwiches … not through just the quirky titles, but in the flavor combinations and ingredients as well. Both ice cream flavors and cookies at Beachy Cream are baked in small batches, using sustainable, organic and locally sourced ingredients; the company even offers a gluten-free and dairy-free dessert option thru its "Da Kine" ice cream sandwich (dairy-free vanilla bean ice cream between two gluten-free chocolate chip cookies). Other popular and notable ice cream sandwiches on the Beachy Cream menu include the more traditional "Surfin' Safari Chocolate Chip"—comprising vanilla bean ice cream atop a chocolate chip cookie—and the "Strawberry Surfer Girl," a perfect mix of "Strawberry Balsamic Swirl" ice cream between two sugar cookies.
CHUNK-N-CHIP COOKIES
"Goober Doober." "French Kiss." "MOO-lan Rouge." These are just a few of the unique ice cream sandwich combinations found on the menu at the Chunk-n-Chip Cookies dessert truck, which can often be seen at various Orange County and L.A. events. Ice cream sandwiches created by this company, however, are given special names — "BOO-Yahs," original "in-your-face" combinations of artisanal ice cream flavors sandwiched between two melt-in-your-mouth homemade cookies.
The menu posted on the Chunk-n-Chip truck includes pictures and descriptions of the company's most popular "BOO-Yahs," but customers are free to mix and match cookie and ice cream flavors to create their own "BOO-Yah" concoctions. Some of Chunk-n-Chip's most popular "BOO-Yahs" include the "Old School"—traditional vanilla bean ice cream between two chocolate chip cookies; and "The Elvis," featuring "Bananas Foster" ice cream topped with warm, candied bacon between two peanut butter cookies. The dessert truck's best-selling "BOO-Yah," however, is the "Mumbo Jumbo," a decadent combo of "Peanut Butter Cup" ice cream—which includes bits of Reese's Pieces—between two chocolate brownie cookies. Cookies at Chunk-n-Chip can be sold individually for $1.75 each, while "BOO-Yahs" are $4.75. Customers are encouraged to check out the dessert truck's Facebook page for updates, as Chunk-n-Chip regularly comes up with new "BOO-Yah" ideas and cookie flavors.
SPRINKLES ICE CREAM
Sprinkles Ice Cream, sister company to the renowned Sprinkles Cupcakes, launched its first store in Beverly Hills last May and recently followed up with a second location in Newport Beach. Since its creation, this store has sparked an ice cream revolution with unique flavors like "Red Velvet"—which does include bite-sized pieces of the company's iconic red velvet cake and signature cream cheese frosting in the sweet cream concoction—and "Cap'n Crunch," a playful take on the traditional "caramel" ice cream flavor. However, Sprinkles Ice Cream not only features unconventional ice cream flavors, but unique treats as well, such as the "Sprinkles Sandwich"—a single scoop of ice cream between two cupcake tops—and the "Sprinkles Sundae," a single scoop of ice cream in between a cupcake cut in half. Among these dessert novelties is the "Cookie Sandwich," a single scoop of ice cream served fresh between two cookies. Yes … on top of its signature cupcakes, Sprinkles has dipped into the cookie industry as well. Sprinkles Ice Cream offers customers five different types of cookies—Chocolate Chip, Double Chocolate, Peanut Butter Pretzel Chip, Salted Oatmeal Cornflake and Snickerdoodle—from which they can create their ultimate cookie sandwiches. Each cookie has a slightly crisp exterior with a chewy center, but the generous scoop of ice cream helps to soften the cookies further if you're a fan of soft cookies. The "Cookie Sandwich" at Sprinkles Ice Cream is a generous size; the challenge is to try to devour both cookie and ice cream without all the ice cream melting first (and without having too much leftover cookie). And the best part? Customers can mix and match their cookie-and-ice-cream combos to create unique assortments like "Malted Milk Chocolate" ice cream in between the Snickerdoodle and Peanut Butter Pretzel Chip cookies.
SWEET ROSE CREAMERY
Sweet Rose Creamery will leave a pleasant taste in your mouth after your first experience there. Although its diversified menu boasts of its pies, bon bons and ever-changing monthly flavors, Sweet Rose Creamery's "Classic Ice Cream Sandwich" and "Seasonal Ice Cream Sandwich" are menu staples and customer favorites. The "Classic Ice Cream Sandwich" is the traditional take on the beloved dessert, featuring "Old Fashioned Vanilla" ice cream between two chocolate wafer cookies, while the "Seasonal Ice Cream Sandwich" comprises a changing combination of rotating cookie and ice cream flavors.
Reach Kelli Shiroma here.