Food
Sprinkles Ice Cream Opens In Newport Beach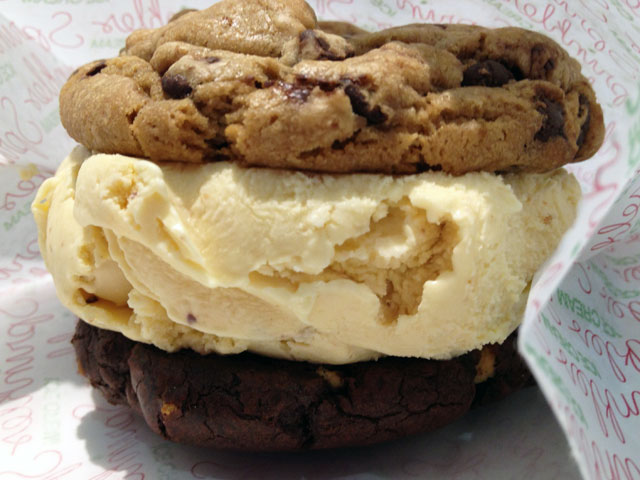 On April 3,
Sprinkles Ice Cream
launched its second location in Newport Beach, right next door to the
Sprinkles Cupcakes
store in the
Corona del Mar Plaza
.
The store's second location, though smaller than the original, still contains many of the same features, such as the trademark red floor and assortment of menu options. Customers formed a winding line along the Plaza's sidewalk, braving the heat for another Sprinkles experience.
The customers who attended Sprinkles Ice Cream's grand opening at Newport Beach location had the chance to win 10 golden tickets that were randomly hidden in 10 sold pints of ice cream. These tickets were redeemable for $100 Sprinkles gift cards.
Sprinkles Ice Cream Newport Beach opened just about a year after the ice creamery's launch in Beverly Hills, adjacent to the original Sprinkles Cupcake store. Similar to the Beverly Hills location, the Sprinkles Ice Cream in Newport Beach offers customers a variety of slow-churned ice cream flavors using organic California dairy. Sprinkles Ice Cream features certain traditional flavors—like "Rocky Road" and "Vanilla Bean"—while other flavors are unique, like the ever popular "Red Velvet" and "Cap'n Crunch." The ice creamery features a vast array of daily flavors, while others—like "Peanut Butter Cup" and "Coffee Fudge Almond"—rotate throughout the week.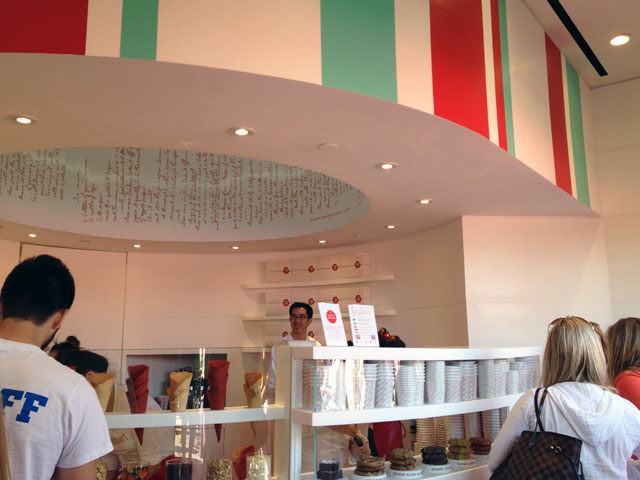 Like other ice cream stores, Sprinkles Ice Cream provides various sundae and dessert options, many of which have a Sprinkles twist. For example, customers can order scoops of ice cream in cups or opt for the ice creamery's trademark red velvet waffle cones. The "Sprinkles Sundae" features a scoop of your favorite ice cream flavor sandwiched between the top and bottom of a cupcake, while the "Sprinkles Sandwich" is a scoop of ice cream between two cupcake tops.
Besides its sundaes, Sprinkles Ice Cream offers other treats like the "Sprinkles Shake"—a blend of your favorite cupcake and two scoops of ice cream—brownies and cookies. Cookies are available in five flavors: chocolate chip, double chocolate, peanut butter pretzel chip, salted oatmeal cornflake and snickerdoodle. Each cookie is baked using hand-rolled dough and features a crispy outer shell and a soft, chewy consistency at the heart of the treat. The cookies and brownies are also used to make signature Sprinkles creations, such as the "Cookie Sandwich"—a single scoop of ice cream between two cookies of your choice—and the "Brownie Sundae," featuring a single scoop of ice cream, a fudgy brownie and your choice of two sauces or toppings.
Reach Kelli Shiroma here.