International
Trojans Stir Up Politics All Over The World
USC takes great pride in enrolling more international students than any other university in the U.S. Anyone who has taken a stroll by the Von KleinSmid Center can appreciate the incredible variety of flags, each one reflecting the heritage of at least two current students.
As the banners at VKC suggest, USC's alumni network is so vast that it extends from Los Angeles to countries such as Egypt and Japan, where two Trojans have recently gained worldwide attention.
Egypt's former president, Mohamed Morsi, and Japanese Prime Minster, Shinzo Abe, have recently become household names— for better or for worse.
Read on about how these Trojans have been shaking up the political world lately.
Mohamed Morsi: Trojan Ex-President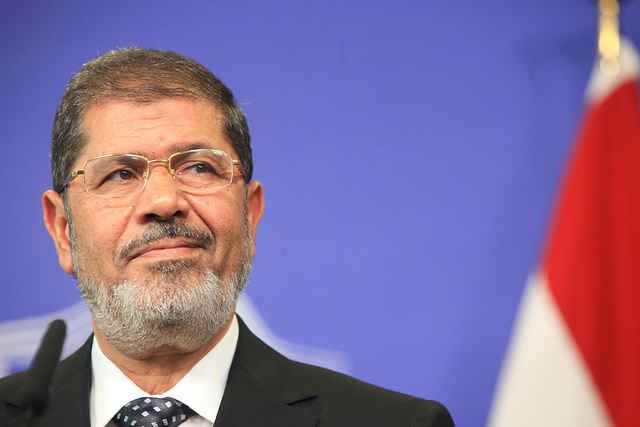 Morsi was the first democratically-elected President of Egypt, following the
removal
of Hosni Mubarak in 2011.
But, following mass protests held in Cairo's Tahrir Square and Alexandria, the military ousted Morsi from his position of power this past Wednesday.
Since then he has been replaced by Adly Mansour, the head of the Supreme Constitutional Court.
Long before embarking on his political pathway, however, Morsi got his start in Southern California. He graduated with a Ph.D from USC Viterbi School of Engineering in 1982, and worked as an assistant professor at Cal State Northridge from 1982 to 1985.
Last year, in an interview with the New York Times, Morsi commented that he "learned a lot" during his time in California, but only "scientifically"—regarding his academic career as the only truly valuable part of his USC experience.
It appears that he never quite adjusted to California's laid-back atmosphere, gangs, street violence, and "naked restaurants", like Hooters. "I don't admire that," Morsi commented.
Rather than condemning these seemingly strange customs, Morsi diplomatically added, "But that is the society. They are living their way."
ALSO SEE: Gameday with Egyptian President Mohamed Morsy
After Wednesday's coup, the Trojan ex-President is rumored to be in military custody with several other Muslim Brotherhood leaders. Stay tuned for more updates!
Shinzo Abe: Father of "Abenomics"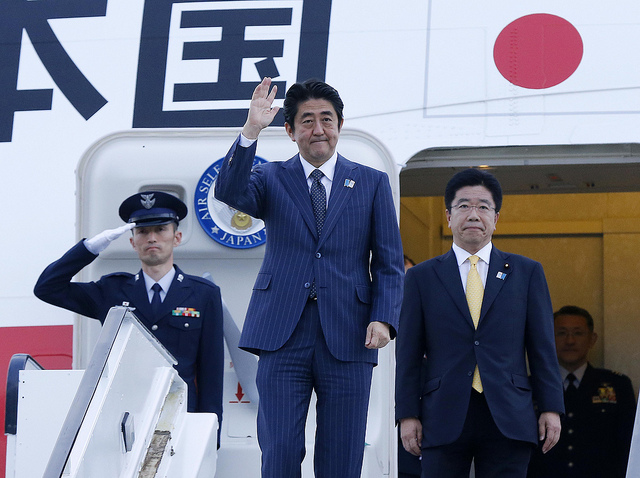 In December of 2012, Shinzo Abe of Japan's Liberal Democratic Party (LDP) regained his
position
as the Prime Minister of Japan, after serving in office back in 2006 and resigning just one year later.
Abe attended USC in the 1970s, but did not earn a degree from the University.
Despite only having studied at the school while working on graduate work in the School of Policy, Planning, and Development, as the saying goes, "once you join the Trojan family you are a Trojan for life."
Abe is Japan's seventh Prime Minister in six years. His rise to power reflects Japan's struggle for consistent leadership in its government.
In the wake of the massive earthquake on March 11, 2011 and the ongoing struggle to manage the nuclear plant disaster, Abe has pledged to help Japan emerge from its stunted growth and enormous debt.
This goal inspired his series of economic reforms, widely known as "Abenomics"— a nod to America's Reaganomics of the 80s.
Abe hopes to fuel Japan's economic revival with his "three arrows" system: monetary easing, fiscal stimulus, and structural reforms.
Earlier in the year when the first two reforms were enacted, the economic situation appeared to be improving; in six months, the stock market rose by 80%, and so did Abe's approval ratings. But, just as he was preparing to implement the last arrow of reform, the stock market began to falter.
While it is too early to tell if his grand plan has failed, many critics have begun to lose confidence in "Abenomics."
Abe has also become a target of criticism for his rather conservative political ideals.
Abe and his LDP members have sought to amend the Japanese constitution, originally drafted by the US after WWII. They hope to loosen the requirements needed to change the charter, but many fear that this is part of an attempt to curb civil rights, the media, and ultimately to change the Article IX of the constitution, which bans any military in Japan.
Abe's right-wing attitude has also heightened tensions between Japan and neighboring countries like China and South Korea, over disputed territories among other issues.
Amidst the mixed reviews, this Trojan alumni now faces election campaigns for Japan's parliamentary elections this month.
There's no doubt that these two Trojans have rocked the international community in the past couple months, finding themselves in the limelight of scholars, analysts, politicians, and the media. It will be interesting to see what the future holds for these two USC alumni as the political situations in Japan and Egypt continue to intensify.
Reach Staff Reporter Shoko Oda here.