International
Newborn Prince Is Welcomed By An Adoring Nation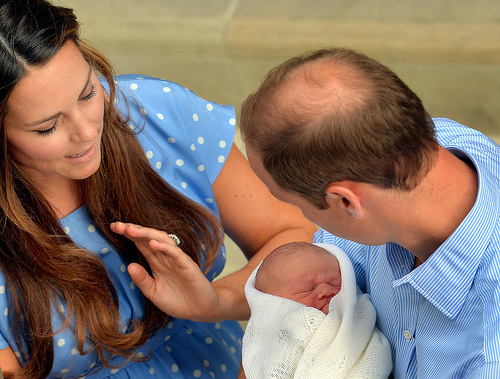 On Tuesday at 4:24 PM, Great Britain welcomed the arrival of the newest addition to the royal family
– the infant son of Prince William and Kate, Duchess of Cambridge.
The royal couple cradled their newborn son outside the St. Mary's Hospital during the afternoon, surrounded by hundreds of clicking cameras and adoring citizens.
"We could not be happier," Prince William said through a palace spokesperson.
Prince William will be staying overnight with his wife and baby son, who are both "doing well" according to Kensington Palace.
Kensington Palace announced the birth in a formal press release stating that the duchess "was safely delivered of a son" weighing in at around 8 pounds, 6 ounces.
The newly born prince will be third in line for the crown, right behind Prince Charles and Prince Williams, and holds the royal title of "His Royal Highness Prince [Name] of Cambridge."
The baby's name will be kept secret until released in an official statement by the royal family in the next few hours or days.
The Duke of Cambridge, the Queen, the Duke of Edinburgh, and an assortment of royal titles were present for the birth of the infant prince.
"Right across the country and indeed right across the Commonwealth people will be celebrating and wishing the royal couple well," said Prime Minister David Cameron told reporters waiting for an appearance from the royal child.
The child's popularity is not limited to Great Britain or the Commonwealth, however – the rest of the world is also head over heels over the royal birth via social media.
SEE ALSO: Royal Baby Ignites Over-The-Top Media Frenzy
In fact, the baby prince is so popular that economists from the Centre for Retail Research estimate news of his birth could add more than 240 million pounds (370 million dollars) by boosting celebratory consumer spending.