Nation and World
Obama Plans To Decrease Nuclear Warhead Production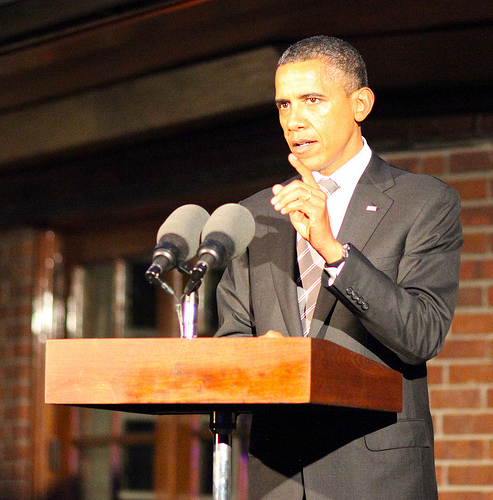 Early on Wednesday, President Obama presented a speech to the famous Brandenburg Gate in Berlin, known for it's part in dividing the East and Western parts of Europe post World War II.
READ MORE: President Obama Departs Los Angeles
In his speech, he discussed the United States' plan to reduce funding on strategic nuclear war heads, as well as suggest that Russia should join forces in his attempts to decrease nuclear threats. "We may no longer live in fear of global annihilation, but so long as nuclear weapons exist, we are not truly safe," Obama told the audience, "And I intend to seek negotiated cuts with Russia to move beyond Cold War nuclear postures."
Obama also made reference to Berlin's post-war past, calling for its citizens to maintain the spirit and strength they had when tearing down the Berlin Wall in favor of more modern problems that need to be addressed.
His speech continued that various nations should embrace freedom and choice, and that they could only progress by "moving beyond Cold-War nuclear postures" and rejecting the weaponization recently taken by forces like North Korea and Iran.
From CBS News:
"According to a White House fact sheet on the new strategy, the United States will continue to maintain a nuclear presence that can serve as a "credible deterrent, capable of convincing any potential adversary that the adverse consequences of attacking the United States or our allies and partners far outweigh any potential benefit they may seek to gain through an attack." At the same time, however, the president is directing the defense department to "strengthen non-nuclear capabilities and reduce the role of nuclear weapons in deterring non-nuclear attacks," and "examine and reduce the role of launch under attack in contingency planning."
The plan so far is to limit American and Russian warhead production to 1,000 each, bringing both countries back to around the levels of 1954, said an article from the New York Times.
Obama has said that he will continue this effort by hosting a summit in 2016 to pursue the ratification of a comprehensive nuclear test ban treaty.
Reach Executive Producer Eric Parra here.