Nation and World
Bangladesh Survivor Found After 17 days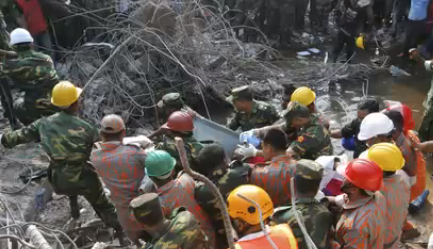 17 days after the collapse of a building on the outskirts of Dhaka, Bangladesh a women by the name of Reshma, was found alive. According to The New York Times, rescue workers first saw a pipe moving and then heard someone shouting "save me."
ALSO SEE: Collapsed Building Owner Arrested as Death Toll Climbs
Reshma was believed to have been in the basement in a Muslim prayer room at the time of the collapse. Ali Ahmed Khan, the Director General of the Bangladesh Fire Service, stated, "Reshma was apparently inside a Muslim prayer room, which had oxygen and enough clear space for her to stand up."
ALSO SEE: Collapsed Building Owner Arrested In Bangladesh
The last known victim was found just 20 hours after the collapse. Rescue efforts had begun using heavy machinery to remove the debris. However, after the discovery of Reshma, the heavy machinery removal has been halted in case of finding any more survivors.
ALSO SEE: Workers Continue To Die In Factories Producing Tommy Hilfiger, Gap And Kohl's Clothing
The building was believed to have over 3,000 people working in five different factories at the time of the collapse. The death toll has reached over 1,000 people. This tragedy is now the worst known accident in the garment business history. However, this incident raises bigger questions about the safety issues plaguing the garment industry.
Reach Executive Producer Helene Imperiale here. Follow her here.