Los Angeles
LAPD To USC Students: No Racial Profiling Found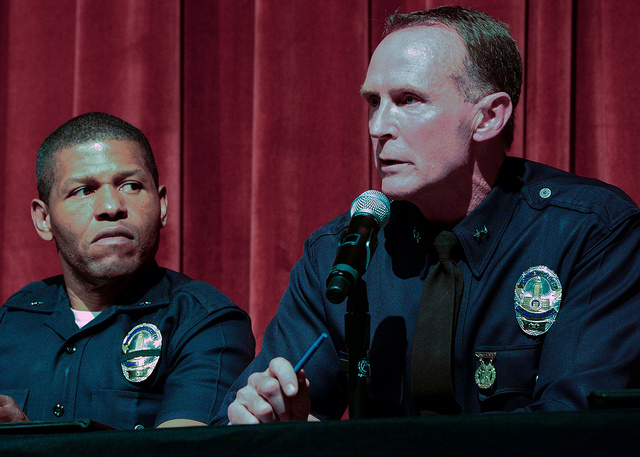 Los Angeles and USC campus police officials told a thousand students, dozens of whom alleged they had been racially profiled by law enforcement, that authorities have concluded a strong response to a house party last weekend was not based on the race of students involved.
"We've looked at this really thoroughly, and there is no indication that it was race-based," Los Angeles Police Capt. Paul Snell said Tuesday night. "Irrespective of what happened, what I would like to focus on is how we can move forward. Neither LAPD, neither DPS, neither the citizens of Los Angeles want this to happen again."
After the forum, police officials said they were still looking through video and other evidence. Nothing yet had risen to the level of profiling, an enforcement action taken solely based on race.
MORE: RELIVE THE DISCUSSION BY VISITING OUR LIVE BLOG
More than 1,000 people, including students, media, faculty and city officials, filled an at-capacity ballroom on campus. Seven hundred seats were laid out before the event. A couple hundred people stood inside and hundreds of others couldn't get inside the event. The nearly three-hour discussion grew fiery as the night wore on with students, alumni and community members popping up to criticize police, the university and even fellow students.
The same ballroom was host to a Halloween night event last October. A shooting on a campus thoroughfare outside the event spurred a call for a larger police presence around campus. And since then, students from the black and Latino communities have complained that they've been singled out more and more often.
It's that feeling that led student activists, including a Neon Tommy executive producer and a Neon Tommy contributor, to organize a campus forum with police leaders. But the event, on the night before finals begin at the university, took on a new meaning over the weekend.
Police received a noise complaint at 12:20 a.m. Saturday in a neighborhood about 10 blocks north of USC's University Park campus. But due to a heavy load that night, police said a cruiser was unable to respond until 2 a.m. The two officers made contact with a party organizer and asked the DJ to shut off the music. Students allege the party, mostly attended by African-American students, faced a severe crackdown while a party across the street, mostly attended by white students, was shut down with far less force.
Capt. Snell said there was resistance from participants who were asked to disperse from the black party.
"At least one instance that a can or bottle was thrown," he said. "There was also an instance of a crowd circling officers trying to arrest someone."
Snell said they were chanting, "If you arrest one USC student, you have to arrest them all."
Amid the unrest, officers called for help and soon more than 70 officers had arrived on scene.
"Police felt they were confronted with a threat at that particular time," Snell said.
Six students were arrested. A couple of them shed tears during Tuesday's discussion. One student appeared with one arm in a sling, apparently injured while being detained.
One was arrested on suspicion of interfering with police activity. The five others each face a misdemeanor charge. USC police chief John Thomas said he had previously been in contact with one of the students arrested, 20-year-old Rayven Vinson. He said seeing a photo of her being handcuffed hit him personally.
"This is about trust in the Department of Public Safety," he said. "This is about you having trust in the department that's providing protective services to you."
L.A. Police Deputy Chief Bob Green called that first booking number "devastating," saying there's often little hope after that.
USC police chief Thomas said the university is working closely with police to make sure the students arrested are treated fairly. USC's outgoing vice president of student affairs Michael Jackson said he's advocating that the city attorney's office drop the charges. Capt. Snell said the investigation is ongoing.
At the forum, the attorney for five of the students arrested, Fred Dorton, Jr. called the arrests unlawful. He asked for the university to accommodate the arrested students on their finals, considering the trauma that they've been through. Jackson said the students would be given all the support that they need.
Dorton also said he had asked that a USC student publication remove the names of his clients and the charges against them. Jackson said, "I will ask the student leaders of the publication, Neon Tommy, to remove it, but I don't control that."
Neon Tommy published information that is public record.
Jackson said the intense focus on the relationship between students of color and the authorities amounted to "a final exam in and of itself" for the USC community.
"We will confront the situation, so that we can move on with not a sense of closure but a sense of progress," he said.
Near the end of the event, L.A. Police Cmdr. Bill Scott asked the audience to raise their hands if they felt the weekend incident was racially motivated. Almost the entire audience raised their hands without delay.
Rikiesha Pierce, a Neon Tommy contributor and head of event organizer S.O.L.I.D. USC, said a task force is being formed between authorities and students to maintain an ongoing conversation.
People with knowledge of police harassment or profiling are asked to call the L.A. Police Department's inspector general at 800-339-6868.
Photos by Shoko Oda.
Reach the reporting team here.