Los Angeles
Meet The USC Students Arrested At Friday's Party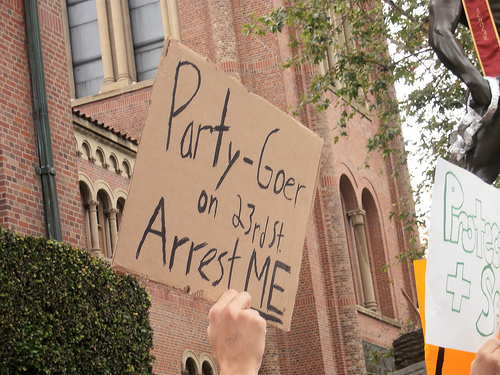 Roused by what they said was an excessive police reaction to a loud student party last week, about 80 USC students gathered around Tommy Trojan on Monday to tell their stories of being profiled by the police.
African-American students said authorities have been extra vigilant in dealing with them since a shooting last Halloween. In that case, a young black male not associated with USC has entered a not guilty plea. After the shooting, heightened security measures were put in place by the university, including increased L.A. Police Department patrols. In recent weeks, the students have said those officers have been shutting down parties hosted by black students while ignoring similarly loud parties hosted by students from other communities.
Other students also shared stories of profiling by USC security officers and other experiences of discrimination in addition to the accused racial profiling by LAPD officers.
Among the group of students demonstrating Monday were six students who were arrested early Saturday morning and are facing criminal charges. USC administrators said they are working with the students and the police department to investigate the incident and the students' claims.
According to L.A. County Sheriff's Department booking records, the arrested included:
19-year-old Christian Sutton, on $25,000 bail, for a felony. The L.A. Times reported that the felony charge was interfering with police work. Sutton was listed as a walk-on football player at USC in spring 2012.
21-year-old Frances Wang, on $5,000 bail, for a misdemeanor.
19-year-old Teremy Jackson, on $5,000 bail, for a misdemeanor.
20-year-old Rayven Vinson, on $5,000 bail, for a misdemeanor.
22-year-old Debbie Rumbo, on $5,000 bail, for a misdemeanor.
20-year-old Ola Bayode, on $10,000 bail, for a misdemeanor.
The L.A. Times reported that four of the misdemeanor arrests related to charges of suspicion of failing to disperse. The other individual is facing a misdemeanor charge of suspicion of interference.
All have a court date of May 30.
Four of the eight students known to have either been detained or arrested agreed to tell us more about themselves. Their stories are below.
Senior Nate Howard
Sophomore Teremy Jackson
Junior Rayven Vinson
Anthony Stewart (Santa Monica College student)
Reach the reporting team here.
Editor's Note: Article updated after publication to note additional information from the L.A. County Sheriff's Department and the Los Angeles Times.