Nation and World
Some Residents Allowed To Return Home After Texas Blast
After three days of anxious waiting, a limited group of West, Texas residents will be allowed to return to their homes Saturday under certain conditions.
The Dallas Morning News reported that residents older than 18 who live on the outer five blocks of the restricted area will be allowed in but must stay on their property after 7 p.m. Law enforcement officials will lock the area back down at 7 p.m.
The evacuated residents will, for the first time, return and assess what remains of the estimated 80 homes that were damaged by an massive explosion Wednesday that killed 14 people and injured 200 more.
READ MORE: 35 Estimated Dead In Texas Explosion
The explosion occurred around 8 p.m. Wednesday at the West Fertilizer Co., located about 20 miles north of Waco.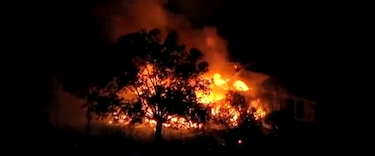 Earlier Saturday, officials told displaced residents that tanks at the blast site are leaking gas and causing small fires, according to the Associated Press.
The fires are reportedly contained, but still prevent residents who live nearby from returning to their homes.
Paramedic and city spokesperson Bryce Reed gave a short briefing Saturday at a hotel where evacuees were staying. He reassured residents that reports of "another explosion in West" were exaggerated, according to the Associated Press.
READ MORE: Texas Explosion Sparks Search And Rescue Mission
Reed said the ongoing leaks were caused by tanks damaged by heat and no further evacuations were necessary.
According to the Associated Press, City Council member Steve Vanek emphasized, "It is safe, safe and safe."
Officials did not say when other residents, whose homes were closer to the explosion site, will be allowed to return.
Mayor Tommy Muska admitted to The Dallas Morning News on Saturday that communication with residents needed to improve.
"I'm trying to get more information to our citizens and so far I've failed at doing that," Muska said.
The mayor is expected to hold a town hall meeting Saturday afternoon to give residents more information.
RELATED CONTENT
Dozens Believed Killed In Explosion Near Waco
More coverage of the West fertilizer plant explosion can be found here.
Reach Executive Producer Vicki Chen here; follow her on Twitter here.