Film and TV
'A Place Beyond The Pines' Is Another Success For 'Blue Valentine' Director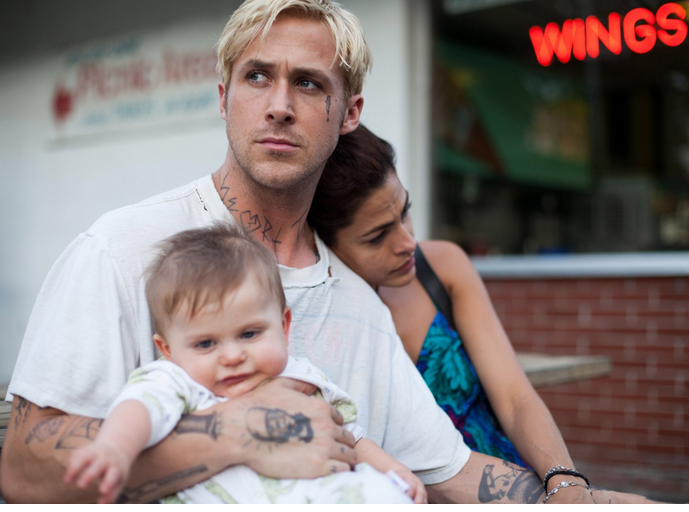 Late winter and early spring is the dreariest season for movies, but it's perfect timing for Derek Cianfrance's melodrama, "A Place Beyond the Pines." "Blue Valentine" was Cianfrance's last film, a simple story heavy with meaning and a mood of dreaminess. "A Place Beyond the Pines" is draped in the same intimate feel but unwinds a tale that is far more tragic, dense, and beautiful. By the film's end, Cianfrance has painted a picture so moving and rich that the audience will be disappointed that it's over.
Cianfrance links three intricately tangled stories to create a richly compassionate tale about parents and their children, and the legacies of regret and failure that they leave behind despite their painstaking efforts to do the opposite. It's midsummer in Schenectady, New York, a name that literally means "a place beyond the pines." The northeastern blue-collar town is seen at two different moments in time, but is somehow isolated from time, politics, and pop culture. It's a slow, small town--think dingy houses and late-night diners. The natural beauty of the perpetually green leaves in the woodsy areas is as lovely as it is ominous.
The movie begins with the story of Luke (Ryan Gosling), a carnival performer whose specialty is motorcycle stunt riding. He sports a tattered T-shirt and a tattooed torso. He finds out that a fling he had with a diner waitress, Romina (Eva Mendes), from the last time he was in town has led to the birth of a son. Romina is living with another man (Mahershala Ali), but Luke insists on sticking around and supporting the child, providing for his family the way his father never did. And for him, this is noble enough a cause to turn to a criminal lifestyle.
The misguided Luke, motivated by his dreams of being a family man, starts robbing banks - quick jobs involving a speedy, roaring motorcycle getaway. Cianfrance films these scenes with a bracing narrative momentum, making Luke's getaways some of the most gripping in the film. Unlike "Blue Valentine", in which Cianfrance moved back and forth in time, the director confidently presents a rigidly linear plot in "A Place Beyond the Pines." The lack of flashbacks and foreshadowing gives the film its refreshing and absorbing aspect.
One glaring flaw, however, is that Ryan Gosling's shtick as a self-possessed, sinewy daredevil but also a tender, wounded angel is getting a bit old. At least his stellar performance makes up for it.
The second part of the film features Bradley Cooper as Avery, a young, ambitious policeman from law school and a well-connected family. He's surrounded by shadows of violence and corruption. Cooper's energy is terrific as usual, and makes Avery's character come to life. His brief but momentous encounter with Luke the outlaw is a critical and crucial point in the film, and to say anything beyond that would be ruining the film.
The latter part of the story is in the present day many years later, centered around Luke's son Jason (Dane DeHaan) and Avery's son AJ (Emory Cohen). Their lives are inextricably linked by the mistakes of their fathers, and both are caught in a tornado of revenge and redemption. This fast-forwarding to the future is executed like a good novel, and the two young actors who play these sons give exciting and stunning performances, layering all the insolence, insecurity, and anger that construct the teenage boy.
The film's greatest reward for its audience is the work of the all star cast, namely Gosling and Cooper, whose characters are difficult to like but are complex and real. Gosling effortlessly executes the masculine vulnerability that is often done injustice in Hollywood blockbusters. Cooper's Avery struggles with the same tragic, careless foolishness as Luke, but offers a contrasting voice. Though surrounded by corruption, his biggest war is with himself: his self-righteousness and arrogance ruin his prospects and create tensions with his wife.
DeHaan and Cohen also play highly emotional and dark characters impressively, but they don't seal the deal. The raw and gritty insight that made up the first two parts of the film are somehow lost in the third act, traded for an agitated and exhausting anguish that wears the audience out. But the few failures of this film are forgiven, as the acting redeems everything. Both Gosling and Cooper are captivating and restless and handsome, and if it weren't for their performances, it's hard to say whether the film would have had the same impact.
The film is one with a lot on its mind, which isn't surprising for a thoughtful, excellently-cast indie movie. It has a lot to say about class differences, society as the bad guy, manhood, and fate; these are not fresh themes, but they don't come across as cliched either. Cianfrance recycles the themes with purpose and conviction, artfully reinventing them in original characters. Critics have undermined the movie's romanticization of outlaws and criticism of law enforcement, but Cianfrance achieves a beautiful renewal of the symmetry between cops and criminals, fathers and sons, wives and husbands, and family and legacy. The filmmaker has a gifted eye for detail and graceful cinematography. It's lyrical and and artistic like a true indie film, but don't be fooled: "A Place Beyond the Pines" is as thrilling as a Marvel movie and turns sharp corners with its plot twists and split-second decisions.
Cianfrance attempts at a more ambitious work after "Blue Valentine," and though it's more experimental than anything, it's just as insightful, epic, and unnerving. Perhaps his aspirations may have been too large to fit into one film as it does drag on for nearly two and a half hours. An exposed, rough and unrefined tale pushed forward with the steady and sure momentum of a good novel, "A Place Beyond the Pines" retains a rare and evocative vitality and leaves the viewer in a trance, almost wishing it wasn't over.
"A Place Beyond the Pines" is playing now in select theaters.
Reach Staff Reporter Jennifer Joh here. Follow her on Twitter here.